Late last week, Eagles president Joe Banner said he expects head coach Andy Reid, whose squad is 5-8 heading into this weekend's game at Dallas, to return next season.
Not that the stoic head coach has hinted otherwise. Despite his much publicized family issues coinciding with a disappointing season, Reid said he doesn't plan to resign.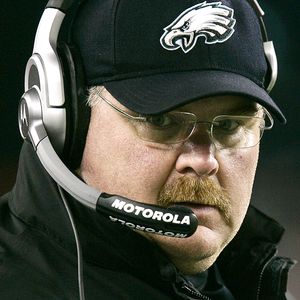 AP Photo/Robert E. Klein
Andy Reid has faced his share of adversity this year, but that doesn't mean he should step down as coach of the Eagles.
It's a decision that raised some eyebrows, but it's one I totally support.
So does a hero of mine, Vernon Payne, who understands a little about how Reid feels.
It was the summer of '94, and I was an intern at a newspaper that was based in the same city I was going to college, Kalamazoo, Mich. Population: 80,277.
You could sneeze on the south side and someone from the north would say, "Gesundheit."
Needless to say, when a seemingly minor crime was committed, it was fairly big news at the paper.
And a murder? Story of the year.
So when two 21-year-old video store employees were gunned down in a botched robbery attempt that summer, it was all anyone could talk about.
Then one of the suspect's names was revealed: David Payne.
Payne was the son of Vernon Payne, former men's basketball coach at my college, Western Michigan. At the time of the murder, he was a high-ranking administrator at the school. Prior to Western, Vernon Payne was head coach at Wayne State, but was better known as the Michigan State assistant who recruited Magic Johnson.
Everyone on and off campus knew Vernon Payne.
He was a great leader in the community.
He was also the father of a man sentenced to life in prison for his role in a double homicide.
"Not a day goes by that I don't hurt," Vernon says. "I still cry, 13 years later, because of the pain and the loss. But at no point did I think about stepping down. I couldn't. I knew that as painful as it was to see my son go through this, and be in that court room, I had to be strong for myself and for the community.
"I know exactly what Andy Reid and his family are going through, and I only hope that he doesn't step down. The community needs to see that strength."
With the Philadelphia Eagles all but eliminated from the playoffs and his two sons, Garrett and Britt, battling drug addiction and serving jail time for drug-related crimes, some fans and pundits have publicly questioned whether Reid should step down at season's end. The Philadelphia Daily News suggested he should resign because of the team's decline since Super Bowl XXXIX and offered that being with his family may do him some good.
It could.
But staying on as head coach might help the city of Philadelphia even more.
Last year nearly a fifth of Philadelphia's families were living in poverty and 406 homicides were committed in the city. In October, two armored truck guards were killed in a robbery. November saw two police officers shot and another killed in a four-day span. Back in March, a restaurant owner found himself in a shootout with two men who were attempting to rob him, killing a 20-year-old and shooting a 24-year-old in the face. Those two men -- like Britt and Garrett -- are someone's children. The parents of those children are probably hurting just as the parents of the victims are hurting.
Large urban cities, such as Philadelphia, Detroit and Newark, need leaders to demonstrate strength and perseverance in the face of adversity, and right now Andy Reid is as good a candidate as any.
For eight years, he and his family have done more than bring pride back to Philly's football franchise. They have volunteered there, gone to church there, gone to school there, been a part of the community. As tragic as the situation involving his two oldest sons may be, Reid can pick up the newspaper and see that he is hardly alone.
James Taylor, the father of the 16-year-old suspect accused of shooting two police officers last month, is the pastor of a church.
"Kids get caught up with the lust and with conniving, with the things of the world," Taylor told the Philadelphia Inquirer. "I hold on tight to my kids, but when they walk out that door, it's a whole different world."
Yes, it is.
You can love and teach and discipline and love again, but in the end all any of us can do is pray our children will do the right thing. Oftentimes they do. Sometimes they don't. And when they don't, average people don't get to quit their jobs and go into hiding. Average people aren't asked to do so, either. Instead, they have to find the strength to face their community and go on. Given what Reid is going through, he can be inspirational for a lot of people trying to deal with the violence that has gripped Philadelphia.
Is Reid distracted? Are the Eagles suffering because of it? Honestly, it's hard to say. Even though Philly will likely finish the year with a losing record, you'd be hard pressed to find any team that has faced Green Bay, Dallas and New England -- who are a combined 36-3 this season -- coming out unblemished. Besides, after so much success, including last year's NFC East title, Reid has more than earned the opportunity to turn his team around next year.
"People still come up to me and tell me how they've drawn strength dealing with their private tragedies by looking at the way I've dealt with mine publicly," Payne says.
Now is not the time to call for Reid's job. Instead he should be applauded for staying put when few would have blamed him from running.
LZ Granderson is a senior writer for ESPN The Magazine and a regular contributor to Page 2. He can be reached at l_granderson@yahoo.com.