ASPEN, Colo. -- Early Thursday morning I got out of bed and made my way into the kitchen of the house I'm currently staying in, looking for coffee. When I got there I saw a countertop littered with beer bottles -- a little reminder of the previous night's spirited conversation among a group of guys who'd flown in from around the country to play in a rec hockey tournament.
As the bottles were drained, we talked playoff football. We talked steroids, records, and baseball.
But mainly we talked about hockey -- very, very loudly.
One guy said Dominik Hasek is playing well for "an old guy" but called Martin Brodeur the best goalie in the NHL. Others balked at that, but all failed to offer up a better choice.
To spice things up a bit, I tossed out a pop quiz: "Who was the first black hockey player in the NHL?"
For the first time all night, the room was quiet.
I'm not saying it's necessarily a bad thing that many dedicated hockey fans, such as the ones I was talking with, don't know who Willie O'Ree is. I'm sure there are many dedicated basketball fans who don't know who the first black player to play pro hoops is (Harry Lew), and many dedicated football fans who don't know who broke the color barrier in pro football (Charles Follis).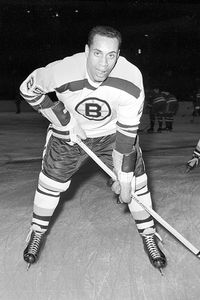 AP Photo
Willie O'Ree, the first black player to play in the NHL.
However, the rub comes from knowing that the other major American sports leagues have achieved a high level of racial diversity, while the NHL is still about as white as it was when O'Ree made his debut with the Boston Bruins 50 years ago today. And back then there was only the Original Six. Now there are 30 teams in the league, but fewer than 30 black players on the ice.
Hockey is a beautiful and exciting game. But it's also an expensive one. And not seeing more players of color in the NHL reminds me of the significant class gap along racial lines in this country. It's not that the NHL is systematically keeping brothers out of the sport. In fact, since the inception of the NHL Diversity program in 1995, the number of inner-city hockey programs has grown from five to 39. And five years ago, Gerald Coleman became the first player to come up through that program and be drafted. But the reality is, it takes expendable income and time to get a young kid to the point where he's good enough to even have professional hockey be a pipedream, let alone a legitimate option. And, generally, extra cash isn't something people in this country have a lot of, particularly minorities.
In 2003, nearly one in four black families in America reported living in poverty, and their median income was about $30,000 according to the U.S. Census Bureau. For white families the poverty rate was less than 9 percent, and the median income was around $48,000.
Again, everyone seems to be low on cash these days. But based on those numbers, it's hard to see many black families having the funds to pay for hockey programs or travel teams. Besides, sending a child to the park with a $10 basketball is a heck of a lot easier than finding a rink to skate in.
But today the 72-year-old O'Ree is working to make economics less of a factor. As the director of youth development for the NHL/USA Hockey Diversity Task Force, he has touched the lives of more than 40,000 kids, working tirelessly to raise funds and awareness in an effort to bring the game to those who normally would not have been exposed to it. He's also working with local community leaders, such as Les Franklin of the Shaka Franklin Foundation for Youth in Denver, to help get hockey rinks built in urban areas so parents won't have to drive so far.
"Things don't happen overnight," said O'Ree, the Canadian native who himself didn't play indoor hockey until he was 15. "But we're heading in the right direction.
"It's about helping the communities that are trying to find ways to keep young people out of trouble. Everyone is not going to play professional hockey, but being exposed to it at a young age helps broadens your mind."
I've spoken with Mr. O'Ree several times during my career and I'm always amazed by his passion for helping young people. O'Ree, who played the bulk of his career legally blind in one eye while enduring an onslaught of racial slurs, is still quietly finding mountains to climb in the name of our youth.
What O'Ree did 50 years ago today was a moment in history that perhaps my buddies and other dedicated hockey fans should know about.
But what he's doing now is something everyone should stop and take notice of.
And be grateful for.
LZ Granderson is a senior writer for ESPN The Magazine and a regular contributor to Page 2. He can be reached at l_granderson@yahoo.com.