Editor's Note: The following was taken from the Feb. 11 issue of ESPN The Magazine.
Back in the day, voting just wasn't that important. Elections came and went, and Rockets guard Mike James simply didn't care. "Growing up, politics wasn't something we talked about," says the Amityville, N.Y., native. "So as an adult, voting wasn't a priority in my life. I didn't think it mattered who was in the White House.
"Now, I know better."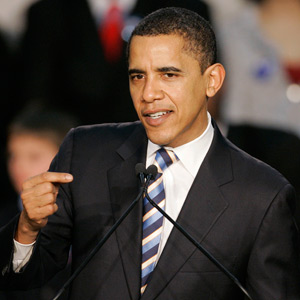 AP Photo/Orlin Wagner
This year's presidential election is extremely important, and we all -- pro athletes included -- should be heading to the polls.
Parenthood -- James has four children -- and concern for the direction he sees this country heading changed his mind. He voted in the 2004 general election. This time around, he's holding fund-raisers for Barack Obama -- and encouraging other NBA players to register to vote. "When you see a black man with a legitimate chance to be president of the United States, how can you not be excited?" he asks.
I find myself wondering the same thing, especially after Obama's stunning victory in Iowa and rout in South Carolina, and in the days before Super Tuesday (a.k.a. Feb. 5), when 24 states will hold their primaries or caucuses. Yet, after a random and highly unscientific survey of 100 or so African-American NFL and NBA players, I found that fewer than half are registered to vote. When I talked to players, the subject of registration in general was met with the kind of enthusiasm Bill Belichick reserves for postgame handshakes.
That's no surprise to Ravens linebacker Bart Scott. "Some black athletes haven't taken the time to figure out how it all connects," says Scott, who is considering politics as a postfootball career. "Others feel they are too rich for anything to touch them anyway. That's really sad to me."
Then again, it shouldn't be surprising. Just as there are whites who choose not to be involved in the political process, some blacks choose not to be involved as well. The U.S. Census Bureau found that of the 69 percent of blacks who were registered for the 2004 national election, 60 percent made it to the polls. (The numbers were 75 percent and 67 percent for their Caucasian counterparts.) True, you can make a case that some black Americans wanted to vote and couldn't for various technical or logistical reasons, but in this day and age you get the feeling that most who are absent from the process choose to be. Like it or not, they are simply exercising their right not to vote.
So even as Obama's shot at history has black athletes like James, Grant Hill, Dhani Jones and Stephon Marbury interested enough to donate money, many others are going to remain apathetic. Does that make them "disenfranchised," as we used to say in poli-sci-speak?
Maybe. James' backcourt mate, Rafer Alston, says he's registered but isn't sure if he'll vote because the recent recounts left a bad taste in his mouth. But Cowboys corner Nate Jones says politics has never been high on the locker room small-talk list, and that won't change just because the candidates have. "It's the last conversation you'll hear," says Jones, who plans to vote. "Guys want to talk about other things. But you need to know what's going on around you, because it's going to affect you. And with Obama ... we're talking history in the making."
And, in the end, shouldn't history be enough to make all of us who are of color want to vote? And I don't even mean voting for Obama or even a Democrat, necessarily. I mean, isn't it our duty to be involved -- and respectful?
The Voting Rights Act was signed in 1965, less than a year before James' Rockets teammate Dikembe Mutombo was born. Yeah, he's that old -- and the opportunity for all blacks to vote in this country is that young.
"Jesse Owens, Jackie Robinson, Arthur Ashe, Ali -- there are a whole bunch of black athletes who went through hell to bring more racial justice to sports," says Newark mayor Cory Booker. "We are the generation that benefited from the civil rights movement. It's our generation's opportunity to honor those who gave their lives by serving. We have to remember, we are all drinking from a well we did not dig."
Poet Langston Hughes once famously asked, "What happens to a dream deferred?" After talking with a series of politically detached millionaires who seem to have it all, I can't help but wonder what happens to a dream achieved -- then ignored?
LZ Granderson is a senior writer for ESPN The Magazine and a regular contributor to Page 2. He can be reached at l_granderson@yahoo.com.