PHOENIX -- Jake Reed unlocked the door to his hotel room, walked in and found John Carter sitting on the bed. John is the older brother of Reed's former Minnesota Vikings road roommate, Cris Carter. Now, in most situations, the person in the room would sheepishly apologize for the inconvenience and get out of the way. But not John. Not only did he behave like the room was his, but he proceeded to talk about Reed like a dog, just for the hell of it.
"You don't know it, but Cris had to keep me off of you that day," Reed told John recently as the two of them laughed about the story over dinner. "But that's the Carter brothers. You don't get one of them -- you get them all."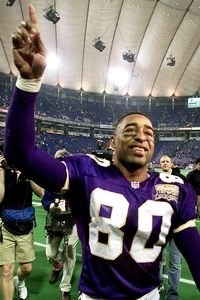 AP Photo/Michael Conroy
Cris Carter didn't make the Hall of Fame this year, but he probably will down the road.
No truer words have ever been spoken.
As I stood inside the green room with the Carter brothers Saturday, waiting for this year's Pro Football Hall of Fame inductees to be announced, you could feel not only the anticipation of the moment, but also the incredible bond between Butch, George, John and Cris.
Not many words were exchanged. Not many words were needed. A simple glance, or the gait of one's walk, expressed all that each was feeling.
And so, when it became apparent Cris' name would not be called this time, their silence was a conversation only the four of them could understand. Cris' name was on the ballot, but it was his brothers who felt the pain.
"I just want to thank everyone who came down today," Cris said as we departed the holding area. And without missing a beat, one of his brothers replied, "We'll be here next year, and the year after that, and the year after that."
That's just how they roll.
Despite being well into their 40s, Butch, George, John and Cris are as tight now as they were growing up in Middletown, Ohio. Back then, the four brothers -- along with their two sisters and their mother -- lived in a four-bedroom apartment in the projects. Today, they still occasionally sleep over at each other's houses, even though their own homes all are nearby.
They are a jovial bunch, full of life and generosity. And they are as quick to give each other a hard time as they are to say, "I love you."
"You know how you hear people say that they had people in their lives who told them they couldn't make it or they couldn't do something?" Cris says. "That's not me. That's not my story. My brothers have been there with me since day one. We've been through everything together -- good and bad.
"Don't get me wrong, I would love to be voted into the Hall of Fame. But if I don't get in, that's not the end of the world. I am surrounded by my loved ones, and being with them, going through this journey with them, makes me extremely happy."
Cris is an eight-time Pro Bowler whose 1,101 career receptions and 130 touchdown catches put him second behind Jerry Rice on the all-time list. He is a member of the 1990s' All-Decade team, and his 122 catches in 1993 were a record at the time. He might not have gotten into the Hall of Fame this year, but it's hard to see the voters keeping Cris out for long.
But if they do, they will want to stay clear of his brothers.
"Him being considered for the Hall is an incredible honor, and I'm extremely proud of him," George says. "Just like I was proud of him in Little League, and in high school, and in college, and in the pros.
"I knew back when he was 8 he was going to be special … and all of our hard work paid off."
The Carter brothers didn't rely on TV or video games to entertain themselves. Led by the oldest brother, Butch, they trained, pushing each other in every athletic way imaginable. They used to hop the barbed-wire fence at Middletown High to run the stairs with weighted vests. They had home run derbys and played one-on-one basketball. Not just for the joy of playing, but to train -- seeing sports as a way to overcome the absence of their father and being too poor to have a telephone.
"Our cousin used to live next door to us, and so recruiters would call them, and then they would come over and tell us they were on the phone," John says.
Butch was the first one to make it out, earning a basketball scholarship at Indiana before playing six years in the NBA. His success showed the other brothers what they could do in their own lives. By the time Cris, the youngest brother, made it to Ohio State, each brother had gone to college, thanks in large part to those not-so-friendly battles growing up.
But the Carters' story isn't a smooth rags-to-riches one. They have had their fair share of trials, even after they graduated from high school -- particularly Cris being caught up in a Reggie Bush-like scandal at Ohio State, then getting cut by the Philadelphia Eagles because of drug and alcohol abuse.
"Him getting cut probably saved his life," George says. "It was a wake-up call for all of us. Even though we were adults, we learned we still had to really look after and take care of each other."
And they do, talking every day, often a few times a day. They are business partners, best friends and bodyguards. This isn't a family riding on the coattails of the most famous brother. Their closeness is a testament to unconditional love and strength.
"I would not be here without my brothers and without my best friend, Jake," Cris says as he brushes aside a tear that has made its way down his right cheek. "After all we've been through, to be here, having my name considered for the Hall … I am just so grateful. I can't think of anything better right now."
I can.
Having Canton welcome the Carter brothers home.
LZ Granderson is a senior writer for ESPN The Magazine and a regular contributor to Page 2. He can be reached at l_granderson@yahoo.com.