One of my favorite movie scenes is at the very end of the 1987 sci-fi classic, "Predator."
The alien has been pinned down by a tree. Nearly every bone in its body is broken, and fluorescent green blood is everywhere.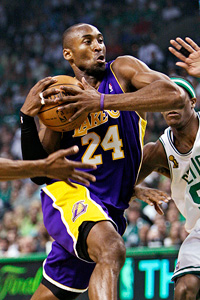 AP Photo/Winslow Townson
The Lakers fell short Sunday night, but Kobe certainly tried his best.
And what does the Predator choose to do with its final few remaining breaths? Detonate an atomic bomb in one last-ditch effort to kill Arnold Schwarzenegger.
The reason I love that scene so much is because even though the creature knows it can't win, even though there's a tree on its chest, the competitor in it refuses to give up. Refuses to lose.
It has been beaten, but it has not lost.
The end result may be the same, but there are huge psychological differences between the two, and those differences were reflected in the sports world this weekend on two very large stages.
I'm not much of a fan of Kobe Bryant the person. But Kobe Bryant the NBA player demonstrated why he is the best basketball player on the planet Sunday night. With his team down 24 points on the road against the best team in the league in the regular season, no one would have faulted him -- or the Lakers -- for giving up. But no, he kept on fighting. And he encouraged his team to keep fighting. And as a result L.A. came within two points of completing the greatest comeback in NBA Finals history.
This isn't about claiming a moral victory -- in the Finals, there are no moral victories. But what it is about is being a champion. Regardless of the circumstances, true champions do not stop fighting.
They are relentless. Determined. Hardened.
If the Boston Celtics win a championship this year, they are going to have to beat the Los Angeles Lakers. Because the Lakers ain't gonna give it up.
This is in sharp contrast with what happened earlier in the day in Paris. Down two sets to none against Rafael Nadal, Roger Federer essentially laid down his racket and quit, bowing out 6-0 in the final set. Now, unlike my feelings about Kobe, I actually like Federer as a person. I used to have unshakable admiration for him as an athlete, as well. (I don't care what golf lovers say, Federer's second-best season easily laps Tiger's best in my book, but that's another argument.)
Nadal's winning a fourth consecutive French Open title was amazing. But I was even more amazed that the world's No. 1 player essentially handed it to him after only two sets. If Andre Agassi had given up after dropping the first two sets in Paris back in 1999, he would not have what Federer is so desperately seeking -- a French Open title. Granted, Agassi's opponent, Andrei Medvedev, was no Rafael Nadal. But Agassi is no Federer. No one calls Agassi the greatest who ever played.
When you show up on Centre Court wearing a monogrammed blazer, 6-0 is inexcusable. That wasn't about domination. That was about heart. Or a lack thereof.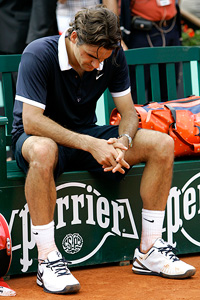 AP Photo/Christophe Ena
How flat did Federer look in that third set?
That's the one thing I can't stand to see from my Detroit Lions, what New York fans don't want to see from their Knicks, what fans of any team or player don't want to see -- quit.
Usually when fans talk about an athlete's lack of effort or desire, they talk about the millions of dollars that athlete is being paid and supposedly not earning. I really don't care how much a player gets paid because it's not coming out of my pocket. If an owner thinks someone is worth a 10-year, $60 million contract, who am I to argue?
Nothing gets under my skin more than a quitter, though. Like when the Seattle SuperSonics gave up 168 points in regulation to the Denver Nuggets this year. Or when jockey Kent Desormeaux threw in the towel at the Belmont Stakes on Saturday because Big Brown wasn't going to win the race. Or Randy Moss bailing on the Oakland Raiders a couple of years ago. I don't care about the score, the sport or the talent of the player -- if you're gonna be out there, then be out there. Fans can recognize when one team is simply better than the other. Fans also can tell the difference between getting beaten and losing.
Kobe's team didn't win Sunday night, but you can tell he still believes he can go back to Boston and lead the Lakers to a win, despite losing all four games he's played against the Celtics so far this season.
There's no way Federer believes he can beat Nadal at Roland Garros. Not the way he gave up in that third set. It's frustrating, and something I and other Federer fans must accept.
Why? Because Federer already has.
Let's face it, if he were the alien in "Predator" and the tree fell on him, Federer wouldn't have blown up the jungle. No, he simply would've shaken Schwarzenegger's hand, said "good fight" and died.
LZ Granderson is a senior writer for ESPN The Magazine and a regular contributor to Page 2. He can be reached at l_granderson@yahoo.com.