I stood there in Madison Square Garden last week, watching the first few possessions of Mike D'Antoni's New York Knicks coaching career, when two words came to mind: Oh boy.
Sure, the Knicks ended up winning that game, a 120-115 victory over the Heat. And following Wednesday's home win over the Bobcats, the Knicks are 2-2. Baby steps, I suppose. But if you can imagine the Phoenix Suns of the past few years, minus the offensive efficiency, then essentially you have the 2008-09 New York Knicks.
The Knicks' four opponents thus far have all flirted with 50 percent shooting from the field and have scored nearly 106 points per night. Conversely, the Knicks are putting up 98 points per game on 41 percent shooting. A major factor in the Suns' recent success was that they always had at least two pure shooters on the floor. The Knicks are a team of streak-shooters. Jamal Crawford will score 29 points one night, then one point the next night. In the team's 101-98 win over Charlotte, Nate Robinson scored 24 points in the first half, then didn't score a single point in the second half.
Oh boy.
This season's Knicks are going to be a team with a few ups and a whole lot of downs. But hey, after last season, their fans are just happy to see some changes. So much so that when rookie Danilo Gallinari entered the game late in the first quarter on opening night, you'd have thought he was Willis Reed, circa 1970. It was a far cry from the boos that greeted the 20-year-old Italian in this same building back on draft night in June. At that time, Knicks fans apparently weren't happy with D'Antoni and GM Donnie Walsh selecting a relatively unknown commodity while familiar college faces like Eric Gordon and D.J. Augustin were still on the board.
But at this point Isiah Thomas was long gone, the team was ahead and the crowd was fired up, so why not cheer the youngster? Unfortunately, the No. 6 overall pick has rewarded them with two points in four games, thanks in large part to a bad back.
See what I mean? Oh boy.
But after spending some time with Gallinari recently, the one thing that jumped out at me is that he is confident, if nothing else. Not just confident as a basketball player, but as a person. He knows who he is, and he's at peace with that. He doesn't appear to be the kind of guy who needs a bunch of hangers-on telling him he walks on water in order to make it through the day. And trust me, the NBA has plenty of guys like that.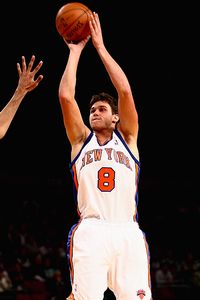 Chris McGrath/Getty Images
Gallinari's seen limited action so far this season, but the Knicks have high hopes for him.
A season ago, the Knicks were led by guys like that. Guys too insecure with themselves to sincerely celebrate the success of others. Too insecure to be a leader, and too insecure to not be seen as one.
When you have guys like that setting the tone on your team, well, a 23-59 record is what you get.
Unselfishness on a basketball team doesn't happen by accident. It comes from having confidence in your teammates. But if you don't have true confidence in yourself, it's very hard to let go and trust others. So while it's too early to tell if drafting Gallinari is a new day or Groundhog's Day for the Knicks' faithful, it does appear that the 20-year-old has one quality the Knicks can't get enough of -- a sincere team-first attitude.
"Whatever they need me to do, I will do it," Gallinari told me. "I don't feel a lot of pressure because I know I don't have to score every point, or grab every rebound. I just have to play as hard as I can to help the team win."
Of course, we've heard this type of selfless talk from international players before. Many times these players turn out to be soft. But I'm telling you, there's something about this kid that suggests he may actually thrive, at least in D'Antoni's system. His head seems to be screwed on right. Maybe it's because he knows he's in a good situation, playing in New York. Maybe it's because he's been playing pro ball since he was 16. Or maybe it's because Giorgio Armani handpicked him to be one of the new faces of Armani, with billboards of him plastered all over Milan.
I really don't know.
But what I do know is that the kid admitted to having Cher on his iPod. And any professional basketball player confident enough to confess to that is confident enough to take -- or not take -- the game-winning shot.
And if Gallinari can ever get healthy enough to prove D'Antoni right … well, oh boy.
LZ Granderson is a senior writer for ESPN The Magazine and a regular contributor to Page 2. He can be reached at l_granderson@yahoo.com.