There are all sorts of ways to celebrate an athlete's contribution to their sport: retire their jersey, feature them in a documentary, write a book about them or, of course, elect them to their sport's hall of fame.
But very few are honored with becoming "The Logo."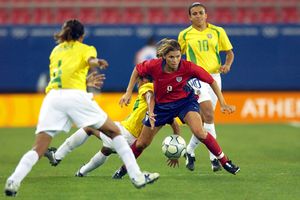 Bob Thomas/Getty Images
Mia Hamm helped the U.S. national team win three World Cups and two Olympic gold medals.
We all know about Jerry West. And now perhaps the most athletically gifted stay-at-home mom on the planet gets to have such a distinction: Mia Hamm. Since making the U.S. national team at 15, Hamm has carried the torch for not only her sport, but for female athletes. And now, at 36, as
Women's Professional Soccer
prepares for its inaugural draft Friday, Hamm is still using soccer to spread a greater message. She and her husband, Nomar Garciaparra, are hosting their second annual
celebrity soccer challenge
Saturday at the Home Depot Center in Carson, Calif. The proceeds benefit bone-marrow patients and their families at the Children's Hospital Los Angeles. It's not that Hamm isn't paying attention to the league that bears her silhouette (play begins in March). It's just that, with her professional playing days behind her -- she retired in 2004 -- Hamm is more focused on raising her 21-month-old twin daughters.
"It was very humbling and very flattering," Hamm said about being chosen as the league's logo. "There are so many players that have been involved in the women's game they could have picked, so I took it as an opportunity to acknowledge those people. It's my silhouette, but it represents all of the players and coaches who have worked so hard to promote women's soccer." She's humble, but it's difficult imagining any other player being chosen for the honor. Hamm's 158 goals are the most scored in international play for a man or a woman. She won the first two women's FIFA Player of the Year awards, and was one of the key faces of the country's national team for 17 years, playing on two World Cup champions and winning three Olympic medals, including two golds. And she's the only soccer player ever elected to carry the U.S. flag during the closing ceremonies for the Olympics. But beyond her legacy on the field, she has inspired a generation of young women to pursue their athletic dreams. And her foundation, which started in 1999, is dedicated to continuing that inspiration. Women's Professional Soccer is the second attempt at a pro league in the U.S. The Women's United Soccer Association began in 2001, in the wake of the excitement of the U.S. team's 1999 World Cup victory at the Rose Bowl. Unfortunately, the league folded after just three years, begging the question: If professional women's soccer couldn't thrive after World Cup fever and with the game's most famous player on the field, how can the new league expect to survive with far less momentum? "Looking back, it wasn't the product that was the problem; it was the infrastructure," Hamm said. "We let our finances get out of control. We burned through the seed money too quickly, spending on things that we shouldn't have or didn't need to, like outside counsel and things like that. But I know a lot of the new owners, because some of them were owners from the WUSA … their hearts are in the right place. What we can hope for is that we've learned from our mistakes. The other thing is that the level of players are so much better today."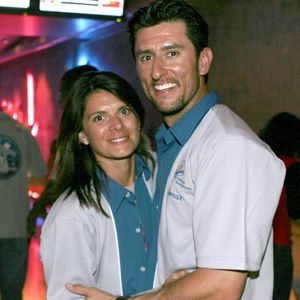 Jon Soohoo/WireImage/Getty Images
When they're not playing soccer or baseball, Mia and Nomar can be found at the bowling alley.
Indeed, last week the league announced that Brazilian sensation Marta, the 2008 FIFA Player of the Year,
will play in the WPS
. That's not just big for U.S. women's soccer, but potentially for men's soccer, as well. Normally, a high-profile foreign player is on the tail end of their career before coming stateside; see David Beckham and Pele. Marta, a three-time player of the year, is only 22. "She's not only one of the best in the world; she's one of the most dynamic," Hamm said. "It's exciting to know I'll be able to watch someone like her play and bring my girls." The girls come up a lot when you talk to Hamm. She embraces motherhood with such joy I asked if she regrets not starting a family earlier in her career, as the recently pregnant 22-year-old WNBA superstar Candace Parker is doing with husband Shelden Williams of the Sacramento Kings. "I don't know if I could've done it that way," Hamm said. "I was pretty selfish back then, and my head was down and focused on soccer … making sure I was ready for the next day and the next game, and the time wasn't right for me. But there's no right way or wrong way for something like that, and for her it seems right. "There are wonderful sides to both. I wanted to be in a position where I could always say 'Yes' and do things with my children and not have to say 'No, Mommy has to train.' [Candace is] going to have a child that's able to watch her play. For me, I wanted to have kids before Nomar stopped his career. One of the things I've always loved was seeing the baseball players on the field with their kids, and I have a picture of Nomar holding the girls with No. 5 jerseys. They know Daddy plays baseball." What about the girls seeing Mommy on the field? "I haven't thought about coming out of retirement at all," she said. "When I think about the expectations I have for myself and what I feel I owe the team and the organization, it was always 100 percent commitment. Towards the end of my career I didn't have the same desire that I had three years earlier and five years earlier. Today I have no desire to do any kind of fitness, like stand up on a line, race out and be timed. I still go out and run to stay healthy, but I also know when it really hurts, I can stop." So does that mean she's gonna take it easy on the celebrities playing in the game? "You know, when we did it last year, Tony Hawk was really nervous, but I told him not to worry. We put him with a couple of professional players and he was great. It's just a lot of fun to see the adults who haven't played before run around out there, because it gives them a chance to see what a great sport it is." Even in retirement, The Logo continues to inspire.
LZ Granderson is a senior writer for ESPN The Magazine and a regular contributor to Page 2. He can be reached at l_granderson@yahoo.com.