Next week, Bruce Springsteen's latest album, "Working on a Dream," will likely debut at No. 1 on the Billboard charts. In the spring he'll kick off his latest North American tour, and of course he is the featured halftime act for Super Bowl XLIII.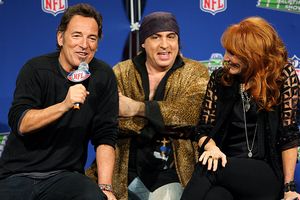 Paul Spinelli/Getty Images
We like Bruce, but can't we mix it up a little more?
For most musicians, that kind of trifecta would mark a career year.
For Springsteen, it's just one of many career years. The 59-year-old is one of the most successful entertainers in history. As is the 58-year-old Tom Petty, who performed at the Super Bowl last year. And the 50-year-old Prince, who performed at the Super Bowl two years ago. And the Rolling Stones, who were the halftime act for Super Bowl XL. And who can forget 66-year-old Paul McCartney, the halftime entertainment in 2005?
If you believe this list reads like a list of Who's Who Among Old Dudes in Rock 'n' Roll, we're on the same page.
The last time the Super Bowl had a woman perform at halftime was in 2004. That's right, everyone: It's the fifth anniversary of Nipplegate.
You can call Janet Jackson's wardrobe malfunction an accident, a publicity stunt or a desperate cry for help. But from my perspective, there's only one way to look at our reaction to it: sexist overkill, fueled by fear.
Given how Jackson's partially covered breast was exposed for less than a second, chances are you either had to rewind your TiVo to see anything or you heard about it from Jay Leno. The truth is, the most offensive part of her performance was repeating the "Rhythm Nation" choreography from the 1980s. Yet since the controversy, the median age for halftime acts has shot up to 60 years old. And, most noticeably, males only.
It's as if Robert Young or Hugh Beaumont fired the DJ and stuck in his iPod.
Before Jackson, the halftime show for the biggest game in what is the country's favorite sport was a kaleidoscope. Mary J. Blige, Nelly, Kid Rock, Jessica Simpson, Britney Spears and Christina Aguilera were all featured at some point, representing the diversity of football fans. Yes, Rip Van Winkle, women too. In fact, according to a 2007 Harris poll, 30 percent of avid NFL fans are women, and more than 45 million women watch NFL games on TV each weekend.
Dudes play, but everybody is cheering.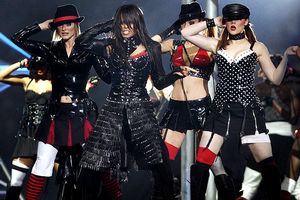 AP Photo/Amy Sancetta
Five years after Janet Jackson, it's time to see another woman perform at the Super Bowl.
Now, we can debate the talent merit of the performers until we're blue in the face. Spears might not be a great singer, but neither is Mick Jagger. And hardly anyone knows what the heck Petty or Nelly is saying half the time when they open their mouths. But again, it's not really about what the old guys will do as much as it is about what they hopefully will not do. For starters, bare their breasts. They also won't make the conservative baby boomers in charge of the advertising purse strings nervous, because it's music they grew up on. This was especially important in 2004, when Pat Buchanan proclaimed shortly after Nipplegate that the culture war he infamously talked about in 1992 had been reignited by the "crudity of the MTV crowd." With the country still trying to heal from 9/11, socially we were still quite fearful, and had begun reverting back to a "Father Knows Best" mentality. Anyone who disagreed was deemed un-American.
Just ask the Dixie Chicks.
And with opportunistic politicians like Buchanan fueling the fire, and the FCC breathing down the necks of MTV, CBS, Justin Timberlake (who triggered the malfunction) and Jackson, I understood why the NFL dusted off McCartney and propped him up on stage. The powers that be wanted the public to know that the Super Bowl was still good wholesome American family entertainment, so they hired a Brit who I'm sure never did drugs or had premarital sex in his life to perform.
This is really why I find the reaction to Jackson's 2004 performance, and the continual effects of it, so mind-numbingly hypocritical. Jackson's been branded as an immoral vixen and her star has dramatically dimmed since the incident, while her co-wardrobe malfunctioner was awarded an Emmy for a skit called "Dick in a Box." Women can sing the national anthem and be sideline reporters, but only Puritans like Keith Richards can do the halftime show, and studio talent evaluation should be left to proven men like Matt Millen.
It's time the NFL and the owners forgot about Jackson and started letting women -- and people under 40 -- back on stage. Nothing against Springsteen. It's just, when you look at the lives of the players, and the lives of the fans who cheer them on, obviously there's more than one way to celebrate this game through music without getting chastised by the FCC. Until then, the halftime show will continue to reflect the time in which fear replaced common sense.
That's way more frightening than a breast.
LZ Granderson is a senior writer for ESPN The Magazine and a regular contributor to Page 2. He can be reached at l_granderson@yahoo.com.