DETROIT -- Growing up, I had two significant buildings on opposite ends of my block. One was my elementary school, filled with teachers who honestly cared for their students. The other was a dilapidated apartment building where drug addicts and alcoholics gathered.
In one building, I learned to read and write. Near the other, I saw what happened to people who didn't know how to read and write. In the morning I would walk the half-block or so to school, and in the afternoon I would walk by the other building on the way to the store for my mother.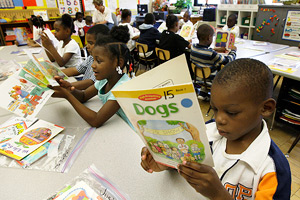 AP Photo/Paul Sancya
The closing of some schools in Detroit could have very dire consequences.
Every kid on my block had to walk the same two paths.
Every kid on my block had to make the same choice -- which building did we want to spend the bulk of our time in?
Because of citywide corruption and a state economy that began eroding long before the rest of nation's, some children in my hometown will find that decision significantly more challenging than I did.
Last week, Robert Bobb -- the emergency financial manager the state appointed in January to analyze the budget woes of the Detroit public school system -- announced that the district will have to cut thousands of jobs and close as many as 50 schools in the next two years. The reason? The district has accumulated a $305 million deficit. Combine that with current teacher contracts expiring in June and, well, you can see where Hollywood is going to look for its next urban schools film.
This situation has "Dangerous Minds" sequel written all over it.
As the country focuses on how Michigan State has given folks in Detroit something positive to talk about, I can't help but wonder how Bobb's plan will deal with these school closings and layoffs.
When the confetti's been swept away and the nation turns its attention toward baseball, the people supposedly uplifted by a couple of basketball games will have to deal with the harsh reality: Not only are decent jobs are far and few between, but getting children to school could also become much more complicated. With more than 94,000 students spread out among 194 schools, there is no way they'll be able to avoid closing neighborhood schools like the one at the end of my block.
That means busing, and busing means schedules, and with schedules comes the fact that it's doubtful whether some children will be able to spend extra time with teachers if they need to, as I did. And if the school is far away, that makes it more difficult for parents to be involved in their children's education and to attend parent-teacher conferences. Also, property values are significantly higher with a school in the neighborhood, and the presence of decent role models in a child's immediate environment takes a hit without one.
And then there's this: Fewer schools means fewer opportunities for extracurricular activities such as band; drama; and, of course, sports. Detroit Northern, the school that former NBA All-Star Derrick Coleman went to, shut down a couple of years ago. I'm not saying DC would've never developed into a great basketball player, but you have to wonder about the domino effect. Coleman surely was good enough to make the team at a different high school, but what about some of his former teammates? What would have happened to them?
Not everyone who picks up a basketball is a Division I talent headed to the Final Four. But D-I schools are not the only institutions that offer athletic scholarships. And there are many more sports than basketball. Not to mention, having middle and high school sports available to young people in a city like Detroit isn't always about getting out of the 'hood.
For example, research has shown that women who participate in sports growing up are more likely to stay active as adults. Why is this important? Because the National Center for Health Statistics has found that 62 percent of U.S. women are overweight or obese, and the Women's Sports Foundation says overweight women are 60 percent more likely to die from breast cancer. When you know cancer is the leading cause of death in women, you begin to understand how exposure to physical activity early on can shape a person's life for the long haul. And you can also see why I am more concerned about the upcoming changes in the Detroit public school system than I am about the auto industry.
I'm not saying Bobb is wrong for wanting to make the district more efficient. I just pray he is looking at more than just the books when he makes his decisions. Some schools are more than just buildings, and keeping them open -- to quote a friend -- doesn't make a bit of difference in some neighborhoods, it makes all of the difference.
I grew up sandwiched between two buildings that presented me with very different choices.
Not sure how the story would have turned out if I had had only the one.
LZ Granderson is a senior writer for ESPN The Magazine and a regular contributor to Page 2. He can be reached at l_granderson@yahoo.com.