Commentary
Echoes of Mexico City in Iran
When I think about some of the most iconic images in U.S. history, it's difficult not to include the picture of John Carlos and Tommie Smith standing on the Olympic podium with their clenched fists raised high in the name of social justice. The year was 1968, and while the Civil Rights Act was signed four years earlier, you don't have to be much of a historian to know the country was hardly a beacon for racial harmony and peace.
[+] Enlarge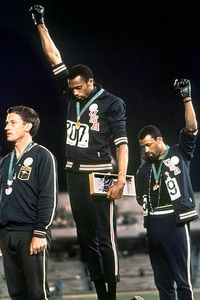 AP PhotoTommie Smith, center, and John Carlos, right, are the epitome of courage for their display in Mexico City.
The president who introduced the bill in 1963 -- John F. Kennedy -- was assassinated and not even alive to sign it into law. Two of the other men synonymous with the Civil Rights Movement -- Dr. Martin Luther King Jr. and Robert F. Kennedy -- were assassinated months apart in 1968. When you consider two of the most powerful men on the planet were murdered in cold blood within a year of each other, I can't imagine the level of bravery Carlos and Smith had to summon in order to speak out in the manner in which they did.
With the world looking, these two shifted the spotlight from themselves to a much greater cause.
I thought about that image and their bravery again yesterday as I watched players from the Iranian soccer team show their support of the protestors back home by wearing green bands around their wrists and arms during the squad's qualifying match against South Korea. The game resulted in a tie, thus eliminating Iran from World Cup contention, but that could be the least of the men's troubles.
For the past five days, thousands of Iranians have marched in the streets to protest an election process they believe was hijacked by the current regime, which provided video showing the rallies to be peaceful even though more than 30 people have died. Worse yet, the embattled Iranian government has made it clear that protestors can be punished to the fullest extent of the law, which includes execution. By wearing the green bands, those players, their captain among them, not only decided to place self-interest aside and stand with their brothers and sisters back home, but they did so in front of millions on live television. While the Iranian government has refused to broadcast the unrest in the streets, it could not ignore soccer, the most popular sport in the world. And though all but one player removed their bands after halftime, the message was already sent.
If Andy Warhol was right and everyone gets 15 minutes of fame, it's hard to imagine a more selfless use of that time.
But that's one of the most beautiful things about sports. Every now and again the intense amount of focus we place on it is redirected and that light is pointed toward dark pockets of social injustice and tragedies. And when that happens, as it did in 1968 and Wednesday, I am truly amazed.
And at the same time, I am equally amazed, and disappointed, at the number of missed opportunities to do so.
[+] Enlarge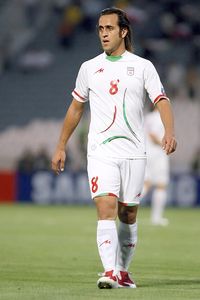 World Sport Group/Getty ImagesAli Karimi risks possible execution for expressing his opinion on his country's election.
Just yesterday, on the same day one group risked their lives in the name of democracy, we saw that Los Angeles, a city struggling to keep educators in school, seemed to have no problem raising private donations for a multimillion-dollar parade to honor millionaires who are employed by a billionaire. I'm not a Laker-hater and I'm not interested in telling people where or how they should spend their money and time. But I am always moved when people of note and means place the whole over the individual, and let's just say I was not moved by yesterday's victory parade.
There will always be conflict of some sort in the world. There will always be some who have more than others. And there will always be choices all of us -- rich or poor, famous or not -- get to make everyday about what we're going to do -- or not do -- about it.
I'll admit, I'm not always on the front lines on issues that I care most about. But I gotta tell you, whenever I see something like the photo from Mexico City or what the Iranian soccer team did, I can't help but ask myself, "Why not?"
LZ Granderson is a senior writer for ESPN The Magazine and a regular contributor to Page 2. He can be reached at l_granderson@yahoo.com.
Senior Writer, ESPN The Magazine
Edited NBA and tennis for ESPN The Magazine
Columnist at The Atlanta Journal Constitution
Fellow at Hechinger Institute, Columbia University