Commentary
Reflections on the original MJ
What is your favorite Michael Jackson song?
That's one of the most popular questions in the Twitterverse right now. In fact, tweets mourning Jackson accounted for 30 percent of all communication on Twitter shortly after news of the singer's passing began to spread.
[+] Enlarge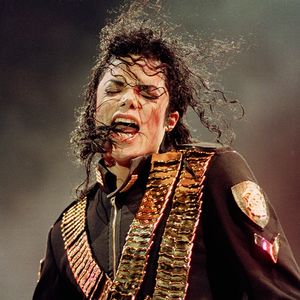 AP Photo/C.F. ThamThe death of Michael Jackson has overshadowed big events in the sports world.
I know I'm supposed to be caught up with Wimbledon results, NBA trades and interleague play, but it's hard to think about the score when my heart is so heavy. My childhood idol has passed away and he took a little bit of my childhood with him. And judging from social networks, I'm hardly alone.
Rob Thomas, John Mayer and Tina Fey all spent a good chunk of time talking about Jackson on Twitter. As did Serena Williams and Dwight Howard. One of the first things Shaq talked about in his interview during Thursday's NBA draft was Jackson, and rightfully so.
You would be hard-pressed to find a black person -- particularly an athete who either grew up or played in the 1980s -- who did not love Michael Jackson. Be it the moonwalk in the end zone, a leg kick during introductions or the A.C. Green jheri curl. Michael's appeal was universal -- but for blacks, he was more than an entertainer. He was our soul, he was our pop, he was our global icon, our boy next-door.
At the height of his popularity he was the height of all popularity. And at a time when there were not a lot of black male celebrities embraced throughout the world, Jackson was a source of tremendous pride. A poor black kid from Gary, Ind., who did good. Really good.
On Thursday, the streets of Brooklyn spilled over with mourners playing his signature songs and weeping at the loss. And that is only the beginning. Over the next few days we'll witness a good-bye that will rival the one given Princess Di. And this time around, the 'hood will care.
What is your favorite Michael Jackson song?
Can that question even be answered now, without feeling a chunk of your Gen-X childhood dying?
The posters, the imitation jackets, the larger-than-life persona. Terrell Owens and I were talking about favorite childhood memories, and he talked about winning a neighborhood Michael Jackson look-alike contest. Some sports journalists spent more time talking about MJ than they did the NBA draft Thursday night.
But beyond the fandom, what is MTV without the genius of Jackson providing the creative infrastructure, pushing music videos to heights unknown? What is today's music without the steady stream of imitators, such as Usher, Chris Brown, Neyo and Justin Timberlake?
Even basketball's MJ, Michael Jordan, bowed down to the original MJ in the "Jam" video. Jackson's record sales might have declined over the years, but there's not a producer in the world today who wouldn't have jumped at the chance to work with the legend.
What is your favorite Michael Jackson song?
If that question had been asked three days ago, a punch line would've been expected.
We took this little kid and his family into our hearts, and when we were done building him up, the mainstream media grabbed a sledgehammer and began to tear him down through tabloid hype and late-night mockery. Every move was scrutinized, every oddity was an international incident, every accusation assumed to be true.
Did he really want to be white? Was he a pedophile? Why so many plastic surgeries? The truth is, we really don't know the answer to any of those questions.
We really didn't know Michael. He was convicted of no crime, but after "Thriller" he was certainly a prisoner of some sort, held hostage by our curiosity and his indulgences.
We all laughed at the jokes and names like "Wacko Jacko," forgetting it was an actual human being we were talking about. There may never be another Michael Jackson. But if there was, would we treat him better than the one from Gary, Ind.?
What is your favorite Michael Jackson song?
Maybe the better question is, what is your favorite memory growing up? Because chances are MJ provided the soundtrack. Because we believed he was forever young, we were forever young.
And even though one of our gods was proven to be a mere mortal, his music remains timeless, eternal, infinite. Like the bond that ties each of us who ever had the pleasure to hear it.
LZ Granderson is a senior writer for ESPN The Magazine and a regular contributor to Page 2. He can be reached at l_granderson@yahoo.com.
Senior Writer, ESPN The Magazine
Edited NBA and tennis for ESPN The Magazine
Columnist at The Atlanta Journal Constitution
Fellow at Hechinger Institute, Columbia University