Commentary
Holly Robinson Peete is misunderstood
This week, millions of fans will say one final goodbye to Steve McNair, and, contrary to popular belief, Holly Robinson Peete is among them.
"An NFL trailblazer, loving father and husband is gone too soon, and I just wish the family so much courage right now," said the actress and wife of former NFL quarterback Rodney Peete. "And I am really, really saddened if I caused any extra grief with my inappropriate tweets where I overshared about my reaction to the circumstances surrounding this unspeakable tragedy."
Ah, Twitter.
[+] Enlarge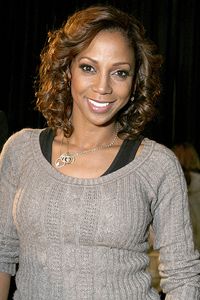 Alexandra Wyman/Getty ImagesHolly Robinson Peete's reputation shouldn't be determined by a few careless Twitter posts.
Annoying enough to fill your e-mail with useless updates and random quotes, yet powerful enough to help orchestrate protests in Iran or have people think one of the sweetest people anywhere is an insensitive, self-righteous scoundrel.
The latter applies to Ms. "21 Jump Street," who spoke for the first time Wednesday about fallout from her Twitter comments regarding the McNair murder.
Robinson Peete was just as shocked as the rest of us to learn of McNair's murder last weekend. As more pieces of the circumstances surrounding the tragedy became public, she expressed her feelings about the incident in the privacy of her own home.
While on Twitter.
At first, her messages were all about her love and admiration for McNair and how sad she was to hear the news. But the focus turned sharply once it became clear that McNair was leading a double life.
Robinson Peete wondered whether the incident would "scare married men straight like the '87 film 'Fatal Attraction' did for a while." She also dropped this bomb on Twitter: "i told hubby if i get a call some 20 yr old waitress he was doin offed him -- me n kids boycotting funeral -- not EVEN joking."
As I said earlier, Robinson Peete is one of the kindest celebrities I know, and the work she and her husband do to raise money for families dealing with autism is incredible. She's not an uncaring person. She said she was trying to shift the conversation from specifically the McNair situation to the topic of infidelity in general. It was done clumsily, for sure, and she has been blasted for being classless and senseless.
Robinson Peete admits that the timing of her comments was in poor taste but rebukes the notion that they are irrelevant, and I agree with her.
Infidelity is a part of professional sports culture that's greeted with a knowing wink and a nod. I don't care how many times players thank Jesus in news conferences -- the scantily clad women in the team hotel lobby probably aren't there for Bible study. So why discredit the spirit of Robinson Peete's statements?
"I honestly don't know how I would react if I found out Rodney was cheating on me; I was just thinking out loud," she said. "But it's important for people to remember infidelity is not just an athlete thing. There is a 50 percent divorce rate in this country, so infidelity affects everybody.
"I was trying to keep it real, but that was not the time to try to have that conversation. Especially not on Twitter."
As rookies, players are reminded how their heightened celebrity status can increase the number of "distractions" off the field.
But Robinson Peete says beyond that "there's nothing the NFL can do. … You can't legislate faithfulness."
She remembered when the Rev. Jesse Jackson performed her marriage ceremony, Jackson gave statistics about the number of divorces that occur after an NFL player retires. Holly said Rodney didn't like hearing that during the ceremony -- who would? -- but it was a sobering reminder to her that being married to a professional athlete comes with unique challenges.
So she and Rodney, who played 16 NFL seasons, made it a point to talk openly and honestly about the temptations that are out there for both of them.
They still have those conversations. While she said she has never cheated on Rodney and doesn't believe Rodney has cheated on her, she admits that marriage can be difficult and that they have had their difficulties just like any other couple.
"It's all about choices," she said. "And taking time to evaluate how your choices, your decisions will affect other people, especially your family. Especially your spouse and kids.
"Steve's legacy remains intact. I know very well how difficult it is to be a black quarterback in the NFL, so what he was able to do is incredible. But my heart goes out to Mechelle and those boys, who no longer have their daddy."
Amen to that.
LZ Granderson is a senior writer for ESPN The Magazine and a regular contributor to Page 2. He can be reached at l_granderson@yahoo.com.
Senior Writer, ESPN The Magazine
Edited NBA and tennis for ESPN The Magazine
Columnist at The Atlanta Journal Constitution
Fellow at Hechinger Institute, Columbia University
STEVE McNAIR: 1973-2009

Former NFL quarterback Steve McNair was found dead July 4, 2009, at age 36. He was fatally shot by a girlfriend in a murder-suicide, according to police.


NEWS
ANALYSIS/FEATURES
VIDEO