Commentary
Vick needs Detroit, and vice versa
I know it's a fruitless endeavor, but I can't help it -- it's the beginning of training camp, and once again, I'm trying to make sense of my beloved Detroit Lions.
They didn't want to trade the No. 1 draft pick to get a 26-year-old Pro Bowl quarterback in Jay Cutler. Instead, they gave rookie Matt Stafford more guaranteed money than any player in the history of the league. Stafford's competition for the starting job is an overweight veteran with shot knees in Daunte Culpepper, and the No. 3 guy, Drew Stanton, is so good he barely could crack the rotation for a team that finished 0-16 a year ago.
A team that has won 29 games in seven years.
[+] Enlarge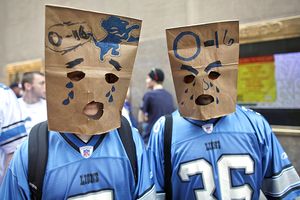 AP Photo/Jason DeCrowThese Lions fans would definitely take the bags off their heads to watch Michael Vick.
A team that didn't sell out five of its last seven home games.
Yet, despite all this, we're somehow better off without Michael Vick.
Honestly, I just don't get it.
If ever there were a team that would get a pass for signing the embattled quarterback, you'd think it would be the franchise that just finished with the worst record in NFL history.
Hey, did you hear somebody signed Vick?
Yeah, who?
Detroit.
Well, they had to try something?
It's a no-brainer.
Vick needs a place to start rehabilitating his image and career, and the Lions need … well, the Lions need a lot, but we'll start with buzz. With Stafford and Culpepper, Lions fans are thinking, "Well, we can't do worse than last year." With Vick, fans would line up to buy tickets with a sense of hope.
It would be a misplaced sense of hope, but hope nonetheless. His quarterback rating be damned, before going to prison, Vick was the most exciting player in the NFL, and when you can't promise the people wins, you at least should be able to promise them entertainment. Worst-case scenario, you'll end up with a situational scrambler/kick returner who will move merchandise and guarantee national media attention. Best-case scenario, he'll put up decent-to-good numbers for cheap and either become trade bait and/or fuel a quarterback controversy. A controversy fueled by us in the media, of course, because the last thing Vick will do is walk into a locker room and start trouble.
Yes, protesters from all over the country would go to Detroit with their signs and outrage, but that could be a good thing. The cash-strapped city is desperate for tourism, and beggars can't be choosers. Those protesters will need a place to stay, right? They'll have to eat, right?
Besides, Vick has served his time in prison, is remorseful for his actions and should be allowed to work in his chosen profession -- not frozen out because of fear of bad publicity. If a player can go from rape charges to "Guitar Hero" commercials, or a politician can get caught with a crack pipe in his mouth and still get re-elected, I think the nation's capacity to forgive and forget suggests Vick will be OK. And ignore all the hot air from PETA. That's the same organization that criticized President Obama for swatting a fly, so as far as I'm concerned, it is hardly a reliable social barometer.
The fact that so many teams are saying they're not interested in Vick means either they're lying, or no one has enough guts to take the initial heat for signing him. Well, I for one would like to see Detroit step up to the plate and position itself to become a story about second chances and redemption, instead of going 5-11 and patting itself on the back for how much it improved.
To quote the great philosopher Herm Edwards, "You play to win the game." I don't care what Vick's weaknesses are, you don't lead your team into the playoffs or make it to three Pro Bowls if you don't know how to win. Outside of Culpepper and Stafford, there probably isn't a player in a Lions uniform who doesn't think Vick could help them in some way. You certainly won't find a lot of Detroiters thumbing their nose at a 29-year-old record breaker who wants to come to the Lions.
Heck, I think they'd roll out the tattered red carpet.
LZ Granderson is a senior writer for ESPN The Magazine and a regular contributor to Page 2. He can be reached at l_granderson@yahoo.com.
Senior Writer, ESPN The Magazine
Edited NBA and tennis for ESPN The Magazine
Columnist at The Atlanta Journal Constitution
Fellow at Hechinger Institute, Columbia University
VICK CONDITIONALLY REINSTATED

Former Falcons QB Michael Vick has been conditionally reinstated by NFL commissioner Roger Goodell.


NEWS
ANALYSIS/FEATURES/BLOG POSTS
SPORTSNATION
VIDEO