Commentary
Celebrate Magic, don't forget about AIDS
Once I had looked at the e-mail a friend of mine sent me the other day, I couldn't get the thought out of my head: Magic Johnson turns 50 on Friday.
[+] Enlarge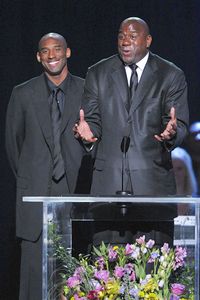 AP PhotoWho would have predicted Magic Johnson would outlive Michael Jackson and speak at his memorial service?
I mentioned this to a group of colleagues, and they all paused for a moment, but it didn't seem to hit them the same way. Maybe I'm making too much of this. After all, nowadays 50 is the new 40, your 40s are really your 30s, and a lot of men born in the '70s think Hollister T-shirts are age-appropriate. (For the record, they're not.)
But then again, Magic's turning 50 isn't really about the number, is it? It's about the fact that after his retirement from basketball in 1991, we all thought Earvin "Magic" Johnson was going to retreat to a cave somewhere and die. Eighteen years ago, AIDS was still a mysterious disease that had shown no mercy. It was scary. It was untreatable. It was over there.
But Magic courageously pulled it out of the shadows of being a drug users' disease or a gay white men's disease, and probably saved a lot of lives in the process. He didn't go away, but rather created a foundation and thrived as a businessman and public figure.
Because of Magic, our attitudes toward the disease and those infected by it have changed drastically. We stopped looking at people living with AIDS as walking corpses to be avoided, and started looking at them with more compassion and understanding. We got educated, and learned how the disease could be transmitted and treated. Magic was not the first person of note to contract HIV, but he was the one who spoke the most languages.
But now it seems many of us have sort of forgotten about HIV/AIDS. Yes, there are still marches organized around the country to raise funds and awareness. But that sense of urgency has dissipated. And ironically, it's partly because of Magic. After all, he's not only still alive, but he's also healthy and doing well, so it has become a little easier to forget about the serious threat of the disease. And because we stopped paying close attention, the disease has begun to reassert itself, too.
California governor Arnold Schwarzenegger cut funding for HIV/AIDS education and prevention by 80 percent recently -- among other programs -- at a time when the Centers for Disease Control and Prevention has seen a steady increase of new cases of HIV across the nation. Perhaps more disturbing is the increase we're seeing in cases among teenagers. Some of the new cases are occurring in people as young as 15 -- people who were born after the initial devastation of AIDS. And the nation has sort of stopped talking about it, because the disease seems manageable. After all, Magic is 50.
[+] Enlarge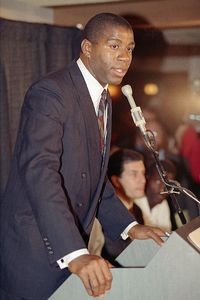 AP Photo/Craig FujiiDo you remember where you were when you heard the news Magic was retiring?
Every time you hear about a player or coach caught up with an unwanted pregnancy or child support owed to a small harem, you get the feeling it's not a case of a broken condom. As we all should know, it's irresponsible not to cover up -- and, we can't forget, risky. Sure, in some circles having a slew of babies peppered all over the country earns you respect, or the idea of getting pregnant by a pro athlete seems like a good get-rich-quick scheme. But you're also playing Russian roulette with your body, and, well, that aspect shouldn't be ignored.
In 2007 it was estimated that more than 33 million people were living with the disease worldwide. And while a large percentage of the cases are in third-world countries, U.S. citizenship does not grant you immunity. Nor does your bank account, ERA or number of followers on Twitter. So yeah, I'll admit there's a certain level of testosterone-fueled admiration woven into the Rick Pitino story, i.e., "That's big pimpin'." But there's also the reality that a then-50-year-old man could've infected his trusting wife with HIV.
I'm not trying to play the moral police here. Just keeping it real from both perspectives. As Bishop Rainey Cheeks, pastor of Inner Light Ministries in Washington, D.C., always says, "This is not a club you want to join." And he knows from experience: He's been living with the disease for almost 25 years.
So yes, Magic is turning 50. But there's still no cure for AIDS, and he is still HIV-positive. The new medications, thankfully, have slowed the disease's progression. And we all get to benefit from the many gifts Magic shares out of the goodness of his heart. But we should be careful not to confuse a healthy and vibrant Magic Johnson with a cured one. I'm sure he knows the difference, and it's important that we all do too.
LZ Granderson is a senior writer for ESPN The Magazine and a regular contributor to Page 2. He can be reached at lzgranderson@yahoo.com.
Senior Writer, ESPN The Magazine
Edited NBA and tennis for ESPN The Magazine
Columnist at The Atlanta Journal Constitution
Fellow at Hechinger Institute, Columbia University