Commentary
10 party rules every athlete should obey
With the NFL season nearly here, commissioner Roger Goodell is undoubtedly bracing himself for another year of high-profile scandals involving his players. It's a record everyone is tired of hearing, but no one knows how to turn it off.
Well, I'm no psychologist, so I can't explain why some players are S.O.S. -- stuck on stupid. But I have clubbed all over this planet, so I know a few things about partying drama-free.
Some things are no-brainers, such as don't get high in public. Others are trickier, such as monitoring the guy-to-girl ratio. I make no guarantees, but if athletes follow my 10 rules of partying, they have a good chance of avoiding legal woes. And Goodell, and David Stern and so on.
[+] Enlarge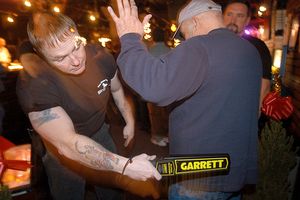 AP Photo/Marko GeorgieIf security is this tight when you're entering a club, you may have cause for concern.
1. Avoid metal detectors.
Unless you're in an airport, you should not have to empty your pockets to walk into someplace. Why on Earth would a millionaire athlete want to be in an environment where there could be strapped, ignorant folks drinking large quantities of alcohol and haterade?
I'm not saying don't party with your people. But if you're greeted by a metal detector, management basically is saying, "Welcome to our club, you or someone you know might get shot."
2. Hire a driver.
Pretty self-explanatory, right?
3. BYOC.
It's real simple: If you like unplanned pregnancies and/or sexually transmitted diseases, by all means, take a chance the girl didn't prick the condom in her purse with a safety pin, hoping to lure you into paying child support for the next 20 years. Otherwise, act like a Boy Scout and be prepared.
4. Text your hookup as soon as she leaves to tell her you had a great time.
Unless you're really lousy in bed, she will respond favorably, thus providing you with time-stamped proof that the sex was consensual. Yeah, it's calculative, but hookups aren't about romance.
5. Unless you're in a gay bar, the female-to-male ratio must be at least 1½ to 1, otherwise there will be trouble.
If you are in a gay bar, the ratio should be reversed.
6. Avoid clubs that advertise "Nude Girls" in neon lights outside.
Lap dances, cheap steak dinners … sure, strip clubs are a lot of fun. But as a general rule, no party veteran worth his weight in singles goes anywhere near neon lights -- let alone neon lights advertising a strip club.
For one thing, neon lights are aimed at tourists who don't know where to go, and thus are likely to attract thieves looking to rob drunk, unsuspecting out-of-towners. For another thing, the women will be less attractive. I'm sorry, but it's true. The better the clientele, the more selective management will be when hiring the women.
If the spot is glowing in neon lights, it's playing a numbers game -- get in as many folks as possible. If it's more discreet, it's aiming for quality -- fewer people, higher prices, but less hassle.
7. If you dress like a gangsta, act like a gangsta and refer to yourself as a gangsta, expect some gangsta #$%& to happen to you -- like jail, perhaps.
You are what you project.
[+] Enlarge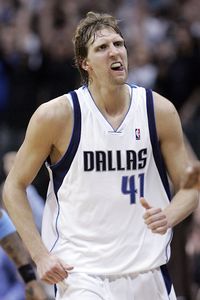 AP Photo/Donna McWilliamPoor Dirk. Guess he was a little too trusting.
8. If she says she doesn't know who you are, chances are she's lying.
Especially if she asks whether the Lakers play baseball. She's just trying way too hard to appear disinterested in sports -- which means she's probably following you on Twitter. In today's age of information overload and blurred lines between sports and pop culture, if you're on TV on the regular, assume people know who you are. That doesn't mean you should be an arrogant jerk, but don't be a fool, either.
I know a player who threw a large-scale fundraiser at his house and met a girl who told him she didn't know who he was -- and he fell for it. Dirk Nowitzki is a 7-foot German living in Texas, and he fell for it. We all want to be loved for who we are, not what we are. But we also want honesty, and if the girl can't be real about the obvious stuff, how do you know she's being real about anything else?
9. Make a picture of your family the screen saver on your cell phone.
Just a gentle reminder of what you stand to lose -- which may stop you from doing something crazy like, I don't know, having extramarital sex on a restaurant table and then blaming the media for making your wife upset.
10. Bring the hotness, don't go to it.
If you hear the phrase "Everybody will be there," that means everybody will be there. You're the athlete. You're the star. You don't have to go to where the party's at. Your presence should help make a spot hot.
Now, sometimes you do want to flex and roll up in a spot 12-deep and show everybody you're the man. Those are the times when you're feeling insecure. If your primary goal is to hang out with your friends, meet some cool people and have a good time, you don't need to be the center of attention at some radio station party.
Remember, the more insignificant you make the other men in the room feel, the more tension there will be. The more you flaunt your wealth and status, the more resentment there will be. And if the drinks are half off 'til 11 and you walked through a metal detector, you're just asking for trouble.
LZ Granderson is a senior writer for ESPN The Magazine and a regular contributor to Page 2. He can be reached at lzgranderson@yahoo.com.
Senior Writer, ESPN The Magazine
Edited NBA and tennis for ESPN The Magazine
Columnist at The Atlanta Journal Constitution
Fellow at Hechinger Institute, Columbia University