Commentary
The ultimate "don't come back" list
Updated:
September 28, 2009, 1:56 PM ET
By
LZ Granderson
| Page 2
There are still three months left in 2009, but as far as Page 2 is concerned the year can be defined in one word: comeback. Lance Armstrong is back on his bike, the Yankees are back in the playoffs, Brady is back under center and Floyd Mayweather is back on the beatdown. It's not just men who are pressing rewind. Justine Henin -- presumably inspired by watching her former punching bag, Kim Clijsters, un-retire to win the U.S. Open -- has decided to un-retire herself. Even Whitney Houston found her way out of rehab and back to the top of the charts. Yes, things are looking rosy on the comeback trail. So much so there is concern there might be questionable people and trends that may re-enter the spotlight as well. This is why I have compiled a list of the top 100 things we do not want to come back. Chances are some things are missing, but if the items on the list stay gone, we may be able to stomach those that squeak through.
100. Bling. I don't know if it's the NBA dress code, the rash of athletes being targeted for robberies or the fashion pendulum swinging away from Mr. T and more toward common sense. I'm just happy bling -- the noun and the adjective -- has lost its shine.
99. Prohibition
98. Men wearing toe rings
97. Bill Romanowski
96. Rickey Henderson
95. Winger
94. Warrant
93. Whitesnake
92. Any other big-hair '80s band that started with "W"
91. Dubya
90. Short shorts on NBA players. The sight of Tree Rollins running up and down the court in a pair of Daisy Dukes always made me throw up a little in my mouth.
89. Sanjaya
88. Ross Perot
[+] Enlarge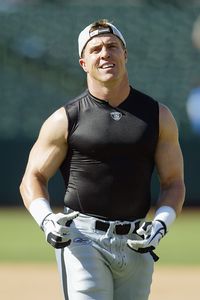 Justin Sullivan/Getty ImagesBill Romanowski was linked to the BALCO scandal, viciously punched a teammate and spit on an opponent. Spare us an encore.
87. The XFL
86. Atari 2600
85. Red, yellow and other brightly colored Levis.
84. John Edwards
83. John Daly
82. "Star Wars"
81. Lenny Wilkens
80. David Duke
79. Jesse Jackson
78. Jermaine Jackson
77. Shawn Kemp
76. Overly earnest baseball nicknames, such as "Charlie Hustle" and "Donnie Baseball"
75. TV shows with better theme songs than plots, such as …
74. "Cheers" or …
73. "The Greatest American Hero"
72. The Bash Brothers.
71. Plurals spelled with a "z" instead of an "s" … "boyz," for example
70. Wooden tennis rackets
69. S-Curl, Jheri curl, Care Free Curl and any other hairstyle featured in "Coming to America"
68. Polyester jumpsuits
67. Kwame Kilpatrick
66. Music by Bette Midler
65. The sky hook. Only one man made it look cool. You will never be that man.
64. Martina Navratilova
63. Traditional NBA centers. Especially if they're wearing short shorts
62. Barry Bonds
61. "The Super Bowl Shuffle"
60. Televangelists
[+] Enlarge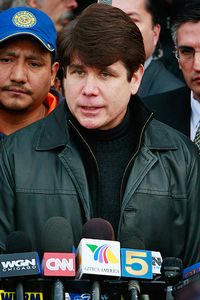 Scott Olson/Getty ImagesWe can only hope Rod Blagojevich doesn't follow Tom DeLay's path to "Dancing with the Stars."
59. Rod Blagojevich
58. Parachute pants
57. Jason
56. Freddy
55. Michael
54. The Boz
53. John Rocker
52. The paper-bag test
51. Life before Title IX
50. Lionel Richie. Specifically the version that thought "Dancing on the Ceiling" was a good idea.
49. Larry Bird Converses
48. Magic Johnson: talk-show host
47. Bob Probert
46. Mad cow disease
45. Athletes referring to themselves in the third person
44. El Niño
43. Michelle Wie
42. White flight
41. Kris Kross
40. Martina Hingis. Unless she's partying with Michael Phelps.
39. Jack Nicholson's Joker
38. "It's a black thing; you wouldn't understand"
37. Walkmans
36. Smoking
35. The phrases "blue-eyed soul," "white chocolate" and "pretty fly for a white guy." Not everything black people do is cool. Not everything white people do is corny.
34. Tim Donaghy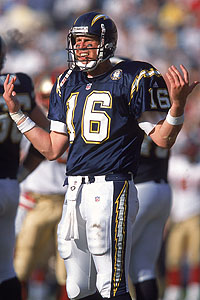 Stephen Dunn/Getty ImagesRyan Leaf's 50.0 career passer rating, coupled with legal issues, will likely spare us a comeback.
33. Ryan Leaf
32. "Queer Eye for the Straight Guy" (see No. 35)
31. Latrell Sprewell
30. George Foreman
29. Creed
28. "Sex and the City." Really, another movie? Is this the one where Mr. Big drives off a cliff because he can't take it anymore.
27. Tonya Harding
26. "The Nanny"
25. Jim Carrey
24. "Tupac is still alive" rumors
23. Porn-star mustaches on quarterbacks
22. Armband tats
21. "Scream" masks for Halloween
20. Patrick Ewing. My knees still hurt from watching him try to run up the court wearing a Seattle uniform.
19. "Word to yo' mother"
18. Yugos
17. Chew
16. Fax machines
15. Moneyball
14. The NBA without a rookie salary cap
13. Pre-shootout NHL
12. M. Night Shyamalan, aka the Brady Anderson of Hollywood
11. Sean Avery
10. The Vancouver Grizzlies
9. Curt Schilling
8. Cher
7. Shorter NBA 3-point range. This is how we ended up with Terry Mills in the 3-point shootout in 1997.
6. Sandra Bernhard
5. Evander Holyfield
4. "I am not gay" press conferences
3. "I am gay" People magazine cover stories
2. Michael Jordan. Please, dude, don't do it.
1. Government cheese. Yes, it made the best macaroni, but that @#%& wasn't healthy.
LZ Granderson is a senior writer for ESPN The Magazine and a regular contributor to Page 2. He can be reached at lzgranderson@yahoo.com.
Senior Writer, ESPN The Magazine
Edited NBA and tennis for ESPN The Magazine
Columnist at The Atlanta Journal Constitution
Fellow at Hechinger Institute, Columbia University