By Alan Grant
Special to Page 2
The thirst for fantasy retards reality. That's a problem with sports. Whimsy somehow turns into absolute truth and extreme belief. Then there's the danger that comes of mistaking confidence for arrogance, and humility for selflessness. As this pertains to the New England Patriots, I fear some folks are under the impression that teamwork -- or, more specifically, being a good teammate -- requires a lack of ego.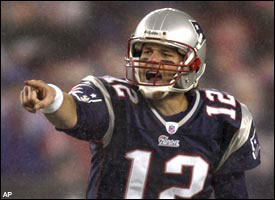 If you think Tom Brady doesn't have an ego, you're crazy.
I'm here to tell you that nothing could be further from the truth. Not in the football world I know. So: Enough with the babble about the selfless Patriots already. Let's not get it twisted, folks. NFL coaches and players, regardless of their outward appearances, all possess healthy egos.
Contrary to popular belief, Bill Belichick likes his players to have healthy self-images. One story: A few days before the 1990 NFL draft, I recorded a greeting on my answering machine, intended for NFL coaches interested in my prospects. It said something like, "You've reached the home of a future all-pro cornerback." It wasn't my style to be proclaiming this on a regular basis, but I knew that coaches like confident players. I wanted them to know where I stood on the issue. When I came home one night, there was a message from an enthusiastic Belichick, then the defensive coordinator for the New York Giants. It said, "Well, I'd like you to come do that for me here in New York."
I often think of that when talk turns to how ego and pride are thought to be so alien to the Patriots, and how New England's "teamwork" is the end result. I read it again just the other day -- some guy in Tulsa talking about it. "The Patriots are all about the team," he said. "They talk about work, effort and heart. They don't talk about themselves."
Well, that might be true. They might not talk about themselves -- and that's a choice that supports their mythical image. But be advised that each of these New England Patriots, like any other player on any other team, is as mindful of his individual place in the game as he is of the team itself.
There's this saying around the NFL, an unfinished sentence players use to define one's value to the team. It goes: "The more you can do ... " All team players -- at least, all smart and talented team players who wish to remain employed -- are always willing to do more, not less, for their teams. Receiver Troy Brown, by also playing cornerback and returning punts, strengthens his team with his versatility. And linebacker Mike Vrabel willingly doubles as a lead blocker in short-yardage situations. Neither man publicly complains about pulling double duty. Why would he? The more you can do ... But I'll be surprised if, at contract time, those extracurriculars aren't casually tossed into the conversation.
The same applies to the head coach. Sure, Belichick has an understated public persona -- look at his fashion statements and listen to his monotone speech -- and undoubtedly is consumed by his cause. And sure, his team, largely devoid of statistical superstars, is a clever reflection of the coach's single-minded focus. But don't think, even for a second, that Belichick lacks a burning ambition, or that he doesn't have an ego of his own. Of course he does. If he didn't, he'd still be a defensive coordinator -- and probably Bill Parcells' lifelong No. 2 man.
But after he served in that capacity for the Giants, Patriots and Jets, Belichick was ready to move beyond that none-too-cute Big Bill-Little Bill relationship. He knew he could do more, so he bolted for his own gig. And now that he's had success -- enough success to have his name included in conversations about the greatest coach in football history, a certain Vince Lombardi -- he hasn't changed.
And all the players who have joined the Patriots on their journey? They haven't changed, either.
Do you think Corey Dillon is any different now than he was when he played in Cincinnati? Not in the least. It's just that in Cincinnati, he played for an organization that was, at the time, not especially committed to winning. Instead, the Bengals were committed to mediocrity. Dillon -- who ran, and ran hard in Cincinnati -- was made unhappy by this, so he voiced his opinion, and for good reason.
But Dillon hasn't uttered a single critical peep since he arrived in Beantown. Why would he? Yes, everyone on the team, including the quarterback, is more role player than star. But Dillon's role is perfectly suited for him: He runs hard. This season, he ran hard 345 times, to be exact, for 1,635 yards. Because he filled his role so well in a ball-control offense, the Patriots are sauntering towards their third title in the last four years. Dillon, despite those numbers, isn't headed to the Pro Bowl, yet he seems downright cheerful these days.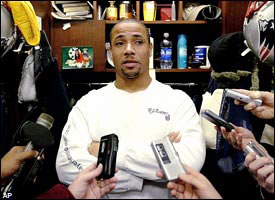 The pride of guys like Rodney Harrison is part of the reason the Pats are so successful.
And how about the forthright, hard-hitting safety, Rodney Harrison? This is a guy who, when he was released by the Chargers, publicly called San Diego coach Marty Schottenheimer a liar. Does that make Harrison a malcontent, or a less-than-ideal team player? Or is Harrison just another competitor who, like Dillon, wanted to be part of a team that shares his own lust for victory?
Just last week, during an interview with Boomer Esiason, a question was asked about why so few of the Patriots are Pro Bowlers. Harrison was the first to answer.
"We get overlooked," he said.
He's absolutely right. They get overlooked because, with the exception of Dillon, most of them have neither the stats nor the gaudy reputations requisite for Pro Bowl berths. And the players who fill out their Pro Bowl ballots, when in doubt, rely on those things when they vote. But do such snubs reduce Harrison and his teammates to a band of second-tier athletes who lack personal ambition? Hardly. Harrison is a hitter. There's nothing more personal than hitting another man. I guarantee that on Sunday, when Harrison reaches missile-lock on Freddie Mitchell, he won't have his teammates on his mind.
When it comes to the importance of confidence and/or arrogance in a team's success, one of the more understated coaches in all of sports says it best.
"There is an 'I' in team," says the University of Washington's Tyrone Willingham. "Any coach who says there isn't is lying."
Willingham, like any coach, knows that success in football and a lack of ego are mutually exclusive.
"Oh, you need some 'me' guys on your team," says Willingham. "You always need players with a strong sense of self."
Of course you do. They might not always say it, but every player on every NFL roster, including New England, thinks of himself as the best player on the field. If he didn't, he wouldn't be worth a damn.
Regardless of what you hear, or -- in this case -- what you don't hear, that's real.
Alan Grant is a former NFL defensive back and the author of "Return to Glory: Inside Tyrone Willingham's Amazing First Season at Notre Dame"