92. 1997: Florida 32, Florida State 29
Air Spurrier turned to Ground Spurrier as Fred Taylor rushed for 162 yards and four TDs to lead the Gators past the No. 1-ranked Seminoles.
91. 1999 NFC championship: Rams 11, Bucs 6
The high-powered Rams offense had dominated all season, but the Bucs' D nearly pulled off the upset, until Kurt Warner finally connected with Ricky Proehl for a 30-yard TD pass with under five minutes left.
90. 2003 NBA Finals, Game 6: Spurs 88, Nets 77
Sometimes it's the individual who makes a game great: Tim Duncan led the Spurs to the NBA title, nearly getting a quadruple-double as he finished with 21 points, 20 rebounds, 10 assists and eight blocked shots. The Spurs trailed by six entering the fourth quarter.
89. 1997 Western Conference finals, Game 6: Jazz 103, Rockets 100
John Stockton's 3-pointer at the buzzer sent the Jazz to the NBA Finals.
88. 1996 NCAA Tournament semis: Tennessee Lady Vols 88, Connecticut 83 (OT)
And a rivalry took off ... the game featured 18 ties and 12 lead changes as Tennessee avenged a loss in the previous year's title game.
87. 2004 Liberty Bowl: Louisville 44, Boise State 40
It wasn't a major bowl, but it did feature undefeated Boise State, one-loss Louisville and more thrills than a Jose Canseco book signing. The Cardinals scored the final 10 points to pull out the thriller.
86. 2005 NCAA Tournament, regional final: Louisville 93, West Virginia 85 (OT)
Hey, it was a pretty good weekend of hoops, wasn't it?
85. 2003 World Series, Game 6: Marlins 2, Yankees 0
Josh Beckett slayed the mighty Yankees with a complete-game, nine-strikeout, World Series-winning performance.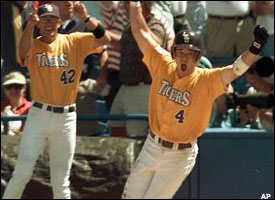 Warren Morris fulfilled the ultimate home run dream.
84. 1996 College World Series championship: LSU 9, Miami 8
We had to put this one on here somewhere, since it was the ultimate backyard dream come true: bottom of ninth, two outs, one run down, one runner on base ... Warren Morris swung at the first pitch and hit his first home run of the season to win the College World Series for LSU.
83. 2002 AFC wild card: Steelers 36, Browns 33
The Steelers scored 22 fourth-quarter points in rallying from a 17-point deficit.
82. 2000 U.S. Open: Tiger Woods wins by 15 shots
The margin of victory said it all.
81. 1995: Virginia 33, Florida State 28
The Seminoles were 7-0, ranked second and had never lost an ACC game (29-0). Virginia led when FSU reached the 6-yard line with 4 seconds left. On the final play, the Seminoles snapped the ball directly to running back Warrick Dunn, who was stopped by Melvin Jones inches short of the goal line – or inches past the goal line, if you listen to FSU supporters.
80. 1996 World Series, Game 4: Yankees 8, Braves 6 (10 innings)
Mark Wohlers, meet Jim Leyritz: Dynasty, back on track.
79. 2002 Olympic gold medal hockey final: Canada 5, U.S. 2
Canadians were riveted as Canada beat the U.S. in Salt Lake City to win its first Olympic gold medal in 50 years.
78. 1998 NCAA Tournament semifinals: Kentucky 86, Stanford 85 (OT)
The Wildcats won their second straight nail-biter to advance to their third straight national championship game – which they would win, beating Utah.