By Mike Greenberg
ESPN Radio
After he finished 22nd last weekend in his quest for the green jacket, Tiger Woods is training with the Green Berets this week. On Friday, there will be a golf clinic at Fort Bragg. Page 2 has been unable to determine whether Woods will be conducting the clinic or attending it.
That was a cheap joke. I apologize.
But isn't it amazing, the lengths to which Tiger will go to get instruction from anyone besides Butch Harmon?
Sorry, again.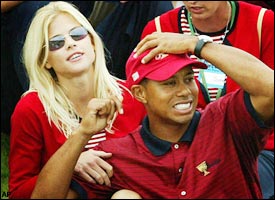 Granted, Elin would distract most of us -- but this is Tiger Woods we're talking about.
But seriously, is either of those jokes any worse than the laughable excuse that the reason for Tiger's fall is his engagement to Elin Nordegren? People are really saying that.
Let's settle this issue right now. If Tiger, indeed, has collapsed because of his pending nuptials, he will be the first man in history to become less interested in golf after he gets married.
Betrothed hackers everywhere are well aware of what's awaiting Tiger:
"I don't see how you can even think of playing golf when the lawn is in such dire need of work."
"My mother is coming for lunch. Any chance you just play nine today?"
"You're not really going to wear that green jacket with those pants, are you?"
My prediction: Six months of marriage will shave two strokes a side off Tiger's game.
Now to the point.
I can already hear Tiger's defenders yelling blindly at me: "Tiger has not collapsed! He is still the best player in the world! Jack Nicklaus went through a similar drought at the majors at almost the same point in his career! Every player on tour would trade places with Tiger right now!"
I am amused by all of those statements, each of which is either irrelevant or untrue; and in the case of the first one, both.
Tiger has collapsed. Yes, he has. It's a case of calling it as anyone can see it. Look, I didn't create the ridiculous body of work to which his game is being compared. He did. The one player in the world better than Tiger Woods? The player Tiger was two years ago. If he doesn't live up to that, it isn't my fault.
If you don't agree, ask yourself this: If I had offered you Tiger vs the field at Augusta two years ago, would you have taken Tiger? I think you would've. But would you have made the same decision a week ago?
That's what I thought.
With Tiger, all we have to compare him to is his own past. Is Tiger better than Phil Mickelson or Vijay Singh? That's beside the point. He is Tiger Woods. Of course he's better than those guys. But he's not much better, not right now.
Let's go back to the yelling. The next contention is that Nicklaus went through a similar stretch in which he failed to win a major championship and then came out of it. To that, I say: So what? Perhaps Tiger will come out of his slump, too; perhaps he won't. Hindsight always provides perspective. But I guarantee you that while Jack wasn't winning, no one called it a hiatus. They called it a collapse. They said Nicklaus wasn't himself anymore, and they were right. If Tiger rebounds the way Jack did, then this will all have been a blip.
Until then, it's a problem.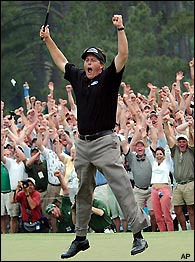 What if Phil never got to make this leap?
Finally, Tiger's defenders will say that every player on tour would swap resumes with Tiger over the last two years. To that, I'd say: You're wrong. I'll make you a gentleman's bet right now that Mike Weir, Jim Furyk, Ben Curtis and Shaun Micheel would all keep their 2003 trophies and let Tiger keep his millions. And if he's honest with himself, Tiger would make his end of that deal.
It's as simple as this: Tiger Woods is the Michael Jordan of golf. He is THE man, and no one questions that. The trouble is that right now, Tiger is more like Michael as a Wizard than Michael as a Bull. You still see flashes, but it clearly isn't the same. The suits who run golf had better hope we get the earlier Tiger model back, and fast -- especially after they lost their second-greatest attraction last weekend at the Masters.
That, of course, would be the Susan Lucci sideshow that was Phil Mickelson. Anyone who thinks that Mickelson winning a major is good for golf is out of his mind. Phil's win at the Masters is good for Phil. And that's all.
For everyone else, it's a disaster.
Think about it. Leading up to the U.S. Open, Tiger Woods will be the lead story. What will be second? For years, it's been Mickelson trying to get off the schneid. Now that he has, who cares about the next one? Mickelson's win at Augusta makes him irrelevant at the next major. If Phil wins again, it will be like Barry Bonds' 662nd home run. Nice, but not worth cutting into programming to televise.
In Mickelson's case, it was all about that first one. I've never heard anyone say, "You never forget your second time."
So if you have an interest in golf reclaiming the stage it occupied just two years ago, you'd better hope the world's most recognizable sportsman brings his A-game to Shinnecock Hills. We'd better not spend that entire Friday wondering if he's going to make the cut. With Eldrick Woods, the cut line is like the Mendoza line. It's meant to be a minimum.
For Tiger, and for us all, the drama is supposed to come on Sundays.
Mike Greenberg co-hosts ESPN Radio's Morning Show with Mike Golic and frequently anchors SportsCenter.