Commentary
Page 2 readers select biggest rivalries
Originally Published:
June 3, 2010
By
Jerry Greene
| Special to Page 2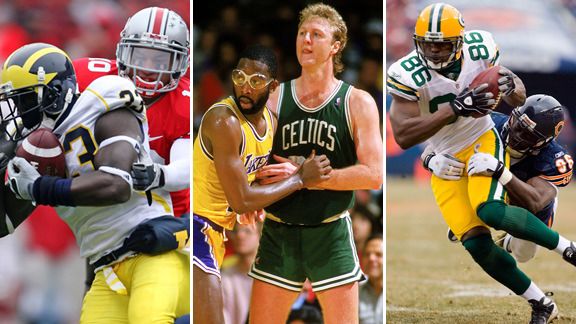 Getty Images
Are you searching for brotherly love?
Then search someplace else.
This week we called for your votes for the top 10 American sports rivalries, and your response was impressive. You not only voted; you backed those votes with venom that would silence any barroom argument.
When it comes to sports rivalries, "hate" is the operative four-letter word.
By the way, we're leaving out the Boston Celtics-Los Angeles Lakers rivalry that resumes in the NBA Finals. That's because many of you thought we didn't want Lakers-Celtics to be part of the list. They received enough votes to finish seventh, but their poor showing might have been because of the way we worded our call for the vote.
So they're out. This is not a democracy.
Let's get to it in dramatic 10-to-1 order, including a sampling of your thinking:
Top 10 greatest sports rivalries
10. USA vs. USSR: "This goes a lot deeper than sports. Two countries that hated each [other] with a passion." -- Ryan A., Troy, Mont.
9. Green Bay Packers vs. Chicago Bears: "Smallest NFL market going against one of the largest while trading dominance though the years." -- Scott "The Bears Still Suck" E., presumably somewhere other than Chicago.
8. Texas vs. Oklahoma football: "Nothing finer than the Red River Shootout (or Rivalry for the politically correct) at the Texas State Fair. You've got your cotton candy at the fair and your Sooner blood running red on the field for the best of two worlds." -- Brian R., Austin, Texas.
7. Pittsburgh Steelers vs. Baltimore Ravens: "Punishing, the way football was meant to be played. No Tom Brady protective skirts allowed." -- Tom C., Belcamp, Md.
6. Dallas Cowboys vs. Everybody: (Based on your votes, the Cowboys are hated by the Steelers, the 49ers and especially the Redskins. There was even one vote for "Cowboys vs. America," though that seemed a little harsh.)
5. San Francisco Giants vs. Los Angeles Dodgers: "The rivalry lasted the move from New York to California and is demonstrative of the NorCal-SoCal division. My dad is a Dodgers fan. I love him with all my heart, but when the Giants play the Bums he is dead to me and vice versa." -- Scott A., San Francisco
4. Army vs. Navy football: "It matches the intensity of any other rivalry but the people conduct themselves with a large measure of dignity and class." -- Jack F., Orlando, Fla.
3. Duke vs. North Carolina basketball: (See below.)
2. Michigan vs. Ohio State football: "Duke vs. UNC and Michigan vs. Ohio State because players in other rivalries change teams so frequently that, as Seinfeld said, we're just rooting for laundry. Here players chose one school over the other while there's more hatred, more tradition and more meaning swirling in the air than at any pro contest." -- Jeremy S., Long Beach, Calif.
1. Boston Red Sox vs. New York Yankees: "Since April 26, 1901. The world was created the next day because even God went to that game." -- Rodrigo E., Parts Unknown but probably in the Northeast.
Dozens of other rivalries received votes but not enough to make the list. Just missing were the St. Louis Cardinals vs. Chicago Cubs, Alabama vs. Auburn football, Georgia vs. Florida football, Utah vs. BYU football and Toronto Maple Leafs vs. Montreal Canadiens hockey.
No individual rivalries came close to making the top 10, but the leaders were Ali vs. Frazier and Harding vs. Kerrigan.
The most unique vote was for "Networks vs. Audience" as explained by Jo-Al M. from Manila, Philippines: "Where one party [the networks] rely on the other for its living while the second party [the audience] has its life revolve around the first, which always finds a way to suck its life blood."
We also got votes for "Worst Rivalry," in which the Cleveland Browns were frequently mentioned. We also had a convincing vote for the Globetrotters vs. the Generals. But the most biting came from Adam A. of Salt Lake City, who called the worst rivalry his "Remote vs. the WNBA." Said Adam: "The undefeated record of my remote control in this rivalry makes the Globetrotters vs. Generals look evenly matched."
Ouch.
But we will return to our greatest rivalry, between the Red Sox and Yankees, for the perfect summation of all these rivalries:
Said Lisa A.: "We hate them; they hate us."
'Nuff said.
Jerry Greene is a retired columnist for the Orlando Sentinel. He can be reached at osogreene@aol.com.