Commentary
UFC trading cards are now all the rage
Originally Published:
March 17, 2010
By
Tracy Hackler
| Beckett Media
When Jon Jones battles Brandon Vera on Sunday in the light-heavyweight main event of "UFC Live" on Versus, he'll do so equipped with something no mixed martial artist could have envisioned five years ago -- a trading card.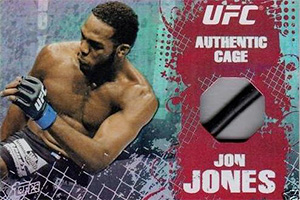 Beckett Media for ESPN.comA card with a piece of cage in it? Pretty sweet.
The fact that it also happens to be among the most in-demand cards in the sports-collectible universe right now simply reinforces the idea that MMA in general, and marquee organizations like UFC in particular, remain the fastest-growing sports phenomena on the planet.
Not that the folks at Topps needed any convincing. It was newsworthy enough when the traditionally stoic granddaddy of the trading-card industry reached out to secure an exclusive multiyear agreement with the UFC and frontman Dana White 18 months ago.
But the real haymaker came last February when Topps released its first stand-alone UFC card set, a sleeping giant of a product that rocked the sports-card industry as the surprise hit of 2009.
The dizzying debut surprised everyone -- partly because the product was so limited to begin with, and partly because die-hard, collectible-starved UFC fans beat traditional stick-and-ball-sport collectors to it. Quickly, boxes of the stuff ascended to more than four times their original cost.
Prices for some of the best cards in that set, like a Jones spinning backfist, will floor you. Welterweight champion Georges St-Pierre has an autograph card valued at $1,000 -- seriously. Middleweight champion Anderson Silva's top card is valued at $700. Legends Royce Gracie ($500) and Randy Couture ($500) did OK for themselves, too.
Still, no matter how much they celebrated Topps' shockingly good premiere, there were those among even the hardest of hard-core MMA fans who feared that a UFC-exclusive trading card product, for any number of reasons, lacked legitimate sustainability.
[+] Enlarge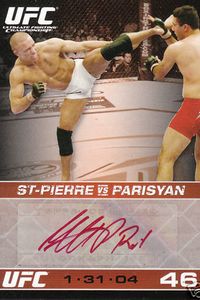 Courtesy Beckett MediaHere's an autographed Georges St-Pierre card.
Supposedly, the UFC's roster of truly collectible athletes was too limited. Supposedly, a lack of competition would prevent Topps' product developers from continuing to raise the bar creatively and conceptually. Supposedly, the sport was too young/obscure/violent/nontraditional to develop a deep, savvy collector base. Supposedly, Topps -- looking to capitalize on a hot property -- would pound this good thing into the ground too quickly.
One year and three products later, it would seem that every one of those alleged concerns -- and any others -- has been waylaid, rendered utterly incapacitated -- like anyone trying to stand and strike with, say, Paul Daley.
Clearly, this whole UFC-as-a-trading-card-sport experiment continues to deliver one knockout punch after another. Each new offering -- spaced out equally throughout the year, as the sport knows no offseason -- seems to be met with greater anticipation and, perhaps unfairly, greater expectations from insatiable collectors.
Give Topps credit for trying to meet them.
The company's newest product -- 2010 Main Event, released in February -- includes the requisite doses of modern amenities, such as autographs and fight-worn memorabilia. But it also includes actual pieces of a UFC Octagon cage, wedged into revolutionary-seeming extra-thick cards that add a great deal of gritty authenticity to a product line that didn't really need it, but benefits greatly because of it.
And just in case you're wondering, yes, Sunday main-eventer Jones does have a card with a piece of cage in it. But he's got a lot more than that.
Known as "Bones," the 22-year-old is largely considered the future of this so-called sport of the future. He's 9-1 and possesses a stunning offensive arsenal, full of spinning backfists and elbows and highlight-reel judo throws that send people on all-out YouTube assaults. And collectors -- countless more now than there were at this same time last year -- are responding.
Jones' standard autographed cards in Topps UFC products range in value from $50 to $80. But he has a few rare variations -- one signed in red ink that's limited to 25 copies, and one featuring an autograph and a piece of memorabilia -- that are worth as much as $350.
But even that might seem like chump change if Jones continues his ascent to UFC superstardom, a voyage that continues on Sunday.
Tracy Hackler is the editorial director for Beckett Media. What are your sports cards worth? Check out Beckett.com -- and be sure to get the latest news on sports cards and memorabilia at The Beckett Blog.