Commentary
Kobe loves trading cards ... seriously
Originally Published:
March 26, 2010
By
Tracy Hackler
| Beckett Media
Date night arrives on an early February Thursday in the Bryant household, and it's Kobe's turn to pick the outing. The international basketball superstar can select anything under the bright L.A. lights for him and wife Vanessa to do.
His choice? Spending the evening with Panini America officials shooting a television commercial for the company's Adrenalyn trading card game and opening packs of cards with company CEO Mark Warsop.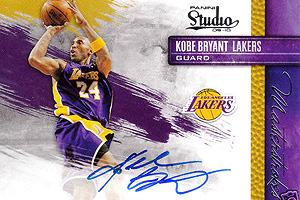 Beckett MediaCheck out this autographed Kobe Bryant card.
Consider that one small step for the Bryants, but one giant leap for card geeks everywhere.
I'll stop just short of calling Kobe the Pied Piper of sports cards, at least for now. But from an industry that's been dealt its share of bad-image cards over the past 10 years or so, Bryant deserves big ups for doing his part -- and then some -- to make collecting cards cool again.
In the interest of full disclosure, the crown jewel spokesman of Panini's sports card empire does get paid -- presumably rather handsomely -- to portray the company in the best possible light. Panini officials won't reveal how much, but of this I'm certain: Whatever they're paying him, it's not enough. Bryant's been that good in his first year representing the company.
"The relationship works because we both are interested in doing something new and putting a breath of fresh air into the industry," Bryant said. "That's something that we both feel very passionate about, and we have the same goals and the same determination to see that happen."
Added Panini America marketing director Scott Prusha: "I just wish we had more time in a day to do more with him. He's awesome."
Let's be honest: The product-pitching world is full of brand-name stars who all too often take the money and run, never completely buying into the product or the passion behind it.
That's not the case with Kobe. His box-busting binge with Warsop -- filmed for all the YouTube world to see -- likely did more to boost the Q-rating of card collecting than a year's worth of 30-second spots on Nickelodeon or the Cartoon Network.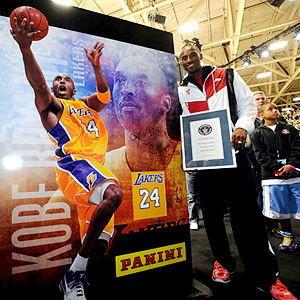 Beckett MediaHere's Kobe posing with his own gigantic card.
He stopped by the Panini booth at last month's NBA All-Star Jam Session in Dallas to autograph, of all things, the company's 7-by-5 foot Kobe trading card that's injected with a 15-by-15 inch piece of one of his game-worn Lakers jerseys. Today, that card -- the world's largest, according to the folks at Guinness -- is on display at the Naismith Memorial Basketball Hall of Fame.
Kobe's been known to provide unsolicited product concepts and ideas to Panini's creative team -- most recently when a Staples Center game-day promotional giveaway piqued his interest. He thought it might also pique Panini's.
His way-larger-than-life presence is plastered all over an Adrenalyn bus currently making the rounds on a 13-stop national tour. The tour ends next month in Los Angeles, where one lucky kid will get to go one-on-one in a game of Adrenalyn with Bryant, the self-dubbed "Panini man" himself.
It probably doesn't hurt the relationship that Panini's international headquarters are in Italy, a country Bryant spent significant time in as a kid watching his father play professional basketball, and one whose language he still speaks fluently. Nor does it hurt that, as a collector himself growing up, Bryant keenly understands the importance of trading cards.
He seems to possess a sincere desire to ensure their preservation for future generations. "[Cards] helped me learn the game," said Bryant, who has appeared on almost 6,000 trading cards in his career with a combined value of more than $250,000. "Cards helped me identify who was who within the NBA, and through cards I was able to understand what their strengths were, what their weaknesses were. They helped me to better understand statistics and how they work.
"I think that's just one way collecting cards helps enhance the game."
As for one huge way the game helps enhance collecting cards, look no further than Bryant, one of its greatest players. He's as close as your next pack of basketball cards. Of course, thanks to him, you probably already knew that.
Tracy Hackler is the editorial director for Beckett Media. What are your sports cards worth? Check out Beckett.com -- and be sure to get the latest news on sports cards and memorabilia at The Beckett Blog.