By Graham Hays
Page 2 staff
Bear with us, this column is running on a five-minute delay ...
Janet Jackson wasn't at the Staples Center for the 46th annual Grammy Awards, but it was still her show. Still reeling from the public relations tsunami born out of Jackson's infamous Super Bowl halftime flop, the music industry decided to play it safe on Sunday night. Garish outfits and lavish productions were replaced by conservative ensembles and toned-down productions, all in an effort to put the focus back on the music.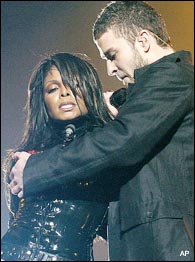 The Janet & Justin incident made a big impact on the Grammy Awards.
The result? A few memorable performances, and very few memorable moments.
All of which reminds us that we don't watch the Grammy Awards for the music. If we want a music awards show without controversy, sexual innuendo or anything remotely interesting, we'll watch the Country Music Awards.
So with only slight bitterness about lost hours of sleep, here's Page 2's Grammy wrap:
THINGS YOU MISSED ON THE FIVE-MINUTE DELAY
A rapidly aging George Clinton momentarily inciting panic after mistakenly hitting his medic-alert bracelet while singing "gaga googa," causing paramedics to think the veteran funk legend was finally connecting to that great mothership in the sky.
Confusion when cameras originally focus on Calvert Deforest, a.k.a. Larry "Bud" Melman, during the honoring of longtime Grammy producer Pierre Cossette.
Celine Dion singing. Luckily, censors were able to cut off the audio before viewers had to endure another overly emotional, trite, endless love song.
Dan Marino presenting with Andy Williams. The former Miami Dolphins quarterback and CBS analyst originally came out on stage with Williams to present an award but resigned halfway through the introduction, citing family concerns and uncertainty about his role in opening the envelope.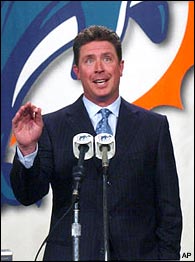 "I swear, I fully intended on opening that envelope."
The evening's only wardrobe malfunction, when after shaking hands with Cuban trumpet legend Arturo Sandoval following their performance, Justin Timberlake inadvertently pulls down Sandoval's pants. Timberlake later explains it was a misunderstanding caused by Sandoval saying he wanted help showing his instrument to an American audience.
Simeon Rice being sent home by producers for violating Grammy rules.
A video snafu during the airing of the Recording Academy's new public-service announcement against downloading music, during which it appears the spot has been taped over Neil Portnow's pirated copy of "Barbershop 2.
Another Britney Spears wedding, reception, honeymoon and divorce.
Outkast thanking someone other than their mysterious benefactor during the acceptance speech for Best Album of the Year.
Bill Clinton's saxophone jam. A winner in Best Spoken Word Album for Children -- actually, that part is legit -- Clinton's opportunity to finally share the stage with George Clinton and give us the funk was inexplicably cut from the broadcast. Executives explained that after earlier dropping a movie on the Reagans, they had to take away equal air time from both parties.
AND OUR AWARDS FOR THE EVENING
Best random collection of presenters: Jacob Dylan, Amy Lee of Evanescence and Amber Tamblyn of "Joan of Arcadia"
Apparently, producers were grabbing celebrities at random as they wandered around the Staples Center and shoving envelopes in their hand. If the show had run a little longer, we might have seen Toby Keith, Marilyn Manson and Emeril Lagasse presenting best R&B video. Dave Matthews, Vince Gill and Sting narrowly edge out Dylan, Lee and Tamblyn for "Least Chemistry in a Trio or Group."
Best performance: Outkast's Andre 3000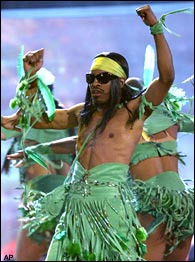 "Shake it like a Polaroid picture!"
The opening teepee sequence may have had even Washington Redskins fans cringing, but Andre 3000 made sure the night's final performance was the best. Sure, "Hey Ya" gets more air time than air traffic controllers at O'Hare, but any effort that includes both Jack Black and the USC marching band gets our seal of approval.
Best performance without use of stereotypes or marching bands: Foo Fighters with Chick Corea
This stripped-down performance -- not in a Justin and Janet kind of way -- snuck in and nearly stole the evening. While Sarah McLachlan seemed more intent on looking like Shania Twain than making use of bluegrass legend Allison Krauss, Dave Grohl and the Foo Fighters had no difficulty finding a balance with jazz pianist Chick Corea.
Best opportunity to walk the dog: Beyonce
Were the performers behind Beyonce during her rendition of "Dangerously in Love" really frozen in place for extended periods, or did time actually slow to a crawl as she slogged her way through the song? Some performances make you want to get up and dance, others make you want to get up and leave.
Best 80s flashback: Prince
In all honesty, this wasn't much of a win for Prince, considering Richard Marx was his major competition. But looking better in purple than Stanislav Medvedenko ever does at Staples Center, Prince proved he's got staying power by mixing it up with Beyonce. No word on Jay-Z's reaction.
Best knee-jerk graphic: Christina's cleavage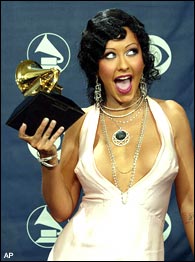 The censors sat up and took notice when Christina took to the stage.
At this rate, we half-expect Lesley Stahl to come out in a parka and ear muffs for next week's "60 Minutes." As Christina Aguilera joked about keeping what little part of her body was covered by her dress exactly where it was, the censors flashed a large graphic over her chest, ensuring that anyone who wasn't staring would know exactly where to look. Next year: Computer-generated burqas!
Best special guest appearance: 50 Cent
Noticeably missing from the show after last week's fiasco were any special guests. Thank goodness for 50 Cent. Either a big fan of Evanescence or perturbed at not winning Best New Artist, 50's jaunt through the middle of the group's acceptance speech was funnier than anything the show's writers came up with. The only bad part was we knew it wasn't going to be juicy ... because they were letting us see it.
Best environmental message: Earth, Wind and Fire
How can anyone still deny the damage modern industrial society is doing to our natural resources after witnessing the condition of Earth, Wind and Fire?
Best Ringo Starr impersonation: Pharrell Williams
Living up to the spirit of the award, Williams managed to underwhelm despite backing the uninspiring rendition of "I Saw Her Standing There" from Matthews, Gill and Sting. Bonus points for looking especially miserable the entire time he was on stage.
Best reinforcement of a historical legacy: Yoko Ono
We'd like to give this award for the genuinely touching tribute to Warren Zevon or the understated words from John Carter Cash, but as usual, Yoko stole someone's thunder. Her speech accepting the Presidents' Award for the Beatles offered the kind of self-congratulation people have come to expect when she speaks about the band.
Graham Hays writes "Out of the Box" five days a week in--between moonlighting for Page 2. He can be reached at graham.hays@espn3.com.