By Graham Hays
Page 2
Having spent too much money Saturday night on a ticket to the watch doomsday delivered via the Weather Channel in "The Day After Tomorrow" -- let's just say Kevin Garnett and the Timberwolves have some lupine competition for the worst Hollywood performance this spring -- I found it somehow fitting that tornados and romantic relationships played a part in delivering a day of sporting bliss that will carry me through weeks of steroid investigations, labor unrest and whatever Moises Alou chooses to do in the friendly confines of Wrigley Field.
Because sometimes a game is enough to remind me why sports are worth the trouble.
The tornados were the result of a storm system moving through western and central Oklahoma on Saturday night, wreaking havoc and forcing the postponement of two games at the Women's College World Series in Oklahoma City. The relationships were those of most of my friends, wreaking havoc with my social calendar and leaving me to fend for myself on a holiday weekend made for romantic rendezvous.
Unfortunately, FEMA wouldn't return my call for emergency assistance.
So I'll admit, I might have missed out on Kristin Schmidt if I had a life.
Luckily, I don't.
At 9:36 a.m. Central Time on Sunday morning, the LSU Tigers and Florida State Seminoles took the field for a game originally scheduled for Saturday night.
At 10:36 a.m. Eastern Time, I rolled out of bed and, in a more or less upright position, transferred myself to the couch.
While the players looked sharp, showing few signs of fatigue or sluggishness from the early start time, I looked decidedly sluggish while deciding that animal crackers and soda were a far more proximal -- not too mention lower carb -- breakfast choice than coffee and a ham, egg and cheese from Dunkin' Donuts.
Hey, we all make sacrifices.
Two days after pitching a complete game in a 2-0 loss to defending champ UCLA, and three days after pitching 12 innings against Michigan in an opening-round win, LSU's Schmidt took the mound -- there isn't actually a mound in softball but "bisected the circle" sounds both slightly scandalous or too much like algebra -- and pitched a complete game in the Tigers' 2-1 win, keeping LSU alive in the tournament.
I was hooked. And besides, I couldn't afford the gas to actually fill my tank and go somewhere anyway.
Four hours later, Schmidt took the circle and pitched another complete game as the Tigers yet again staved off elimination, beating California 4-1.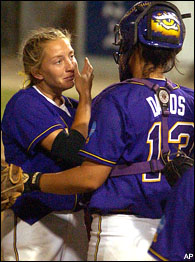 After 355 pitches over three games, Schmidt's day -- and college career -- came to a tearful ending.
And about 30 minutes after celebrating that effort, Schmidt came out and faced those same Cal Bears one more time.
One day. Three starts for a senior nicknamed "Turtle" and headed to law school in the fall.
Let's see Roger Clemens try that.
For five innings of her third game of the day, Schmidt looked capable of lifting the Tigers onto her (aching) back and carrying them to Monday's title game. It would be a performance for the ages, perhaps even worthy of 15 seconds on SportsCenter -- assuming neither Rasheed Wallace nor Ron Artest launched into an expletive-filled tirade that would necessitate a 10-minute roundtable segment.
But as if Euripides himself was chain-smoking Parliaments in the great writing studio in the sky and pounding out the day's script -- Homer having taken ill after wasting $10 on "Troy" -- the final act wasn't destined to be happy.
The end came not with a bang -- or a steroid-induced home run -- but in typical softball fashion. With two outs in the fifth, having already tied the game at 1-1, Cal scratched out three more runs on a walk, infield single and two-run single to left field. It turned out to be an insurmountable deficit for an LSU team struggling to scratch out hits all week.
And still Schmidt pitched on. Yellow ribbons still fluttering from the back of her braids, purple stirrups pulled high on her calves, she kept launching an array of offspeed pitches at the Bears through the sixth inning and into the seventh.
Then with two outs in the final inning of her third game of the day, after throwing 355 pitches over nearly 21 innings, Schmidt was done. Walking off the field for the last time in her college career, Schmidt held back tears as applause rained down with more force than the previous night's precipitation.
Three games represented many hours of softball, which in turn created a comically large amount of filler time for the ESPN crew calling the games. And from extended weather reports from roving reporter Jennie Finch to excessive camera time for the self-dubbed "Four Horsemen" UCLA fan club, we were there for every awkward moment. Well, except when sneaking off for a Slurpee, but any 7-11 is full of awkward moments of its own unique devise.
And while you had to wonder if some of the players consulted Page 2 before filling in their interview sheets -- Styx, Journey and William Hung were among the entries for favorite bands and text-messaging and tornado chasing made appearances in the hobby category -- all the fluff spawned a growing sense of familiarity throughout the day. Not the kind of familiarity that induces indignant phone calls to radio shows when a player has the audacity to slump, but the kind of familiarity that makes you put off going to the bathroom when light-hitting second baseman Sara Fitzgerald comes to the plate, because she's due for a hit, seems like a nice kid and likes gumbo.
Look, this isn't a call for Monday Night Softball on ABC next year. I'll save the defense of women's sports for another day and another time, if only to spare us from Bill Simmons explaining why there's nothing wrong with women playing sports, just as long as it doesn't keep them out of the kitchen or strip clubs.
So consider this an open letter from a cynical fan or the mission statement of Cynical Sports Fans Anonymous.
In the figurative heat of a championship tournament and the literal heat of late May in Oklahoma City, Kristin Schmidt pitched the game of her life, not once but three times in the same day. She chased victory with courage, skill and passion and eventually accepted defeat with both humility and tears.
She did it not for whatever small audience of diehards and lucky -- if sleepy -- interlopers the ratings tell us tuned in, but for her teammates and for her own love of the game.
And that's what competition is all about.
Hi, my name is Graham, and I'm a cynical sports fan.
But I'm working on it.
Graham Hays writes "Out of the Box" five days a week in-between moonlighting for Page 2. He can be reached at graham.hays@espn3.com.