By Graham Hays
Page 2
Major League Baseball's trade deadline passed with a flurry of activity on Saturday afternoon. By the time the buzzer sounded in the time-share bunker commissioner Bud Selig splits with Dick Cheney at an undisclosed location, Nomar Garciaparra, Jose Contreras, Steve Finley and Brad Penny were among the major names in need of packing labels.
But the deals that went down before the deadline were only part of the story. Thanks to our impressive network of spies, informants and wiretaps, Page 2 is ready to bring you the rest of the story. Or at least as much of it as we can without risking a lawsuit from Paul Harvey. And if you thought Ismael Valdez for Travis Chick was exciting, wait until you see what nearly happened around the league.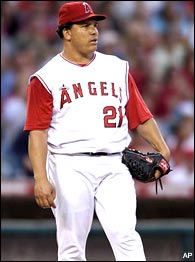 Bartolo Colon sure does love his hot dogs.
Anaheim
Everyone knows the Angels came up short in their effort to add Randy Johnson for the stretch drive. But owner Artie Moreno did find Randy Quaid and Don Johnson wandering the streets of Hollywood on Sunday morning and put both to work selling hot dogs in the bleachers. Bartolo Colon reportedly tipped both very well.
Arizona
The Diamondbacks were unable to deal Randy Johnson to Los Angeles after the Dodgers balked at dealing away some of their top prospects, but a last-ditch effort to send the pitcher to the Yankees fell through for different reasons. The Yankees and Dodgers had agreed in principle on a deal sending Johnson to the Bronx in exchange for five players to be purchased later, but the deal was blocked by a skittish Federal Communications Commission, afraid of what Boston fans would do with the Big Unit and some blank T-shirts.
Atlanta
The Braves were unable to complete a last-minute deal for pitching when it was discovered that veteran first baseman and trade bait Julio Franco would be working in violation of the mandatory retirement age in 13 states and the District of Columbia.
Baltimore
Although unconfirmed, rumors abound that Major League Baseball funneled several young pitching prospects from Montreal to the Baltimore Orioles in hopes of winning support from Orioles owner Peter Angelos for moving the Expos to Washington D.C. If the allegations prove to be true, it's unclear if this sale of arms represents a violation of the Arms Export Control Act, especially since two of the prospects are reportedly Cubans.
Boston
The Red Sox, an organization that routinely puts up with Pedro Martinez's early departures and incessant whining, nearly traded away one of the best shortstops of this generation for a cheap imitation and a first baseman who couldn't reach the Pesky Pole with a three-iron, all in the name of team harmony. No, wait, that actually happened. The good news is Theo Epstein saved some cash on the remainder of Garciaparra's contract and has his eye on bankrolling a musical about to hit Broadway.
Chicago White Sox
Noting that Barack Obama's speech at the Democratic National Convention included mention of his father's goat herding, and desperate to steal local fans from the more popular Cubs, the White Sox were unable to acquire the Senate hopeful from the state's Democratic party in exchange for Magglio Ordonez, announcer Ken "Hawk" Harrelson and former Senator Paul Simon's bow tie. Jack Ryan offered his ex-wife Jeri in exchange for bleacher seats at US Cellular Field, but was rebuffed.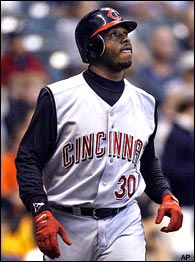 Junior, pass a physical? Nah, no way.
Cincinnati
A deal that would have sent beleaguered outfielder Ken Griffey Jr. and veteran shortstop Barry Larkin to the Royals for Juan Gonzalez and Mike Sweeney fell apart when one of the players mysteriously passed a physical.
Cleveland
Attempting to make a big splash to boost their sagging AL wild card fortunes, the Indians were late entrants in the Randy Johnson derby. The deal fell apart when Arizona requested a Hall of Fame caliber talent from Cleveland but the two sides were unable to find a middle ground between Earth, Wind and Fire and Bruce Springsteen.
Colorado
The Broncos were unable to name a starting running back before Saturday's trade deadline. Fans in the city remain split almost evenly between second-year back Quentin Griffin and veteran holdover Mike Anderson, with Garrison Hearst and rookie Tatum Bell lagging in support. Rumors that the city also has a baseball team remain unconfirmed.
Houston
Despite lengthy negotiations with the Arizona Diamondbacks about their outfield pool and the Minnesota Twins about their "Hefty bag" in right field, the Astros were unable to trade Tal's Hill in center at Minute Maid Park. The team remains hopeful the hill will pass through waivers and accept an assignment to Triple-A New Orleans.
Kansas City
A deal to acquire pitchers Jennie Finch, Lisa Fernandez and Cat Osterman from USA Softball was voided after physicals revealed an anatomical irregularity which prevented them from ever pitching for the Royals: all three had hearts.
Minnesota
GM Terry Ryan hoped to get more in return for veteran first baseman Doug Mientkiewicz than one prospect, but ran out of vowels after filling out the necessary paperwork. The cost-conscious Twins have vowed to replace their Gutenberg printing press with a typewriter before next season.
Montreal
Answering the age-old philosophical conundrum about a tree falling in the forest, the Expos played a baseball game in front of exactly zero fans. Of course the only proof that this happened is that it didn't happen. Think about it. Adding Alex Gonzalez now enables the Expos to move on to solving the riddle of one hand clapping.
New York Mets
Before trading Ty Wigginton to the Pirates for Kris Benson, the Mets considered clearing room in the infield by trading Kazuo Matsui for fellow Japanese superstar Kobayashi. He's been far more successful in the New York metro area than Matsui thanks to his hot-dog munching heroics at Coney Island, and the Mets felt he would also be a useful counter to David Wells should the team meet the Padres in the playoffs.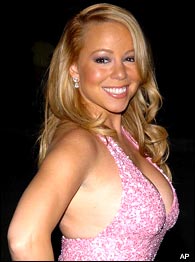 Apparently, Mariah Carey's digits were on the market as well.
New York Yankees
Derek Jeter rejected a proposal from teammate Alex Rodriguez that would have ceded all future claims to the position of shortstop in exchange for one evening with Jeter's current flame, Jessica Alba. In a related story, equipment manager Rob Cucuzza rejected a proposal from Jeter that would have sent Cucuzza's Dunkin Donuts Iced Latte to Jeter in exchange for Mariah Carey's phone number.
Philadelphia
Unable to complete any major deals and in desperate need of pitching help down the stretch, the Phillies approached starter Kevin Millwood about working out a deal with the Devil to turn around a disappointing season. Unfortunately, they found he was already represented by Scott Boras.
San Diego
In need of better coverage for the spacious outfield at Petco Park, the Padres nearly traded Ryan Klesko and prospects for two park rangers, three smoke jumpers and a fire tower.
Seattle
Already facing an uphill battle in rebuilding an aging team, Seattle management pondered trading away popular outfielder Ichiro Suzuki in return for prospects. Negotiations with one NL team progressed to the point that Seattle GM Bill Bavasi called Ichiro to his office to request the veteran's approval minutes before the deadline. Unfortunately, Ichiro and teammate Shigetoshi Hasegawa were waylayed in the locker room by a disoriented Ricky Williams, who had wandered away from Seattle-Tacoma International Airport during a layover on his way to Tokyo. Williams repeatedly demanded directions to the Shinjuku Gyoen Imperial Garden, before wandering off in search of leftover pizza.
St. Louis
Byung-Hyun Kim rumors aside, the Cardinals were never close to trading reliever Steve Kline. However, that didn't stop manager Tony LaRussa from summoning Kline to his office six or seven times in the hour before the deadline.
Tampa Bay
After their success with Fred McGriff, the Devil Rays nearly succeeded in luring Harold Baines, Jose Canseco and Dennis Martinez out of retirement.
Graham Hays writes "Out of the Box" five days a week in-between moonlighting for Page 2. He can be reached at graham.hays@espn3.com.