Editor's note: ESPN.com's Graham Hays is in China covering the 2007 Women's World Cup. He will file occasional diary entries for Page 2 during his trip.
Sept. 13

CHENGDU, China -- If you want to know if a place has its eye on the future, just look around at how it markets its past.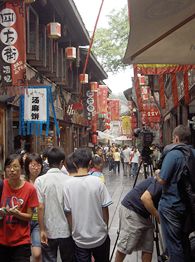 Graham Hays/ESPN.com
It's like the Mall of America, only older and in China. However, the outdoor motif loses some steam in a city that average nearly 300 overcast days each year.
An eyesore is distinguished from a landmark not so much by the importance of what once took place there as by the amount of people willing to pay to see it.
And these days in China, history is big business.
Tagging along with the ESPN television crew as it hits the streets of Chengdu, I end up at the gates to Jinli Street, a narrow alley hemmed in on both sides by one- and two-story traditional Chinese buildings that open onto the street from the bottom floor as market stalls. The history of the street as a commercial center dates back more than 2,000 years.
Although like some of Hollywood's ancient wonders, it seems to have had a little work done.
This isn't a functioning market with people selling vegetables, meat or anything else that Chengdu's residents might find useful in their daily lives; it's a tourist destination that was renovated in 2004. The stalls are filled with T-shirts (does it say more for capitalism or communism that I couldn't resist shelling out $8 for the one depicting a Mount Rushmore of leftist icons from Lenin to Mao?), stuffed pandas, musical instruments and endless forms of Chinese kitsch.
If we want a taste of history older than a couple of hundred years in the United States (since we didn't exactly take good care of the authentic old stuff that we stole from the continent's original inhabitants), we have to do things like import London Bridge and stick it in Lake Havasu, Ariz.
In a country with thousands of years of actual history, you wouldn't think it would need to fabricate anything. But as it turns out, a lot of history in China is either really inconvenient to reach or surrendered years ago to the skyrocketing urban populations.
All of which is how I find myself staring at a Starbucks sign on a street that originally opened for business about a thousand years before the first cup of coffee was brewed.
The stalls do a brisk business, and the alley is constantly a shopper-to-shopper traffic jam, but I can count the number of non-Asian faces out loud in Mandarin -- and I don't do so well with double digits in Mandarin. It's clear that a large percentage of what money is made here comes from the wallets of Chinese shoppers.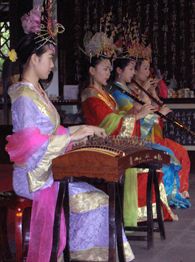 Graham Hays/ESPN.com
The house band at the Wohou Temple; unfortunately, Starbucks doesn't carry the CD.
Tong, our interpreter, lives on the Connecticut coast (where, to my continued disbelief, he insists there is at least one truly authentic Chinese restaurant amid a sea of General Tso's chicken), but he grew up in China, in the northern part of the country near Beijing. He says that 10 years ago, scenes like the one unfolding on Jinli Street would have been all but unimaginable. The Chinese people just didn't travel far enough from home on a regular basis, whether due to lack of infrastructure or lack of money, to support it.
This is why even Tong sometimes has a difficult time understanding locals and being understood here in Chengdu, wedged in the middle of the Sichuan region far south of Beijing. Isolated from each other for centuries, different regions developed dialects as different as the cuisines. On the drive from the airport, our local guide needed only a few snippets of conversation to pin down Tong's geographic background -- like someone in California listening to a thick Boston accent, only multiplied by a factor of 10.
Now all of that is changing.
The Wuhou Temple next door to the market also dates back well over a thousand years, although it was rebuilt in the 17th century (which seems recent on a scale of Chinese history, but occurred only a few decades after Boston was founded). I'm still not entirely clear on the history behind it, but the level of excitement and reverence in Tong's voice as he retells the story of three nobles who banded together to unite some portion of China suggests it's a pretty big deal.
One of the staff members warily accompanying the Americans with the big camera tells us, via Tong, that more than a million people each year pay the 60 RMB (about $8) entry fee. And judging from the sample of visitors on this particular afternoon, it seems like few of them hold foreign passports.
Within a five-minute walk of our hotel, you can find Starbucks, Pizza Hut and McDonalds (so far, I've avoided them, but all bets are off if someone finds a Wendy's for a frosty). Billboards around town allow images of Dwyane Wade and Tracy McGrady to watch impassively over the wave of humanity that constitutes rush hour. And the voices of Kelly Clarkson, Justin Timberlake and other singers -- which leave me wanting to pretend I'm Canadian -- blare out from the stereo shops.
But the most concrete evidence I've seen of China's booming economy came on a street full of Chinese tourists shelling out money for a taste of some faux history.
Of course, history always has room for a Starbucks.