Editor's note: ESPN.com's Graham Hays is in China covering the 2007 Women's World Cup. He will file occasional diary entries for Page 2 during his trip.
Sept. 14

CHENGDU, China -- I'm surrounded by 200 kids who can kick my butt.
This realization dawns on me during a visit to a working-class suburb, although the word seems wholly out of place here, on the distant outskirts of Chengdu. It's a place where local residents seize the outer lanes of the four-lane road to dry their rice and merchants hang various cuts of meat from massive hooks on a cart by the street. I'm a good distance from the nearest taxi and miles from the familiar Western hotels and restaurants of downtown.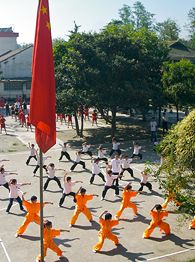 Photo courtesy Jim Witalka
A view from above a training exhibition at Cheng Bo Kung Fu School.
I'm basically living out the next CBS reality series.
The reason for all this is the Cheng Bo Kung Fu School, and the show of reality I'm about to witness beats anything on television back home.
Getting to Cheng Bo isn't easy, mostly because getting out of Chengdu isn't easy. This isn't one of China's larger cities, but it's massive by American standards. And even going against the flow of cars, scooters and bicycles entering downtown during the morning commute, it takes an hour to escape the densest part of the urban landscape.
I can't even imagine how long it would have taken if our driver, a middle-aged man who speaks no English, is prone to maniacal laughter and has a talent for instantly dozing off almost anywhere, hadn't used his horn and his rapid lane changes in a passable imitation of an ambulance with sirens blaring on an emergency call.
We amuse ourselves, or at least try to distract ourselves from the oncoming buses and trucks, by listening to Jim, the producer, and Mike, the cameraman, ponder how TomTom would fare giving turn-by-turn directions to Chinese drivers.
"In 300 yards, make illegal U-turn. Now honk horn and make another … In 1 mile, merge into oncoming traffic."
Finally the driver yanks the van across the street and into a narrow driveway guarded by a large iron gate that remains closed even at this midmorning hour. We're here … wherever here is.
The staff seems thrilled, if somewhat surprised, to have guests (although we called ahead), especially guests with lots of flashy camera equipment, and they greet us with smiles, bottles of water and brochures describing the school in Chinese characters. But despite their warm hospitality, a trait that seems strongest around nontourist sites, everything from the cinder block and cement buildings that look much older than the 15 years the school has been in business to the musty training gym suggests this isn't a spot likely to land in any Fodor's guidebook.
We're quickly led to a large courtyard where the 200 youngsters, still seemingly harmless at this point, are assembled in neat rows. It turns out the school has been waiting for our arrival to begin the morning exercises.
As best I can gather from what our guides tell us, the style of kung fu practiced in this part of China follows two slightly divergent paths. There is a traditional form that resembles an artistic exhibition, where students leap, kick and weave their way around a ring, often with weapons, either alone or as part of a rehearsed routine that only mimics contact. This seems to be the domain of younger teenagers, serving as a way to hone their techniques and muscles for the more violent, one-on-one fighting that is apparently the style's trademark. Aside from competing in regional and national championships, we're told that most of the graduates go on to careers in the military, police or as bodyguards.
Tuition here is 4,000 RMB (about $533), a significant sum for many people, for the 10-month school year. Students live and train on the grounds, doing schoolwork in the mornings but primarily focusing on kung fu throughout the day.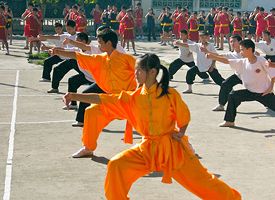 Photo courtesy Jim Witalka
Xie Xin, one of the top young students at Cheng Bo, is one of just a handful of girls at the school.
One of the first things that becomes apparent as the sea of faces in the courtyard begins gliding through a series of choreographed maneuvers is that there are only a handful of girls present. Given China's uneven history on gender issues -- balancing Mao's propaganda that "women hold up half the world" against a paternalistic culture still struggling against the cultural implications of a one-child policy -- I'm immediately curious about how they ended up here.
It turns out that while many women's sports in China are the result of a selection process that handpicks the best prospects at an early age, regardless of the child's interest in the sport, these girls are here because of a passion for martial arts.
Xie Xin is 14 years old and has been at the school for only two years, already progressing to a place among the group of the top young students, set apart in the courtyard by their bright orange robes. Minutes before talking to me via our interpreter, she was twirling a sword across the practice floor, a raised platform that resembles a boxing ring without the ropes, just as a drummer in a rock band twirls a drumstick and looking like a younger understudy for "Crouching Tiger, Hidden Dragon" star Michelle Yeoh. Now the face that was a picture of concentration with a weapon in her hand is partially hidden behind those hands, her answers interspersed with adolescent giggles.
She says she wanted to come to the school because she loves kung fu. When she's done with her schooling, she wants to become a coach -- something which, if the all-male instructors here are any indication, would represent another evolution of gender equality.
It's clear from the sparring matches between the oldest students that follow the exhibition by Xie Xin and her peers, bouts that resemble UFC as much as anything, that she and the handful of other girls here won't join in the final level of training. But the fact that they're here at all, training in this ancient discipline must say something.
After all, what better place to learn how to knock down doors and break through glass ceilings?