By Graham Hays
Page 2
EDITOR'S NOTE: Page 2, along with ESPN2's "Cold Pizza," is counting down the 15 Most Tortured Sports Cities in America. This week we discover why the White Sox are cursed (below), along with our list of the Top 10 most painful moments in Chicago's sports history.
You think it's tough being a Cubs fan? Try rooting for the city's other baseball team. The Cubs haven't been to a World Series since 1945, but that appearance was the franchise's 10th in 40 years. Yep, for the first half of the century, the Cubs were the prune juice and metamucil of postseason play.
The White Sox? They went to the World Series in 1959 -- and that's it since the team's infamous October visit of 1919. Even the Marlins have more World Series appearances in the last 85 years than the White Sox. In fact, for all their whining, the Cubs have had just three fewer winning seasons since 1920 than their neighbors to the south. Lacking a signature name like Ernie Banks and playing in a part of town ravaged by socioeconomic decay, White Sox losses are served straight, without any romanticized garnish.
THE 15 MOST TORTURED SPORTS CITIES
15. Tampa Bay
14. Kansas City
13. Cincinnati
12. Phoenix
11. Washington, D.C.
10. Houston
9. San Diego
8. Atlanta
7. Seattle
6. Minneapolis
5. Boston
4. Chicago

Want to find out what the No. 3 city is? Tune into ESPN2's "Cold Pizza" next Wednesday morning. Then head back to Page 2 to read all about it.
But is there more to the story than that? Are forces more sinister than luck and marketing -- if there are indeed forces more sinister than marketing -- at work? Listen to the tale one Jefferson J. Noskca told Page 2 about another curse at work in the Windy City.
*****
It's only June, but the White Sox are in first place and fans on the South Side of Chicago are getting excited about our team's chances in the AL Central.
Minnesota? A legitimate threat to be sure, but their idea of breaking the bank for the stretch run involves patching the holes in that giant baggie out in right field.
Kansas City? The Royals are last year's news. They've got a tighter budget than the Olsen twins will have for their next movie, and by August will be selling off assets quicker than you can say "Don Johnson."
Cleveland and Detroit? Sure, the upstarts made for nice ink in April, but they've got less legs than Ashley Simpson's career -- and are younger to boot.
So with Juan Uribe hitting like the second coming of Nellie Fox -- if Nellie had stolen Joe Morgan's bat -- and Mark Buehrle and Esteban Loaiza eating up innings the way Wilson Alvarez used to eat up the postgame buffet, it's reasonable to think this is finally the year. By the time the Yankees and Red Sox are done beating up on each other, who knows what could happen in the playoffs, right?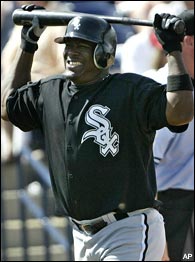 Juan Uribe is having a big year for the White Sox -- but will they be able to reverse the curse?
But it doesn't matter; none of it matters. The White Sox won't win this year, next year or the year after that, and it's all my fault. You see, I'm responsible for the curse.
I know, I know. It's the Cubs who have the curse. The Cubs have everything. Our decaying, cramped ballpark was torn down and turned into a parking lot. Their decaying -- have you used the bathrooms at Wrigley Field recently? -- cramped ballpark is nothing short of a national monument. Their drunken fans are seen as charming loyalists; our drunken fans have mullets and beat up pitching coaches. Bill Veeck gave them ivy on the outfield wall. He gave us Disco Demolition Night.
And of course, they have the Curse of the Billy Goat.
Look, the only reason you know about that damn goat is because Sam Sianis was a publicity whore. There, I said it. But it's true. Who brings a goat to a baseball game? And he just happens to own a local bar that needs publicity? Now thanks to Walter Payton and Michael Jordan, nobody remembers the times he tried to sneak into Soldier Field with a llama or Chicago Stadium with a boar. I'm just saying that if Sianis were alive today, he'd be working in network programming.
Nobody knows about my curse because I've kept quiet for the last 45 years. I've lived with the ramifications of my words for all that time, and I'm afraid the guy with the scythe and black robe isn't going to take me out of the game until this thing has run its course. So maybe it's just a self-serving attempt to cleanse my conscience or maybe telling the story will break the jinx, but it's time people know why the White Sox are Chicago's unlovable losers.
You know, it's no accident that Upton Sinclair wrote "The Jungle" about this town's meatpacking industry. From Mrs. O'Leary's cow to that damn goat, our fate always seems to involve animals. Heck, the only thing that surprised me about Daley handing the '60 election to Kennedy is that he used dead people instead of animals. And so of course it was a dog -- my dog -- that got the ball rolling on that fateful day back in '59, when the Dodgers were in town for Game 6 of the World Series.
If the mutt hadn't opted to have my White Sox cap for breakfast, things might have turned out differently. But the hat was mangled, and I didn't have time to do anything about it before my morning shift at the shoe factory.
It should have ended there. It was a cool day in October and the sun was no threat. It could have ended there ... if not for the bald spot. It's not that I was a vain man, but I hadn't yet grown used to parading around with more gloss on the top of my head than the baseballs they were throwing on the field. So I borrowed the only cap I could find at work, the one with a big red 'C' on a field of blue.
Things went bad in a hurry. It started with sidelong glances that quickly disintegrated into openly dirty looks when the Dodgers scored twice in the top of the third. By the time the team from California had put up six more in the fourth, the torment was unbearable. Finally, one drunken bum, convinced I was more to blame than Early Wynn, ripped the hat from my head and threw it to the wolves. Simmering in my own baldness, I sat through the rest of the game, secretly cursing the fans around me and wishing the worst fate I could imagine to befall them -- that those same hated Cubs would win a World Series before the Sox.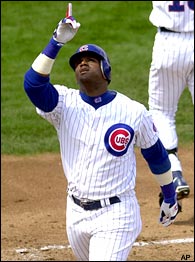 Imagine if the White Sox had never traded Sammy Sosa?
That would teach them.
Little did I envision a future full of Dan Pasqua, Melido Perez, Chris Singleton and James Baldwin.
Look, I'm no saint. There have been countless moments when my only refuge was to enjoy the misery I had created. Like when Bill Veeck thought it would be a hoot if the players wore shorts instead of baseball pants? That kept me in stitches for the better part of President Carter's administration. And the Albert Belle experiment? Yep, I'm to blame for that one, too. Though there was something cathartic about watching him spread the misery and anger the fans felt throughout the clubhouse. And don't forget about the Sox deciding the retro ballparks were a passing fad in building the new ballpark -- whatever they're calling it these days.
But nothing tops the Sammy Sosa trade in my book. George W. Bush gives Sosa away when the kid was with Texas, and the Sox turn around and deal Sosa to the Cubs, of all people, for a washed up slugger in George Bell? That was sheer artistry.
But there's no artistry these days, just Magglio Ordonez out six-to-eight weeks with an injury. That's not intervention; that's just bad luck. It's as if the fates have turned their full attention to the Cubs. I mean, you think that whole Steve Bartman thing was a solo job?
So in the end, I'm left rooting for the Cubs to win the World Series. Just like everyone else. Counting on the Northsiders to break not one curse, but two and bring peace to an old Sox fan.
If that's not torture, I don't know what is.
Graham Hays writes "Out of the Box" five days a week in between moonlighting for Page 2. He can be reached at graham.hays@espn3.com.