By Graham Hays
Page 2
EDITOR'S NOTE: Page 2, along with ESPN2's "Cold Pizza," is counting down the 15 Most Tortured Sports Cities in America. Today we suffer along with No. 9, San Diego, as we present our theory on why Eli Manning wanted no part of "America's Finest City" (below), along with our list of the Top 10 most painful moments in San Diego's sports history.
Soon after posing with commissioner Paul Tagliabue and a Chargers jersey this past Saturday, in a photo that will go down in the annals of NFL photography as only slightly less uncomfortable than still-shots of Joe Theismann's leg and Napoleon McCallum's knee, Eli Manning was dealt to the New York Giants in accordance with his stated desire to play anywhere but San Diego.
Thus was the next progeny of the Manning line spared the ignominy of spending his 20s and 30s in the sun and sand of San Diego -- or as we like to call it, America's Siberia. But questions remain as to why exactly Eli and pops Archie Manning so strenuously objected to life with the Chargers.
THE 15 MOST TORTURED SPORTS CITIES
15. Tampa Bay
14. Kansas City
13. Cincinnati
12. Phoenix
11. Washington, D.C.
10. Houston
9. San Diego
8. ???

Want to find out what the No. 8 city is? Tune into ESPN2's "Cold Pizza" next Tuesday morning. Then head back to Page 2 to read all about it.
Draft pundits -- while simultaneously lambasting an anonymous sixth-round pick for having "bad hips" -- speculated the resistance had to do with the Chargers organization, but after discovering Eli's travelogue from a secret pre-draft trip to San Diego, Page 2 thinks differently.
Turns out Eli saw just a little too much of San Diego.
Day 1: Dinner
They put fish in their tacos here! Fish!
My agent took me out to dinner down by the water, and I was craving Mexican food. So imagine my surprise when they bring out the house special and there's not a strip of steak or chunk of chicken to be seen. Now I'm an open-minded guy, but I don't think it's going to help me adjust to professional football when I have to worry about getting balanced meals around all this fancy, foreign food. After seeing that, I wasn't even sure I'd be able to get any of the foods I'm used to out here. But when I asked a girl coming out of the butcher's if I could see her fatback, she just slapped me. I'm not sure I'm ready for this.
Anyway, the first thing on the agenda for tomorrow is talking to my agent about the security he's hiring. The guy trailing us all day was definitely big enough for the job, but he looked like he slept in his car, decked out in a ratty, old Washington State T-shirt, flip-flops and a three-day-old beard.
Day 2: Sea World
They can't seem to get enough fish in this town. To be honest, the whole Osteichthyan thing kind of skeeves me out. Like when we watched "Iron Chef: Frogfish" in the apartment the night before the LSU game, and I couldn't concentrate at all the next day. But everyone told me I had to check out Sea World while I was in San Diego, so I hopped in the limo and cruised over for a look.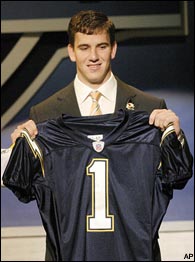 Didn't Eli look thrilled holding up that Chargers jersey?
First of all, I walked around the place for four hours and didn't see a single mention of Kevin Costner or a replica of the cool island fortress he took over in that movie.
The killer whale show at the main pool seemed like kind of a letdown, until I remembered the time change meant the real show didn't start for a few hours. Although I will say, watching synchronized swimming with Marion Butts, Natrone Means and Rod Bernstine was kind of a memorable experience, even if the splash from the pool left me damp for the rest of the day.
The Chargers told me Tim Dwight and Reche Caldwell, two of the team's receivers, would be signing autographs near the main pavilion that afternoon and I ought to talk to them for a player's perspective on the organization. I spotted a couple of guys who fit the bill, but I got sort of confused when they kept talking about study halls and this wicked easy philosophy course everyone takes. Turns out they were a couple of guys from San Diego State who were interning at the park. The whole thing kind of made me feel silly, but come on, who the heck knows what Tim Dwight and Reche Caldwell look like? This wouldn't have happened with Terrell Owens.
Oh, and it turns out that the big guy who keeps following us around and talking to himself isn't security at all, it's just Ryan Leaf. People around here say he's pretty harmless as long as you don't pretend to be a reporter.
Day 3: San Diego Zoo and Chargers headquarters
Finally, some animals with legs and lungs. I have to admit, the San Diego Zoo lived up to its reputation. Wow, what a diverse collection of animals from around the globe! And the zoo really does a wonderful job of putting up information placards for each animal. Although I wasn't sure what to make of the one in front of the tiger habitat which read: Tigers are dangerous animals. Do not feed, taunt or pitch to Kirk Gibson with runners in scoring position."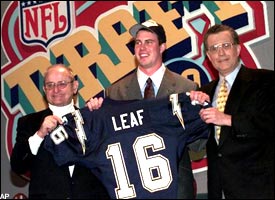 Ryan Leaf actually wore the Chargers uniform -- at least for a little while.
After visiting the zoo, the Chargers invited me to sit in on some initial talks they were having with a "big-time" free agent. They told me they were really excited about bringing back a San Diego State alum who would dramatically improve the talent on offense. I'll admit, I was kind of excited about having Marshall Faulk alternating series with LaDainian Tomlinson -- just imagine the crowd reaction when Faulk took the field! So imagine my surprise when I found myself shaking hands with Az Hakim.
Then everyone started talking excitedly about some new retro uniforms that would really capture the spirit of San Diego's sporting history. Now, I've got nothing against those powder blue jerseys and white helmets they wore a few years ago, but if this has anything to do with the Padres' old brown and yellow uniforms, I'm outta here.
I'm really starting to have some doubts about how this club is put together.
Day 4: PETCO Park
What a day. It started out as a nice tour of the Padres' new ballpark, but by the end of the day, our party was struggling just to survive. The tour started innocently enough, checking out the plush clubhouse and walking around the dugouts and infield. But our tour guide quickly became disoriented when we ventured into the outfield, and before we knew it, we'd lost sight of all familiar landmarks. We probably should have just hunkered down and waited for help, but we tried to find our way out and ended up wandering around aimlessly for hours. At one point, we crossed paths with a completely disheveled Ryan Klesko, who was muttering to himself about finding all his lost home runs. Thankfully, a helicopter rescue team spotted the fire we started with some souvenir bats and pulled us out of there.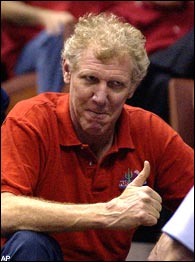 You never know what might happen when you bump into Bill Walton at an airport.
Day 5: Bill Walton
I was supposed to leave town this morning, but I missed my flight after running into Bill Walton in the hotel lobby. He was in town with Swen Nater and World B. Free for a Clippers reunion and pulled me aside when he spotted me waiting for the limo. There were still four hours until my flight and I figured he just wanted to say hello, but then he launched into this long soliloquy about life and the challenges young athletes must expect to face on their way to enlightenment and championships. I kind of lost track of what he was saying after a few minutes, but I'm pretty sure at one point he had John Wooden and Jerry Garcia talking about the motion offense.
Day 6: Home
Thank goodness I'm finally home. San Diego is just too weird a place for me. I need to play in a city whose fans nurture their sports figures and which offers a sense of the small-town southern lifestyle I'm used to.
I need to go to New York.
Graham Hays writes "Out of the Box" five days a week in between moonlighting for Page 2. He can be reached at graham.hays@espn3.com.