Minority owner Rabitt Blake needed a manager for a new franchise in Houston four years ago and figured he knew the perfect man for the job. Remembering the work Jav Vela, a local high school coach, had done for Blake's daughter, he asked Vela to lead the Texas Thunder.
But Vela passed on the offer, unsure if was ready to work with the "older youngsters," as he calls the players in a Texas drawl that occasionally strays toward late television chef Justin Wilson's "I guar-on-tee" Cajun cadences. Instead he recommended Wayne Daigle, a friend who had a long record as a successful college coach at Sam Houston State and Nebraska, and accepted an assistant role when Daigle became the team's first manager.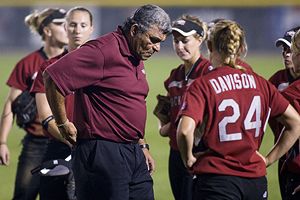 Ross Dettman for ESPN.com
Rockford Thunder manager Jav Vela played on the 1967 Southwest Conference champion football team at Texas A&M.
Four years later and more than 1,000 miles from both his Texas home and his other job teaching economics at Klein Oak High School, Vela is hitting fungos to the Thunder and sweating through his shirt on a painfully hot day in Illinois. Daigle left after one season and Vela has been running the show ever since, temporarily relocating with the team this summer when it left Texas and headed to a new home two hours outside of Chicago.
With only four of the players he coached last season making the move themselves, Vela wasn't sure he wanted to uproot his life for the summer and start anew in Illinois. But Leslie, his wife of 32 years who doubles as the team's equipment manager and whose cell phone bursts to life with the dulcet tones of AC/DC's "Thunderstruck," felt differently.
"I had reservations; my wife did not," Vela said in a tone that suggested the recommendation might as well have been chiseled on a stone tablet.
A Texas A&M graduate who played on the 1968 Cotton Bowl team, Vela is tough and gruff, his voice rising from that slowly flowing drawl only to shout out instructions to players who seem to have long since accepted that his bark is worse than his bite. But after ducking into the shade for a quick smoke at practice, the only relief he seems to seek from the sun, he sounds like a concerned dad while discussing the state of the league.
"I know that we need to get some major sponsorships, not just for the individual teams but for the league," Vela said. "A women's company of some sort to sponsor the organization to where these youngsters can make a little bit more money and not necessarily have to worry about how they're going to make a car payment and whether they can afford to go out and eat today. … Often times, by the end of the pay period, they're a little bit short."
Without him saying it, it's obvious where those players go when they run short on meal money, and it's easy to see why Leslie and Jav weren't ready to ride off into retirement.
Then the moment passes and Vela is off again, standing under the midday sun and barking at some unfortunate "older youngster" who forgot to bring a bucket of balls back to the plate.