The blink of an eye might as well be the unofficial unit of measurement of softball.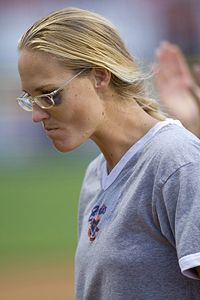 Ross Dettman for ESPN.com
At 26, Jaime Clark is a wiley veteran in the National Pro Fastpitch softballl league.
The ball gets to home plate in the literal blink of an eye, leaving little time to track whether it's rising out of the strike zone, curving to one side or dropping to the dirt.
It's also how long it can take for careers to end.
Look around National Pro Fastpitch rosters and it's difficult to find many players who have been out of school for more than three or four years. As much as the players may love the sport and the opportunity to earn a little money playing it, putting off a "real" job, one that doesn't allow for three months off in the summer and time to train throughout the year, becomes more and more difficult with each passing season and each overdue bill.
At 26, Jaime Clark is about as close to a grizzled veteran as you're likely to find. A three-time All-American at the University of Washington, member of the gold-medal winning 2004 Olympic team, and all-NPF selection in 2005 and 2006, she emerged as one the league's elder statesmen by living a life focused on savoring youth while she has it.
"I kind of just work odd jobs here and there and train as much as possible," Clark, who spent one season as a volunteer assistant at Northwestern, said of her ever changing offseason routine. "The past couple of winters I've been living up in the mountains teaching snowboarding lessons. Just kind of playing around and enjoying it while I can."
A few days before Jennie Finch and Cat Osterman dueled last week, Clark was at the plate for Chicago with hard-throwing Sarah Pauly in the circle for the league-leading Washington Glory. With the count full, Clark fouled off a pitch that ricocheted off her bat and into her left eye, leaving her crumpled to the ground. Although eventually able to walk off the field with some assistance, she left the dugout soon thereafter on a stretcher and was taken to a nearby hospital where tests revealed a broken bone around the eye and a concussion in addition to the readily visible cut.
"As far my vision goes, my vision is going to come back full strength," Clark said two days later, glasses unable to disguise the damage visible around her eye. "The break is all going to heal and the cut's going to heal, so I feel good … That's definitely the worst injury I've had in my career for sure. I've never broken anything, had stitches or had a concussion, and I had all three in one."
Back with the team but out of action for the remainder of the season, her words were noncommittal when discussing whether the time had come to hang up her glove, but her voice suggested a person grappling with a truth the injury might have reinforced.
"If I don't [come back], I've been really lucky," Clark said. "I've had a great time playing."