Page 2 staff
When the biggest news in sex through the first two-plus months of 2005 is Mickey Rooney's bare bottom ... well, suffice to say we could be in for a long, frigid year.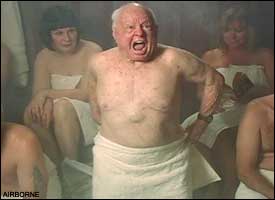 The only hot thing about Mickey is the sauna.
Remember, by this time last year, our cockles were already being warmed by Janet Jackson's wardrobe malfunction at the Super Bowl and the still-vivid memory of that Video Music Awards tongue-lashing between Britney and Madonna. We were smokin' in March 2004, compared to right now.
Thank goodness for Amanda Beard and David Beckham, the recently crowned and oh-so-worthy winners of Page 2's Hottest Athlete polls. At least we can roast our marshmallows over those fires for a while.
Still, 'Becks' and Amanda can only carry us so far, and we've still got more than two weeks of winter to survive. If the start of 2005 is any indication — remember, the networks are so buttoned-down these days that they wouldn't even show us Rooney's 84-year-old nekkid backside in a commercial for cold tablets — we're all going to need some help in the ... ummm, "hotness" area during the months to come. After all, we can't post the photos for the field in our 2006 Hottest Female Athlete voting for another year
But all is not lost. We still have the better part of nine months for a salvage operation, and good things are on the horizon. Which, of course, brings us to ...
2005, the Heat Yet to Come

In a bit of a role reversal, pitcher Kris Benson will reveal he has slept with the entire Mets roster after he learned that his wife, Anna, cheated on him.
Using Mike Piazza and Jeff Garcia as their role models, dozens of professional athletes will start rumors that they are gay in the hope that it will help them bag a Playboy model.
Maria Sharapova will turn 18 on April 19.
Bridget Moynahan will dump Tom Brady for someone "less pretty."
In a surprise effort to resuscitate his image, Ron Artest will pose nude in Playgirl. In a press release from the magazine, Artest will be quoted as saying, "The game has gotten so ugly, and I'm all about beauty now. People need to understand that."
Anna Benson will go 23 days -- from May 3 to 26 -- without talking to the media about her sex life with Kris.
Mia Hamm and Nomar Garciaparra will announce that Mia is pregnant, and that their unborn child is already wearing Air Ultrasounds, specially designed and implanted by Nike to grow along with an in utero infant. "Brand affiliation begins early," explains a Nike mouthpiece.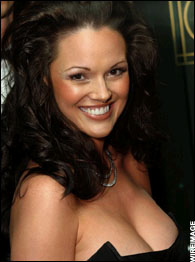 "No, there is no Mrs. Met ... what are you doing in the seventh inning?"
Anna Kournikova will announce the formation of the World League of Sexy Tennis and will serve as its first player/commissioner. As part of her new contract, she will be guaranteed three tournament singles victories.
Following the lead of the Women's British Open, all professional golf tournaments will open their doors to transsexuals, thus creating a storm of controversy over which tee boxes to use for the many PGA Tour players with breasts.
In search of his next career move now that "NYPD Blue" is over, Dennis Franz will join the cast of the Broadway revival of "Oh, Calcutta" and appear totally nude on stage during all three nights of the show's run.
Frustrated by the NHL's stubbornness, a Boston investment firm will offer Britney Spears $3.5 billion to pose in Playboy.
Alex Rodriguez's wife will reveal in an interview with Howard Stern that her husband slaps at the pillow like a girl during sex.
During negotiations with the league over a new collective bargaining agreement, NBA players will request the salary cap be raised by $50 million per team, citing the results of a study by an Ivy League college that shows the average player pays 98 percent of his salary in child support.
Maria Sharapova will turn 18 on April 19.
The Tennis Channel will quadruple its ratings after it drops live tennis and instead broadcasts still photographs of Marat Safin's girlfriend 24 hours a day.
In a five-touchdown performance during sweeps week this fall, Eagles receiver Terrell Owens will have full-on intercourse in the end zone with a different cast member of "Desperate Housewives" after each score.
On successive episodes of the hit television series "The Bachelorette," Jen Schefft will turn down marriage proposals from Tom Brady, Derek Jeter, Jeremy Bloom, Brad Pitt, T.T. Boy and Ashlee Simpson.
Taking a cue from Olympic beach volleyball, the WNBA will add bikini dance teams. Unfortunately, the dancers will be male.
In a Playboy interview, Peyton Manning will say that one of the biggest problems he has playing against the Pats is the hot New England girls. "They don't call it 'Foxboro' for nothing," he says.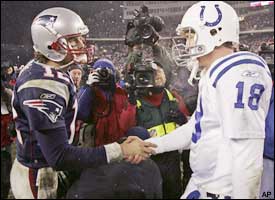 "Dude, does Bridget have a sister?"
AnnaBenson.com will begin to sell "bedroom-used" Mets memorabilia in July. "It's our way of sharing our love for each other with the whole world," Anna will tell Oprah. "It's all hygienic. It's just there when we do it, that's all. In the room. Then we sign it." She will also say a deal is in the works with a "major trading-card company" to sell bits and pieces of the memorabilia embedded in a special set of cards.
Hillary Swank will enter the ring to fight Tonya Harding in the first nude boxing event in modern history, although the ladies will wear headgear and shoes. Promoted by Don King, it will be designed to raise awareness of female boxing. However, the bout will be interrupted when, in the middle of the third round, serial streaker Mark Roberts runs into the ring, fully clothed.
In an effort to boost sales at its hotels, Club Med will sign Mickey Rooney to endorse rival Hedonism Resorts.
Oh, and Maria Sharapova will turn 18 on April 19.