By Jemele Hill
Page 2
One of the worst things in sports is when selfishness gets disguised as truth.
Larry Brown will forever contend he wanted to remain the Pistons coach, even though he all but faked his own death to get Detroit to fire him. Under the guise of retirement indecision, Brett Favre will always hold the Packers hostage when truthfully he's praying (a) Green Bay will trade him, or (b) some scientist comes along and freezes him in a cryogenic chamber until 2045, so he can throw 20-plus interceptions a season for the Pluto Packers well into his 70s. To loosely borrow from Michael Strahan, 10 years ago I didn't know the difference between truth and bull- … er, non-truth. Today I do, but mostly because I'm no longer trying to figure out how to stretch three packs of Ramen noodles into two weeks' worth of meals.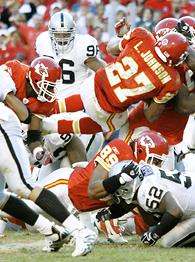 AP Photo/Ed Zurga
LJ says having a black coach helps -- what do you think?
My non-truth detector buzzed violently after watching Kansas City running back Larry Johnson's interview with HBO's "Inside the NFL" last week. Johnson wants us to believe the reason he and Chiefs coach Herman Edwards have a good relationship is because they're both African-American and Edwards understands what it's like to be a young, black male.
"They hadn't been in a situation as a young, black athlete and know what we had to go through when we go out," Johnson told interviewer Cris Carter about the previous coaching staff under Dick Vermeil. "We like to go out. We like to have fun, but then you have to worry about the guy around the corner with the gun. You've got to worry about this girl on the block. You've got to worry about your parents, your homeboys taking advantage of you. So many things you have to worry about being a young, black athlete. And to be able to have a father like mine and a coach like Herm, I was able to escape a lot of those realities and find myself in a new ray of light." Before I deal with Johnson's ridiculous assertion that shared heritage is why he trusts Edwards, I'm disappointed to discover Johnson is a studio gangster. I know some of you are confused because you have no idea what a studio gangster is. Just know that in hip-hop circles, being called a studio gangster is worse than being caught with steroids, worse than throwing a teammate or coach under the bus to the media, and almost as bad as stomping on someone's head on the football field. A studio gangster dupes people into believing he's a tough guy, but in reality he's the former student body president and member of the National Honor Society. Once Vanilla Ice was fingered as a studio gangster, his career was over. Thank God. Not to belittle Johnson's experiences as a young, black male -- because I'm sure it was tough growing up in a two-parent, suburban household and playing at Penn State, where his father was the defensive line coach -- but why is Johnson trying to act like he has a 'hood pass when he's more Will Smith than Tupac? His comments were childish, but Johnson made things worse by irresponsibly suggesting black coaches are better-suited to handle African-American players. I don't know of any coach -- black, red or green -- who could have coached Lawrence Taylor better than Bill Parcells. "The one thing we hate is to have somebody who is not African-American come in and say, 'You've got to do this,'" Johnson said. "No matter how you put it, it looks like you're telling me what to do and you don't know where I'm from and what I've got to live through." I routinely get e-mails from readers who are disgusted because they feel the race card is played too much and inappropriately. (By the way, can someone put the phrase "race card" in a cryogenic chamber and never thaw it? It demeans what is still a real struggle.) It wasn't that Vermeil didn't "get" Johnson because he was black -- it was that he didn't need Johnson because he had Priest Holmes. When Vermeil was forced to play Johnson because of injuries midway through the 2005 season, their relationship predictably took a turn for the better. This has to do with touches, not skin color.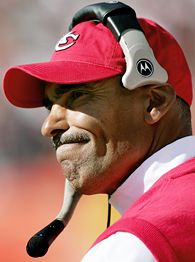 Doug Pensinger/Getty Images
When Chiefs coach Herman Edwards played in the NFL, he was warned to watch his playbook in opposing stadiums. "Things had a way of disappearing back in those days," he says.
"First time I met him, I said, 'Are you ready to touch the ball 30 times a game?'" Edwards told HBO. Those words would endear any athlete to a coach.
But Johnson unwittingly does a disservice to both black athletes and coaches because he reinforces the stereotype that black coaches should coddle African-American players instead of lead them. If anything, it has been proven that black coaches suffer from the assumption/stereotype they will be more sensitive to black players' needs. In December 1999, Michigan State hired Bobby Williams, the school's first African-American football coach, and all that the black players could talk about was how significant it was to play for a black coach. But those same players were Williams' undoing. They loved Williams so much they got him fired in three years. Ask Art Shell how much being black is helping him coach the Raiders. I understand what Johnson is saying, but only in this regard: It is natural for black players to feel an affinity with black coaches -- especially those athletes who come from homes without a strong, male role model. Unfortunately, Johnson supported a mind-set that is destructive to young, black men. As it is, a disproportionate number of black men are in prison, unemployed or just ill-equipped to make it in this society. Johnson admitted that under Vermeil, he fell asleep in meetings and was unmotivated. The last thing other young, black men need to hear is that it's OK to be unprofessional if you don't like your boss and he doesn't come from circumstances that mirror your own. That's crap. My boss isn't a young, black woman from Detroit, and I work with him just fine. It's called being an adult -- something Johnson is still learning how to be.
Jemele Hill is a columnist for Page 2 and writer for ESPN the Magazine. She can be reached at jemeleespn@gmail.com.