By Jemele Hill
Page 2
When Urban Meyer raised the crystal national championship trophy high above his head in Glendale, Ariz., Bobby Bowden and Randy Shannon must have been somewhere ordering a double.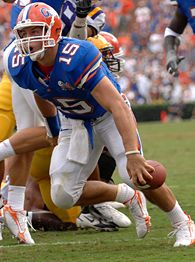 Phil Sandlin/AP Photo
Chris Leak graduates, but Tim Tebow is ready to step in as a running/passing threat at QB.
Could things be any worse for Bowden and Shannon, Miami's first-time head coach? While their programs are grappling with an uncomfortable rebuilding process and the stench of irrelevancy, Florida has become the Beyonce of college football.
Never before has Florida been so it ... and Miami and Florida State been so not it.
For years, much to the delight of college football fans, these three programs have battled for supremacy in not only the Sunshine State, but all of college football. But now that Florida is the reigning champion in both football and men's basketball, it's not even an argument as to which program is the best.
"I know where I would want to go," Meyer said. "Am I allowed to say that for recruiting? Good. Say that again. Print that. I know where I would want to go."
It's definitely strange to see this significant shift in college football. The Gators have never been this much better than Miami and FSU. They've been playing a serious game of one-upmanship for as long as most of us can remember. The Gators beat Florida State handily to win their only other national title in 1996. The four teams that defined the 1990s were Miami, Florida State, Florida and Nebraska. And now the Gators appear to have the potential to run off a Nebraska-like dynasty (the Cornhuskers won three national titles in a four-year span).
But not even the most delusional Gators fan could have envisioned a scenario where UF would win the national title the same year FSU and Miami played in meaningless, second-rate bowls. FSU in the Emerald Bowl? Miami in the MPC Computers Bowl? C'monnnnn. Some Florida fan must have a lamp, a genie and a Ouija board.
The occasional down year is one thing. But Miami and Florida State have slipped to the unfathomable and unrecognizable.
Fear the Gators
Check out the records of Florida, Miami and Florida State since 2000. Are the Gators ready to take over the Sunshine State? Miami and Florida State both won lower-tier bowl games to avoid losing seasons for the first time in the same season since 1976 (when the Hurricanes finished 3-8 and the Seminoles 5-6).
Year
Florida
Miami
FSU
2000
10-3
11-1
11-2
2001
10-2
12-0*
8-4
2002
8-5
12-1
9-5
2003
8-5
11-2
10-3
2004
7-5
9-3
9-3
2005
9-3
9-3
8-5
2006
13-1*
7-6
7-6
* won national title
Who knows what in the name of Luther Campbell is going on with the Hurricanes? And Bowden better hope hiring respected offensive coordinator Jimbo Fisher to replace his son, Jeff, will be a remedy for the Seminoles' stagnant offense. Because if it isn't, the cries for Bowden to retire will turn into full-fledged screams.
In fact, Miami and FSU have become such afterthoughts you could argue the second-best program in the state is South Florida. The Bulls are 15-10 over the past two seasons. During that same time span, Miami has gone 16-9, and FSU 15-11.
And any other year, nobody would care that the Seminoles and Hurricanes have middling basketball teams -- but these days it's just another reminder of their collective mediocrity. Florida has become the gold standard for college sports, which should make FSU and Miami somewhat squeamish.
But here's the really bad news for Miami and FSU: Meyer is 42 years old, and he would be a fool to even contemplate going to another college program. Six years into his head coaching career, Meyer has, for the moment, usurped Jim Tressel and Pete Carroll.
It's more than possible that Florida could repeat in both football and basketball. The Gators still have the most complete team in college hoops. And Meyer won this title with a quarterback that wasn't a perfect fit for his offense, so just imagine what the Gators will do next season with Tim Tebow, who Meyer handpicked to become the next Alex Smith.
"Our guys have a lot of fun playing," Meyer said. "What's the future look like? I think it looks really good. That's part of the reason why our staff went to Florida, because you can recruit the best players in the country at that place."
Randy and Bobby, just start swigging straight from the bottle.
Jemele Hill, a Page 2 columnist and writer for ESPN the Magazine, can be reached at jemeleespn@gmail.com.