MIAMI -- You know what you learn when you attend a bunch of celebrity Super Bowl parties? Celebrities and athletes are some of the most socially awkward people on the planet. They're so famous, so rich and so beautiful, it's impossible for them to be normal at a party. They want to be adored, but if you talk to them, they look as if they might disintegrate.
During the Super Bowl partyfest, I also discovered that ESPN.com's Bill Simmons has more juice than Tropicana (OK, that was bad, but it's totally true). After watching him in action at several parties, I'm proposing we start a new series at ESPN called "Rolling With Bill." That guy could get into a United Nations summit without a problem.
Most of you will never experience a celebrity Super Bowl party or have the pleasure of rolling with the Sports Guy -- I understand if neither is high on your list -- so Page 2 decided to take you inside the Super Bowl party scene, which is often overrated but always entertaining.
Shaq's Sexy 60 Super Bowl Party
Why that title? The 60 is a reference to the number of A-list celebrities invited.
Location: Versace Mansion, South Beach
Celebrities we saw: Eli Manning, Matt Leinart, Andy Roddick, Cooper Manning, Tom McMillen, Tom Brady, Sterling Sharpe, Reggie Miller, Deion Branch, Shaq, Cortez Kennedy, Terrell Owens, Carson Palmer, Cowboys owner Jerry Jones, Eagles owner Jeffrey Lurie, Michael Strahan, Bernie Yuman (Muhammad Ali's manager, also Siegfried and Roy's manager) and Kyle Boller.
Celebs who confirmed for the party but we didn't spot: Kelly Rowland, Jamie Foxx, Reggie Bush, Nas, Mark Wahlberg and Jessica Biel.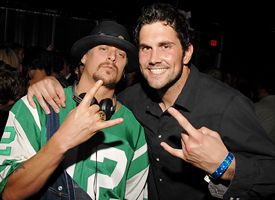 WireImage.com
Nothing says "Future Super Bowl quarterback" like hanging out with Kid Rock.
Food factor: Crabcakes went fast, but spring rolls had staying power. Mushroom puffs were not well received. Only saw one plate of boiled shrimp come around. Some guests arrived early for a sit-down meal next to an elegant pool.
Best party clothes: Miller stood out in what appeared to be an Armani suit. Lots and lots of models on display -- and, surprisingly, most of them appeared to be taking it easy on the spring rolls. The backless dress was a big player. Most of the guys went with designer jeans and sport coats.
Worst party clothes: Leinart looked sloppy in a huge white T-shirt and baggy jeans. He complemented the look with white tennis shoes. Obscure comedian Joe Torry wore a referee's jersey and black pants.
Overheard: T.O. repeatedly saying he was "looking for a 6-footer." ... As we left, former NFL offensive lineman Brian Baldinger was trying desperately to talk his way into the party. ... Cowboys Pro Bowl linebacker DeMarcus Ware was text messaging one of the Cowboys beat writers to help him gain entrance to the party.
Awkward moment of the night: Eli Manning trying to hand a reporter his empty drink.
What would Borat think? This party was worth at least 10 live chickens.
Final grade: On a scale of 1-10, it was an 8.5. Hollywood was not well-represented, but when Brady and Palmer walked in, the party cranked up.
Bauer's Pure Rush Party
Fine print: This fiesta was sponsored by Maxim and hosted by Willie McGinest and Antonio Gates
Location: Bricks Nightclub, downtown Miami
Celebrities we saw: Kato Kaelin, Tampa Bay Buccaneers tight end Alex Smith, Warren Moon, Bruce Gradkowski and, of course, McGinest and Gates.
Celebs who confirmed for the party but we didn't spot: Venus Williams, Brady (he was with Shaq at the Versace Mansion), John Elway, Jeff Garcia and Rick Fox.
Food factor: Unless you count the body paint on the models, none.
Best party clothes: The theme of the party was white. McGinest's white linen suit was vintage Miami.
Worst party clothes: Moon looked like someone's rumpled uncle.
Overheard: Kaelin bragging about his days as an all-conference high school quarterback.
What would Borat think? His whole village could drink for three years on the $50 drink minimum required in VIP. Shame on them for being the only celebrity VIP that charged its guests for drinks.
Final grade: Give it a 4.5. The VIP was packed with people, and the location was terrific because it was away from the madness of South Beach and offered a stunning view of downtown Miami. But the general admission area was thin, and it didn't deliver on many of the celebrities it promised.
ESPN's NEXT Party
Location: Miami Design District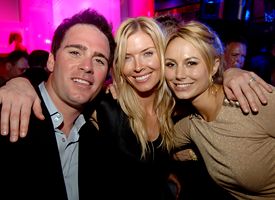 WireImage.com
NASCAR's Jimmie Johnson hangs with his wife Chandra and Stacy Keibler of "Dancing with the Stars" fame.
Celebrities we saw: Venus and Serena Williams, Christian Slater, Troy Aikman, Reggie Bush, Ken Griffey Jr., Spike Lee, Jeanette Lee, Alyssa Milano, Donovan McNabb, Alex Smith (49ers quarterback), Braylon Edwards and Brady Quinn.
Special performance: LL Cool J treated guests to an hour-long concert.
Party gift? ESPN bombarded its guests with entertainment. You could do everything sports-related, from learning how to change a tire on a stock car to educating yourself on the history of sneakers. There were a PlayStation 3 hut, demonstrations by a BMX biker, air hockey and golf. It was every sports fan's fantasy.
Food factor: The fried shrimp were amazing and moved quickly all night. There was a variety of sushi, but few seemed to be fans of the seaweed sushi. It looked radioactive.
Best party clothes: Edwards' white jacket, dark shades and red handkerchief personified classy. Jeanette Lee wore a stunning cocktail dress.
Overheard: A thunderous sound when every woman within a 5-mile radius rushed to the stage to drool over LL Cool J.
Final grade: A solid 8. Visually and entertainment-wise, few, if any, parties could compete with ESPN. It was four blocks of decadence. But the cost of such decadence was a less intimate environment. There were entirely too many VIPs, even though we hear there was a more exclusive VIP somewhere on the premises.
What would Borat think? His pet chicken would have eaten the rest of the seaweed sushi.
Hotel De Maxim
Location: Sagamore Hotel, South Beach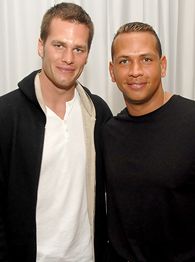 WireImage.com
Tom Brady and Alex Rodriguez together ... and hell didn't freeze over?
Celebrities we saw: Jamie Foxx, the Williams sisters, Alex Rodriguez, John Salley, Jamal Anderson, David Spade, Lennox Lewis, Kid Rock, Shemar Moore, Quinn, Strahan, Bush, Barry Sanders, Franco Harris, Kelis, Terry Crews (the actor who plays Chris Rock's father on "Everybody Hates Chris"), Nick Lachey, Tony Gonzalez, Moon and Deion Sanders.
Performer: Fergie
Celebs who confirmed for the party but we didn't spot: Billy Bob Thornton, Snoop Dogg, Michael Jordan, Vince Young, Billy Joel, Leinart, James Woods
Food factor: Didn't see any.
Best party clothes: Neon Deion was dressed impeccably in a charcoal suit and matching fedora.
Worst party clothes: Venus and Serena Williams wore gold dresses that didn't do justice to their athletic figures.
Overheard: A-Rod blowing off the few fans able to get into the party. Get over yourself.
Awkward moment of the night: Watching A-Rod dance to Kanye West's "Goldigger." His rhythm is brutal. ... Kid Rock kissing ESPN.com columnist Jemele Hill, who also is from Detroit. You just don't know where Kid's lips have been.
Final grade: On a scale of 1-10, it was a 9. The celebrities weren't all lodged in the VIP section and, because of the smaller venue, the party was more intimate. It was pretty easy to spot celebrities and strike up awkward conversations with them. There also was an amazing number of stunning women.
What would Borat think? He would have tried to make "sexy time" with 80 percent of the women there.
Penthouse Goin' Deep
Location: Mansion, South Beach
Celebrities in attendance: We'll just focus on the 25 former Penthouse Pets, who were freely roaming the floor -- to the delight of dozens of NFL players.
Performer: Snoop Dogg, who, sadly, didn't go on until we had to bolt for another party.
Food factor: Enough hot dogs and sliders to fill all the Sunday tailgates at Dolphin Stadium. Enough chocolate chip cookies to cater an 8-year-old's birthday party.
Best party clothes: Gotta hand it to the women in body paint who were done up to resemble undersea plants. They fit in perfectly with the party scene, which resembled the world's largest fish tank.
Worst party clothes: What look exactly were the dancers going for on those platforms? One of them looked like Batman's long-lost sister.
Overheard: "All players get in plus-one," from a guy trying to talk his way in on the coattails of a posse of players.
What would Borat think? This body paint ... VER-EEEE NICE.
Final grade: Penthouse was the breakout star of the 2006 scene in Detroit but failed to repeat in Miami. We'll give it a 7 for the large number of open bars, a big-name headlining act, and, oh, did we mention the Pets and body paint? However, we gotta deduct serious points for the male-to-female ratio, which had to be 6-to-1 in the guys' favor and led to a bunch of dudes just standing around talking in the middle of the dance floor, wasting some serious good tunes.
Playboy After Dark
Location: American Airlines Arena, Downtown Miami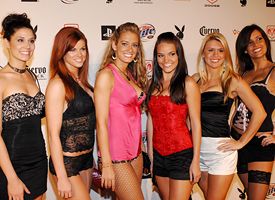 WireImage.com
Wait a minute ... Playboy bunnies and Eagles cheerleaders at the same party?
Celebrities in attendance:
Nas, Kelis, Taye Diggs, Johnny Knoxville, Chester Taylor, Spade, Joe Gannascoli (Vito of "The Sopranos"), Romany Malco (Jay from "The 40-Year-Old Virgin"), Tony Romo, Moon, John Rocker, Lisa Guerrero, Lil Jon, Boller, Too Short, Scott Erickson, Milano, Kara Monaco (2006 Playmate of the Year), Christie Hefner (Hef's daughter), Danica Patrick and Carson Palmer.
Celebrities who confirmed, but we didn't spot: Nicky Hilton, Billy Bob Thornton.
Food factor: Nothing special. The ceviche and chicken fingers seemed to go pretty fast. But you don't come to the Playboy party for the food, anyway.
Best party clothes: For some reason, the disheveled, raggedy look works for Knoxville.
Worst party clothes: Rocker's date, whose gold dress looked like something Wilma Flintstone might have worn. ... Spade looked as if he was still in character for "Joe Dirt."
Overheard: At one point, Lil Jon instructed all the women to take off their panties and hold them in the air. And much to the delight/disgust, some of them did.
Awkward moment of the night: The trail of women following Boller was impressive.
Final grade: On a scale of 1-10, it was a 9.5. ... Easily, the best Super Bowl party. Playboy lived up to the hype in every way -- tons of celebrities, an ungodly amount of gorgeous Playboy bunnies, who did everything from hang from the ceiling on raised platforms to engage in pillow fights in the main common area. And Lil Jon made sure the party never got weak. You were stimulated every single second.
What would Borat think? Hugh Hefner for president of Kazakhstan.
Jemele Hill, a Page 2 columnist and writer for ESPN The Magazine, can be reached at jemeleespn@gmail.com. Matt Mosley, Kevin Jackson and John Banks contributed to this report.
Also See
ESPN Top Headlines