Super Sunday in Afghanistan

It was not your typical Super Bowl party. It started at 3 a.m., and there wasn't any beer. But there were M-16s.
For reasons he's still trying to put into perspective a week later, it felt like home to Marques Douglas, a sixth-year defensive end for the San Francisco 49ers. He was thousands of miles away from the place that really was home to him. He was in the middle of a desert in Afghanistan and technically in grave danger. But there was no place he would rather have been.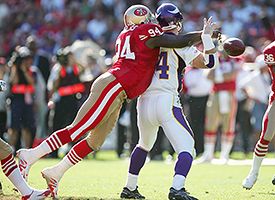 Jed Jacobsohn/Getty Images
San Francisco defensive end Marques Douglas opened Brad Johnson's eyes on this play, but it was Douglas' eyes that were opened while visiting troops.
"It was an eye-opening and life-changing experience," Douglas said.
Everybody has an opinion about the war in Iraq. Douglas does, too. Or at least he thought he did.
"I had the feeling that Americans were the only ones over there," Douglas said. "But when I was over there, there were 13 different countries represented at the base we were at. I felt totally different. Terrorism is a global issue and we're not the only one tired of terrorism."
An estimated 93.1 million people watched the Super Bowl on Feb. 4, making it the third-most watched telecast in television history. But it's doubtful the Super Bowl meant more anywhere else than it did on the American military bases Douglas visited with other NFL players as part of a nine-day goodwill tour.
It was, to say the least, an unforgettable trip for Douglas. He has had his own foundation for years, working with schools and underprivileged kids, but none of that prepared him for the emotions he felt visiting our troops.
Douglas, whose father went to Vietnam at age 18, couldn't help but think of how his father must have felt then -- young, scared and unsure.
Douglas and his wife, Sparkle, went to three different military bases. In each soldier Douglas met, he said he saw a little bit of his father.
"I'm not an emotional guy," Douglas said, "but I had to catch myself a little bit."
He visited the Pat Tillman USO Center at the Bagram Air Base near Kabul. Guys his own age and younger were carrying assault weapons like women carry purses. They were in charge of infantry divisions and missions involving the kind of danger Douglas couldn't even contemplate. He saw soldiers barely legal to drink in the U.S. with amputated legs. He thought intensity was what he saw in the faces of his teammates before games, but that was nothing compared to the looks of soldiers who go out on missions unsure if they will ever return.
"These were young guys assuming major roles in the Army," Douglas said. "I'm 29 right now, so a soldier that's out of high school has 12 years [less] experience. They're the ones leading our troops to the front line. You got these young guys going to war, but they're just kids."
Yet the irony was they looked at Douglas as if he were the hero.
"Sports was the common ground we all have," Douglas said. "Everybody loves sports. They let their guards down in an environment where you can't always do that."
The day of the Super Bowl, Douglas watched each quarter with a different unit. They had the usual snacks and plasma TVs. It was the only time Douglas saw the soldiers lay their guns on the floor. Yes, the Super Bowl even overshadows war.
"The first play of the game," Douglas said, "those troops erupted. For that three hours, the place felt like home. They forgot where they were."
The power of sports can be amazing. In Afghanistan on Super Bowl Sunday, it was one of those rare occasions when sports did something special.
Since returning home Thursday, Douglas said he has thought about the trip every single day. He has thought, specifically, about the frivolous way in which people compare the game of football to war.
"It's a downright brutal game," Douglas said, "but I have a totally different outlook on war now. Guys have had to have their legs amputated. That's not going on in football. War is a term used really loosely."
Douglas said there is one feeling that he hasn't shaken since visiting the military bases. He is sure this feeling will stick with him the rest of his life. It was nothing he saw in Afghanistan, but rather, something he felt when his plane descended upon American soil.
"When I could see the lights far down below, I felt like I left them," he said. "So many of them had given unselfishly of themselves, I wondered if I could do that for my country. I wondered should I be doing more? How can I serve?"
Douglas doesn't realize he already has.
Jemele Hill, a Page 2 columnist and writer for ESPN The Magazine, can be reached at jemeleespn@gmail.com.