The Pacman Jones Rule is overdue

Well, at least Pacman Jones' lasting impact on society may not be just introducing us to the concept of "making it rain."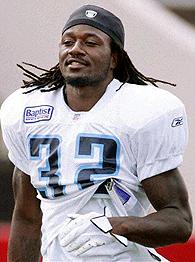 AP Photo/Mark Humphrey
Thanks to Pacman Jones' actions in Vegas, the NFL might finally clean up.
Turns out Pacman's influence will reach far deeper, possibly changing the NFL forever. Thanks to his extensive relationship with the police -- including his possible role as an agitator in a triple shooting in Las Vegas during NBA All-Star Weekend -- the NFL is seriously considering instituting a penalty program for players who spend more time in squad cars than training rooms.
Something had to be done, because it's clear the NFL is in the midst of an escalating problem. David Stern had to clean up his league. Now Roger Goodell must do the same with his.
If just a small portion of the allegations against Pacman are true, he should be expelled from the NFL. Pacman reportedly grabbed a stripper by the hair, slammed her face into the stage and threatened to kill a security guard before a gunman -- alleged to be a member of Pacman's party -- shot up the place. Three people were wounded, including one person who is now paralyzed from the waist down.
According to Pacman's attorney, Worrick Robinson, the Titans cornerback is not a suspect in the shooting and is cooperating with police. Robinson says neither Jones nor anyone with him had a gun, fired a gun or was involved in any criminal activity at the club. The police have not named Jones a person of interest in the case, although they recently seized $81,000 in cash that they say belongs to Jones and sparked the melee at the club.
Nonetheless, this is the eighth time in two years that the police have questioned Pacman. Arrests versus convictions matter little to me, because athletes are often guilty of terrible judgment even when they're found "not guilty" of a crime.
It has taken Pacman's problems to chide the NFL into attacking a problem that has gone unchecked for far too long. Truthfully, this shouldn't be the Pacman Jones Rule, but the Lawrence Phillips or Cecil Collins Rule.
If the NFL patterned a three-strikes code of conduct program after its substance abuse policy, it would be revolutionary, welcome and a perfect way to combat behavior that is truly embarrassing and unruly.
If the NFL already had a three-strikes program in place, maybe the Cincinnati Bengals wouldn't have more arrests in the last year than victories. Maybe Tank Johnson, who has been arrested three times in the past 18 months, would be looking for work and never would have had the privilege of playing in a Super Bowl. Maybe Dominic Rhodes, who was arrested for drunken driving last week, wouldn't have to fear punishment from just an Indiana judge, but also from the league, which would have the authority to suspend him for multiple games.
And, just maybe, this rule finally would persuade NFL teams not to draft these fools. The Titans are hardly exempt from blame in the Pacman situation. They knowingly drafted a player who had been charged with malicious assault in college (it was later bumped down to a misdemeanor) and have continued to pacify him after his numerous transgressions. Considering NFL teams want everything from a player's third-grade report card to his DNA sample before drafting him, there is no way the Titans didn't know Pacman potentially could appear on "America's Most Wanted."
Besides, is it too much to ask that NFL players not get arrested? There are very few companies in working society that don't have some sort of code of conduct for their employees.
NFL player representatives support a three-strikes program because they have grown tired of being lumped in with thugs. And the only players who will have a problem with this are probably the same ones who are incapable of behaving with good sense.
"They care … that we're all painted with the same brush," Gene Upshaw, head of the NFL players' union, told the Los Angeles Times. "Ninety percent is doing the right thing, and we've got 10 percent that's not."
Of course, any NFL behavioral policy would have to be written so that it's not based strictly on convictions. Not all players who are arrested are guilty. Not all those who claim to be innocent actually are. And being arrested for a suspended driver's license should not be put in the same category as domestic violence.
Yes, that would force the NFL to play detective and judge. But the perception of the league is at stake.
Jemele Hill, a Page 2 columnist and writer for ESPN The Magazine, can be reached at jemeleespn@gmail.com.

Also See
ESPN Top Headlines