Barry Wagner's Arena Football League career might end just as unpredictably as it began.
Wagner, an AFL legend, was released by the Tampa Bay Storm last week on the final day of training camp. On the outside, it might look like a good move, considering Wagner is 38. But look at the AFL record book and Wagner's five AFL championships. It's hard not to think being released would be a rather unceremonious way for one of the top three players in AFL history to leave the game.
E.L. Bakke/AFL/WireImage.com
Barry Wagner is the AFL's career
all-purpose yardage leader, but his impressive run is in jeopardy
of ending after 15 seasons.
Wagner came into the league in the early 1990s. He was fresh out of Alabama A&M, where he broke a variety of receiving records. He had been working a variety of odd jobs, including at a chicken factory with his cousin.
Like most players at the time, he came to the AFL with his mind solely on another three-letter league -- the NFL. It took just a few unrewarding training camps for Wagner to let the NFL dream go, and once he did, he had the type of football career he couldn't have imagined when he was hanging chickens in the chicken plant.
"It's been an incredible run," said Wagner, who before being cut was tied for the longest tenure in the AFL. "I got records in the league that probably won't even be broken."
Lasting 15 years in the AFL is just as much of an anomaly as Jerry Rice playing until he was 42 or Brad Johnson playing for the Cowboys when he turns 39 in September.
The AFL is not exactly a league that encourages long careers. It's fast-paced and arguably more dangerous than the NFL, given the shorter field and lack of sidelines. If you've never seen a game, just imagine a pinball machine. With humans.
Somehow, the Tampa Bay Storm has managed to collect an unusually high number of players with AFL careers that have lasted more than a decade. If they had kept Wagner, they would have had four players on the roster who played 10-plus years.
Defensive lineman Tom Briggs is in his 11th year. And it's the 14th season for wide receiver/linebacker Lawrence Samuels and quarterback John Kaleo.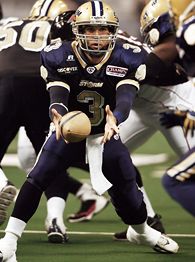 Tampa Bay Storm quarterback John Kaleo has played for 10 AFL teams, including five defunct franchises.
"I remember when I was in my early 20s and had just started playing Arena league," said Kaleo, who has played for 10 different AFL teams, including five that have since folded. "I still had aspirations of getting a legit shot in the NFL. I was saying, 'No way I'm going to play in the Arena league until I'm 30.' Now, I'm 36. I played 10 years longer than I anticipated."
Having an AFL career is viewed differently now that the league's popularity is booming and ESPN is involved. It's no longer the place that supplies a really good summer job.
Salaries have increased so significantly -- Wagner, for example, was the first AFL player to make $100,000 -- that the NFL isn't utopia.
"Franchises were $250,000, and now they're asking $18 million," Kaleo said. "We used to get $400 a game, and now the average is $1,700 a game. Some guys are getting $10,000. The cool thing is the awareness and education of Arena football. Now if you say you play Arena football, people say, 'Oh yeah, we've seen that on TV.' Now that's pretty neat."
As these guys with the Storm discovered, the best thing they could have done is forget about the NFL.
"When they first come in, everybody looks at it as a steppingstone, to get on tape and be discovered like Kurt Warner," Samuels said. "Throughout my career, that's something that never happened. But I was having fun playing the game I loved. It worked out for the better for me. I have more responsibility and more job security in the AFL. Why leave?"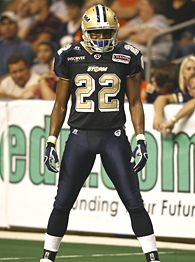 J.L. Meric/AFL/WireImage.com
Fourteen-year AFL veteran Lawrence Samuels is Tampa Bay's career leader in receptions and tackles.
Samuels is the franchise leader in receptions (712), receiving yards (8,626) and tackles (377). It may be awhile before someone breaks those records, and he's done something in the AFL that he might never have had a chance to do in the NFL.
"I'm a Christian, so I'm a big believer in where God wants you to be," Samuels said. "This is where God wanted me to be. This is where I'm supposed to be. When I put [the NFL] out of my mind, I started dedicating myself to the Arena Football League and my career started blossoming."
As for Wagner, he hopes a team signs him this season so he can end his career on his own terms. A few teams have called but nothing serious has developed yet. He says if he doesn't play this year, he'll simply move on and won't try again.
"It's going to take a minute for me to get over this," he said.
Jemele Hill, a Page 2 columnist and writer for ESPN The Magazine, can be reached at jemeleespn@gmail.com.