Thank goodness C. Vivian Stringer is in the Final Four, otherwise we might completely forget about the appalling trend in women's college basketball that often goes unnoticed, unchallenged and unheard-of.
Rutgers' surprising rise to Tuesday's national title game is a feel-good story that only the heartless couldn't get behind. But what doesn't feel so good is knowing coaches that look like Stringer -- in other words, black coaches -- are a rare sight at the Final Four and in women's college basketball altogether.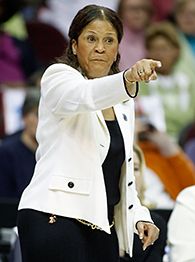 Gregory Shamus/Getty Images
C. Vivian Stringer is one of just four black female head coaches out of 64 teams in this year's women's NCAA Tournament.
Here's a stat Title IX has failed to confront: Out of 324 Division I women's basketball programs, less than 8 percent are coached by black women -- even though 42 percent of the players are black. By comparison, black men make up 58 percent of college basketball, but 25 percent of the head coaches are black.
The women's tournament only reflects the sport's diversity problems. This season, just four of the 64 tournament teams were coached by black women. Stringer is just the second black woman to coach in the national championship game. Carolyn Peck led Purdue to a national title in 1999, and she is still the only black woman to win a national championship. Peck's dismissal from Florida this season and Pokey Chatman's controversial departure from LSU left the SEC without a black female head coach. The ACC also doesn't have any black coaches. And the Pac-10 and Big East have one black coach each.
"I think it's ironic that if you look at the players in the Final Four, 90 to 95 percent of them are black," said Tina Sloan Green, the founder and executive director of the Black Women in Sport Foundation. "All these players, and you can count on your hands the number of black coaches."
Unfortunately, these inexcusably low numbers don't exactly warm up the Civil Rights bandwagon the same way the small number of black head coaches in Division I-A football or the NFL does when it's mentioned. Not that the problem is solved in college or the NFL, but the Rooney Rule and the Black Coaches Association's annual report card at least represent aggressive attempts to remedy the problem. Last football season, the BCA threatened to use Title VII -- a statute in the 1964 Civil Rights Act that prohibits employment discrimination based on race, religion or national origin -- to sue college football programs over their hiring practices.
This isn't a comparison of who has the worst struggle. But even among other black coaches, the plight of black women is an afterthought. Next year will be the first time the BCA report card includes women's basketball.
"Now is the time to make an issue of it," Green said. "It's just not getting the exposure."
Opening doors for black women is conceivably more challenging than it is for men, since black women face barriers created by both gender and race.
They, too, must deal with the same obstacle as their male counterparts. College athletic directors, who are usually white, fail to look beyond their inner circle -- which usually contains candidates who look exactly like them.
Culling a deep pool of candidates is an issue, since black female participation in college basketball isn't as high as that of their male counterparts. But considering 71 percent of black female basketball players graduate, the lack of numbers is at least offset by quality.
With the Texas, LSU and Florida jobs available, now is the opportune time to discuss how more opportunities can be created for black women.
But the NFL's recent racial progress shows good intentions alone don't inspire change. Success does.
That's why the best thing Stringer can do to ensure more faces in women's basketball look like hers is to win her first national title. Although Stringer has more than 700 victories and is the only women's coach to take three different teams to the Final Four, Tuesday night is her Tony Dungy moment.
"I'm hoping she wins," Green said. "It would show the world that black females can be successful."
Jemele Hill, a Page 2 columnist and writer for ESPN The Magazine, can be reached at jemeleespn@gmail.com.