First, there was the Oscar De La Hoya versus Floyd Mayweather fight, which proved that a sport more irrelevant than hockey exists.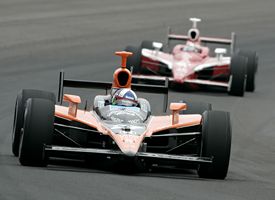 AP Photo/Tom Strattman
Seriously, does ANYONE watch the Indy 500 anymore?
Then, this past weekend, there was the Indy 500, whose buzz was underwhelming compared to the publicity generated by the Ultimate Fighting Championship bout between Chuck Liddell and Quinton Jackson.
In this here-today, gone-today sports world, it's always amazing to see how quickly things slip into irrelevancy. There was a time when the possibility of a Serena versus Venus meeting at the French Open was big news, but that matchup jumped the shark years ago.
While "Mr. Irrelevant" is the nickname assigned to the final pick in the NFL draft, it turns out he has plenty of company in the sporting world. Here are some other things in sports deserving of the 255th pick:
Miami versus Florida State
For almost 20 years, this was the definitive rivalry in college football. Now it's as anticipated as the next Luther Campbell album. With Florida's national title win, Miami's refurbishment project and Florida State's disturbing self-esteem issues, the Gators have firmly seized control of the state, and the college sports world.
Before, you couldn't imagine a time when both Miami and FSU would be on dual, multiyear rebuilding projects. Their police blotter antics were once cool and rebellious. But FSU and Miami are tragic examples of Programs Gone Wild.
Steroid use in the NFL
A marquee defensive player fails a steroids test, and the reaction is akin to finding out Lindsay Lohan still can't shake the Tanqueray.
In other words: So when is that fantasy football draft again?
As soon as people allow their blood pressure to decrease from Barry Bonds' pursuit of the all-time home run record, maybe they'll remember that the NFL's recent performance-enhancing drug scandals rival BALCO. The NFL is routinely praised for being ahead of the curve on steroids, but we've seen Shawne Merriman -- the Defensive Rookie of the Year -- busted for violating the league's steroids policy; the 2004 Carolina Panthers Super Bowl team linked to a steroid scandal; and the physician for the Pittsburgh Steelers implicated in a steroids raid in Orlando.
Yet people are more concerned about the cost of NFL Sunday Ticket.
Olympic innocence
Back in the day, American fans were honored and humbled by Team USA's winning a gold medal, and proud of the players no matter where they finished.
Now it's acceptable to boo and carry disdain for U.S. teams that do not meet our ridiculous expectations, and act as if the Cold War has been reborn. Screw the rest of the world for having national pride and the resources to compete with us, right? Bastards.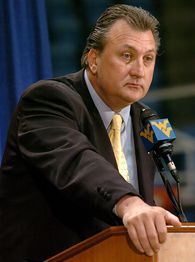 AP Photo/Allison Toffle
Bob Huggins returned home to his alma mater this past offseason.
The contracts of college basketball coaches
Which is worth more: a check from Mike Tyson, or a college basketball coach's contract?
Answer: It's a trick question. Both are worthless.
Bob Huggins left Kansas State for West Virginia after one season, even though K-State rescued him from coaching purgatory. Billy Gillispie agreed to terms with Texas A&M, but never got around to signing the deal -- instead he bolted for Kentucky.
And yet the NCAA makes "student-athletes" sit out an entire season if they transfer. That makes about as much sense as the Minnesota law that forbids someone to cross state lines with a duck on his/her head. And no, I didn't make that up.
Larry Brown
Just three years removed from becoming the first coach to win both an NCAA and NBA title, Brown has gone to the mattresses.
He's still one of the best NBA coaches in history, but his fall from grace is as distinctive as his place in basketball history. Don't feel too sorry for Brown, though. Between the 76ers, Pistons and Knicks, he's hauled in enough cash to make Roger Clemens jealous.
The lovable loser
One day Cubs fans will be less enamored with drunken afternoons at Wrigley and placing blame on a billy goat, and more enthralled by winning. But when they are, the Earth will look something like "28 Weeks Later."
In terms of breaking the Sports Ten Commandments, embracing a reputation for losing is right below rooting for your team to tank so you can get a high draft pick. There is nothing lovable or endearing about failing to win.
Even though Red Sox fans are dangerously close to assuming the arrogance of Yankee fans, give them credit for not reverting back to their woe-is-me attitude when they didn't make the playoffs last year.
NFL records
NFL records just aren't as sexy as baseball records. Sure, we know Emmitt Smith is the all-time leading rusher, and that Dan Marino is the all-time leading passer. But those records don't give us the same chills as Hank Aaron's 755 home runs, Pete Rose's 4,256 hits or Joe DiMaggio's 56-game hitting streak. When significant baseball records are broken, it's an event that stimulates national conversation. In football, it's a distraction from the next play.
Athletes who rap
Let's hope the abominable athlete-rapper albums of the past have finally encouraged all athletes to stay away from the microphone and 808 machines. They gained false confidence from Shaq's respectable pairing with the Fu-Schnickens, which led to a torrent of horrific albums by people like Roy Jones, Allen Iverson and Tony Parker.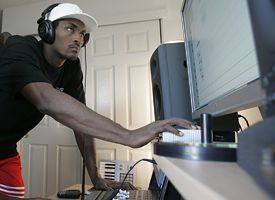 AP Photo/Rich Pedroncelli
Artest shockingly didn't get a Grammy nod for his album.
And just to further discourage microphone abuse, let's review the five worst athlete-rappers ever:
5. Deion Sanders: "Must Be The Money" should have been registered with Amnesty International as a crime against humanity. The same could also be said about Deion's jheri curl.
4. Cedric Ceballos: His decision to bleach his hair blond during the 1997 season was genius compared to his release of "Nuff Ced" seven years ago.
3. Chris Webber: If I had remembered the "2 Much Drama" album, I would have openly rooted for him to do jail time for the Fab Five fiasco.
2. Ron Artest: Most memorable lyric: "David Stern! Damn, David Stern. I gotta teach you 'bout the ghetto there's some things you should learn."
1. Kobe Bryant: Sorry, I mean K.O.B.E, which was the title of his disaster. It's hard to earn the dubious distinction of making an album that's so bad it's never released. By the way, the next time Tyra Banks starts thinking she's the next Oprah, someone remind her she sang on "K.O.B.E."
The charitable contributions of athletes
Of course they're not irrelevant to the people who are helped. But as much as the public likes to bluster periodically about not being given enough positive news, the lack of interest in those stories proves most people don't care if athletes invoke the spirit of Mother Teresa or not. Carmelo Anthony is the only NBA player in the Giving Back Fund's list of 30 celebrities who made the largest public donations to charities in 2006. Melo, who ranked an impressive eighth, donated $4.2 million to various charities last year. But tattoos, cornrows and 50 Cent's destruction of the NBA are a much bigger story.
Page 2 columnist Jemele Hill can be reached at jemeleespn@gmail.com.