I have about as much love for Barry Bonds as Pacman Jones has for district attorneys.
Yet even I would be hugely disappointed if Bonds wasn't an All-Star.
This is not about statistics. This isn't about what the fans want, because in this case, they have no idea what that is. This isn't about steroids, either, because the federal government has been unable to nail Bonds. Certainly baseball's farce of a steroids investigation is unlikely to discover anything that will stop Bonds from piling up home runs.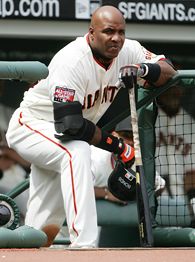 Jed Jacobsohn/Getty Images
How can baseball stage the 2007 All-Star Game in San Francisco … and not invite Barry Bonds?
Just to get this out of the way, I believe Bonds knowingly took steroids. It just doesn't change anything. He's going to be the home run king.
And as the soon-to-be home run king, Bonds has a place in the All-Star Game. Baseball, if anything, is a sport infatuated with tradition. If the player about to break the game's most important record isn't apart of a celebration of the sport's best, something just wouldn't feel right.
The fans are trying to make a point, which is why Bonds is currently fourth in the voting among National League outfielders.
A fine ideal, just not the entire truth. If the fans really wanted to make statement, they wouldn't pay extra to see him play at parks across the country.
Bonds, for the right and wrong reasons, is something most of us don't have the willpower to look away from.
No story in baseball is bigger than Bonds. He's bigger than any superficial comeback Roger Clemens can muster. Bigger than the Yankees' nosedive. Bigger than any Dice-K start. Bigger than any A-Rod infidelity caper.
So how would it look if the biggest story in the sport is absent from the league's marquee showcase? A marquee event, by the way, that's held in San Francisco -- the one place in the solar system where Bonds has unwavering support.
Aren't All-Star games supposed to be entertainment for the fans? What would be more entertaining than the scene at AT&T Park when Bonds is at the plate? Even the most ardent Bonds hater would want to see that.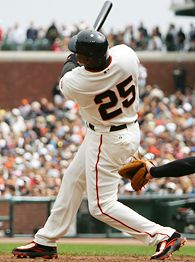 Jed Jacobsohn/Getty Images
Bonds is a transcendent figure in sports. By definition, wouldn't that make him an All-Star?
Despite Bonds' transgressions -- both real and imagined -- he is a transcendent figure in sports. He's a star. And last time I checked, that's the defining characteristic in an All-Star Game.
You can use Bonds' stats (.293 batting average, 15 homers, 35 RBIs, through Sunday) and dwindling defensive ability as an argument against him earning his 14th All-Star selection, but Bonds wouldn't be the first declining player to get a free pass into the All-Star Game. It happens all the time in other sports. Magic Johnson was voted to the 1992 NBA All-Star team after his HIV announcement because people were inspired and sympathetic. And let's not forget Cal Ripken received his share of gimme All-Star appearances, too.
Besides, if Bonds doesn't play in the All-Star Game, it's letting Bud Selig off the hook, and that shouldn't sit well with anyone. There is no fairer punishment for Selig than seeing Bonds -- who is partly his creation -- receive resounding applause at the All-Star Game and the bulk of the storylines during All-Star week. It was Selig's passive-aggressive attitude that exacerbated the league's steroid culture. It is Selig who is trying to slink away as Bonds pursues Hank Aaron's record. The most honorable thing Selig can do is squirm.
As thirsty as we are to see someone pay for the deceit steroids created, we must accept that it's unfair to paint Bonds as the lone assassin. Everybody has a little dirt on their hands. Baseball owners wanted fans in the seats. Baseball's commissioner wanted fans to come back to the game. Baseball fans wanted to keep on pretending, and keep on cheering. And some in the media have based their opinion and scrutiny of Bonds more on his interview etiquette than the evidence against him.
Considering Tony La Russa's embarrassing defense of Mark McGwire, it would be highly hypocritical if La Russa didn't put Bonds on the All-Star team, depending on what happens with the ballots. You would think La Russa wouldn't want the headache of being pestered about Bonds' whereabouts every day of All-Star week.
Bonds is part of the ugly, historical incident that baseball should acknowledge, accept and remember. His All-Star selection wouldn't be a reward. It's a reminder of the long-lasting damage that is done when principles are abandoned.
Page 2 columnist Jemele Hill can be reached at jemeleespn@gmail.com.