You could say what's happened in pro wrestling recently is very Tupac-esque.
Tupac foreshadowed his own death in his 1996 video for "I Ain't Mad At Cha," which was released a few days after he was shot and killed in Las Vegas.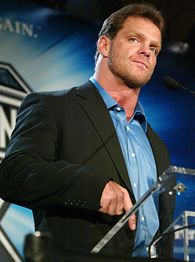 Peter Cramer/Getty
Hopefully the Chris Benoit tragedy will open some eyes in the world of professional wrestling.
The WWE was in the middle of an elaborate, fake-death story line involving chairman Vince McMahon -- going as far as to put out a press release about it and declare a day of mourning -- when life decided it could trump art.
The WWE got its wish, all right. The pro wrestling world was indeed leveled by a major death, creating the nationwide buzz it so desperately sought. Only this death wasn't staged, it wasn't McMahon's and it pointed to a much more significant problem in the "sport."
The bodies of legendary wrestler Chris Benoit, wife Nancy and 7-year-old son Daniel were discovered Monday after a gruesome murder-suicide. Initially, all three were thought to be victims -- the WWE and USA Network even aired a three-hour tribute to the 22-year wrestling vet -- but it soon became apparent the deaths were executed by Benoit, who strangled his wife and suffocated his child before hanging himself on the portable weight machine in the family's home.
I realize we're supposed to look at pro wrestling as a high-flying version of "The Young and the Restless." But it is inconceivable that, given the appalling number of real wrestling deaths, there would ever be any plot lines involving fake deaths.
The real lives of pro wrestlers, as the Benoit tragedy illustrates, are far more disturbing than anything they could act out in the ring.
Two years ago, Eddie Guerrero was found dead in his Minneapolis hotel room -- medical examiners ruled Guerrero had an enlarged heart, a result of the anabolic steroids he had abused. In 2003, Miss Elizabeth -- the girlfriend of former WCW champion Lex Luger and a one-time fixture in the sport -- overdosed on a combination of pain pills and alcohol. That same year, Curt "Mr. Perfect" Henning died of a cocaine overdose. And in 1999, Owen Hart died while trying to perform a stunt during a pay-per-view event -- the show went on, and because pro wrestling is always full of theatrics, the viewing audience had no idea the mishap it had just witnessed resulted in a real death.
"Personally, I thought the [McMahon] story line was in extremely poor taste from the start," said Phil Lowe, editor of WrestleMag.com, the largest wrestling Web site in the United Kingdom. "I'd like to think a story line such as this should never even be considered again and that the company now focuses on wrestling over far-fetched story lines, as well as paying more attention to the well-being of those who play a massive role in ensuring that the company is such a massive success."
Although pro wrestling makes no illusions about its purpose, the countless deaths suggest it's time to scrutinize what goes on there with the same seriousness as in the NBA or NFL. Pro wrestling is still sports entertainment, which doesn't make it all that different from the sports leagues that don't have predetermined outcomes.
It took Jose Canseco's book, "Juiced," and the BALCO scandal to get Congress to question officials from the NBA, NFL and Major League Baseball. How many more pro wrestlers have to die before Congress gives McMahon, who was charged with conspiring to distribute steroids to his wrestlers, a phone call?
"Depending on what comes out from [Benoit's] toxicology reports, we could see changes implemented or at least changes called for," Lowe said.
Although steroids are poised to be the banner issue that emerges from the Benoit tragedy, the changes that need to be implemented should go further than just drug testing, which WWE already has.
As we've seen with the retired NFL players who have taken their plight to the government, the mental strain that comes from competing in brutal sports -- and despite its being programmed, you could argue pro wrestling is as physically taxing as professional football -- can be debilitating, whether steroids are involved or not.
Many pro wrestlers, as shown in the stunning 1999 documentary "Beyond the Mat," lead lives that are demoralizing, not glamorous. In that documentary, we learn that Jake "The Snake" Roberts -- whose signature "DDT" move I tried many times as a kid -- is just a lonely cocaine addict estranged from his family. Based on the things in "Beyond the Mat," we should almost be surprised when a pro wrestler doesn't die tragically.
"Ultimately, every guy is responsible for his or her own actions," Lowe said. "That said, some of these guys -- especially those at the top of the tree -- are under huge pressure to keep in shape and maintain their physical condition while burning themselves out on the road 200-plus days a year."
It seems the drama in pro wrestling isn't as fake as we'd like to believe.
Page 2 columnist Jemele Hill can be reached at jemeleespn@gmail.com.