I feel compelled to divulge this before getting into what's bothering me.
I like Danica Patrick. She's been fantastic for the Indy Racing League. She's made the circuit relevant, and made her races appointment TV for me. I don't mind her posing suggestively for magazines -- as long as she doesn't bare it all for Playboy -- because she is an attractive, smart woman who has handled the attention given to her looks responsibly.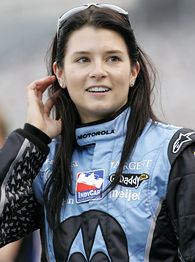 AP Photo/Tony Gutierrez
Danica shouldn't talk too much ... until she starts winning.
But Patrick needs to do one, tiny little thing.
Be quiet.
Patrick's teammates at Andretti Green Racing have reportedly threatened to cut off her hair when she wins her first IndyCar race. But they'd be better off helping her zip her lips.
Patrick was in full whiner mode after Sunday's Firestone Indy 400 at Michigan International Speedway -- known more succinctly as yet another race Patrick didn't win. She had strong words for Dan Wheldon, the same driver Patrick had a run-in with following the Milwaukee race in June. Patrick blamed Wheldon for causing a nasty collision involving teammate Dario Franchitti, whose car did a flip that wiped out several other drivers. Some would say she just stuck up for a teammate. But I think only Napa Valley has wine as good as Patrick's.
"Dan just came up and hit Dario and Dario flipped around," she said. "Dan drives really aggressively out there. He said it himself on pit lane at Milwaukee that he's tougher. I don't know if tougher means rougher, because he doesn't play completely fair out there. I even said that on my radio, 'Dan better play fair today. I'm serious because he likes to drive up and intimidate you.'
"Don't mess with us, especially Dario, because he isn't going to move. That's the result. People need to think when you are going 225 miles an hour what the right and wrong things are. The faster you move upwards, the slower you move backwards."
Even if everything Patrick said is true, she, of all people, shouldn't be the one to say it.
Look, drivers complain about each other all the time. Tony Stewart probably wouldn't feel right if he didn't have something to whine about after a race -- win or lose. But the difference is, Stewart is a two-time NASCAR Nextel Cup champion, and Patrick has as many IndyCar victories as I do.
When you're a woman seeking credibility in a male sport, and you have zero wins as currency, the last thing you can afford to do is blame anyone else for your lack of success. Last year, Patrick's car was supposedly at fault. This year, it's Wheldon. Either way, nobody cares. Just win, Danica.
I understand she is frustrated. The Firestone race was an unfortunate, unlucky mishap. Patrick assumed the lead after Wheldon's aggressive driving wiped out Franchitti, the Indy 500 winner, and Scott Dixon. Down the stretch, it was Patrick, teammates Marco Andretti and Tony Kanaan jockeying for victory. But a flat tire took Patrick, who had the fastest car at Firestone, out of the race.
Admittedly, Patrick is facing more pressure than any other driver on the circuit. A lot of drivers would be happy with what she's done this season -- eight top-10 finishes in 12 starts. But the stakes were upped considerably when she left Rahal Letterman Racing, giving her no room for failure.
Posing in a thong doesn't hurt the credibility of female athletes competing alongside men nearly as much as not winning. These hissy fits with Wheldon don't make Patrick seem fiery or competitive. They make her seem sulky.
Besides, instead of picking fights with Wheldon, Patrick needs to figure out how not to go down the same path as Michelle Wie and Anna Kournikova. Granted, she seems much more dedicated and serious than the winless Kournikova ever was. But Patrick and Wie are running neck and neck when it comes to making excuses for why their hype hasn't translated to wins.
Give Patrick credit for accomplishing more than any other female driver. But this is about legacy, not endorsements or popularity. Let's hope Patrick doesn't have to experience firsthand a tried-and-true rule in sports: When the wins don't come, the novelty doesn't last.
Page 2 columnist Jemele Hill can be reached at jemeleespn@gmail.com.