If you're not a Communist, believe in Superman, and like to help elderly people across busy intersections, then you have to root for South Florida to play in the national championship game.
If you hate the BCS, and love America and playoff systems, buy a USF Bulls T-shirt and pray to whoever you pray to that they finish the season 12-0.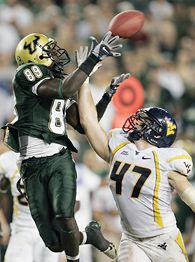 AP Photo/Chris O'Meara
South Florida, in the national championship game? It could happen.
If South Florida makes a historic undefeated run this season, maybe those clueless college presidents and tragically old-school coaches will finally see that a college football playoff system is the best option to decide the national champion.
We need a team way outside of the college football power structure to crash the precious BCS party; a team about which, if it made it to the title game, people would ask, "That's not just an online university?"; a team that's named South Florida, but is actually located in Tampa. USF reaching the title game would be the perfect tipping point for college football. Maybe then the decision makers would realize that parity in college football is too ridiculous to have something as imperfect and illogical as the BCS determining its champion.
Appalachian State and Stanford showed this season that the gap between the haves and have nots is fluid. So if a program that has been in Division I-A for less than 10 years played for the national title, the gap almost would become an imaginary line.
The best part about all this conjecture is, the Bulls playing in New Orleans in January isn't all that far-fetched. They're currently ranked No. 5 in the nation. For the first time in forever, the best team in Florida isn't located in Tallahassee, Miami or Gainesville.
And, of the nine unbeaten teams in the Top 25, the Bulls are the ones with the best chance of staying that way.
One loss seems inevitable for LSU, Cal, Ohio State and Missouri. LSU's next three games are at Kentucky, home versus Auburn and then at Alabama. Even if the Tigers survive that stretch, they'll assuredly face a difficult foe in the SEC title game -- possibly 5-1 South Carolina or a rematch with Florida.
Cal has Arizona State and USC looming. The Buckeyes have Penn State, Wisconsin and Illinois coming up, as well as their annual date with Michigan. Missouri plays No. 6 Oklahoma Saturday, and will finish the season with consecutive road games at Kansas State and currently undefeated Kansas, which still must travel to Colorado and Texas A&M.
The Bulls' road isn't easy either, but it doesn't present nearly the same potential problems. They have a deceptively challenging game this weekend against Central Florida, back-to-back road games against Rutgers and Connecticut, and then they host a suddenly surging Cincinnati team on Nov. 3.
It's likely South Florida will be favored in every game left on its schedule, an indication that 12-0 is well within reach. A lot of the other unbeatens can't make that claim.
Should the Bulls hang in there, their résumé will more than warrant them playing for the national title. They've already impressively beaten West Virginia -- which a few pundits had tabbed to play in the BCS title game -- and Auburn, a win that looks even better after the Tigers defeated Florida in Gainesville. You can bet the Bulls wouldn't meet the same fate as Utah in 2004 and Boise State last season -- both finished unbeaten but had no shot at the national title -- since USF's Big East membership ensures they'll be treated respectfully.
"It's something I can't control," USF coach Jim Leavitt said. "I'm a lot safer just trying to focus on UCF."
Coachspeak translation: IT'S GARBAGE! I'M A MAN! I'M 40! (More like 51.)
If USF pulls off the impossible, no grumbling is allowed. No crying from one-loss teams about playing in a tougher conference. No using the discriminating-eyeball factor to magically determine USF would get beaten by certain teams with worse records. Last year, Michigan used those same delusional arguments and played the "but our only loss was to No. 1 Ohio State" card, hoping to play in the title game instead of Florida. And then USC beat Michigan by two touchdowns in the Rose Bowl, effectively ending the nonsensical whining at the Harvard of the Midwest.
Of course, it's college football, and whining is to be expected. But I'd rather whine about playoff pairings.
Go Bulls!
Page 2 columnist Jemele Hill can be reached at jemeleespn@gmail.com.