Riding with Morris Peterson
NEW ORLEANS -- New Orleans shooting guard Morris Peterson was still pawing his brand-new Mercedes when the "Riding With" crew arrived.
The car hadn't even been in Peterson's clutches for 24 hours, so the drool was understandable. Retailing at $142,000, with something on it called "night vision," the CL63 is a testament to the kind of life Peterson has been able to build in the NBA. A skilled shooter, Peterson is in his eighth season in the league. He's regarded as a valuable veteran, the kind of glue guy most teams covet. And he's playing that role to perfection right now with the surprising New Orleans Hornets, who as of Friday owned the best record in the NBA.
Peterson spent his previous seven seasons in Toronto, where he was one of the team's most popular players. Still, he's probably best known for starring at Michigan State, the school he helped lead to an NCAA title in 2000, along with fellow Flint, Mich., buddies Mateen Cleaves and Charlie Bell -- back then they were known as the "Flintstones."
Peterson discusses old times and the new memories he hopes to make with the Hornets in this latest installment of "Riding With," where we interview athletes in their cars and find out what makes them tick.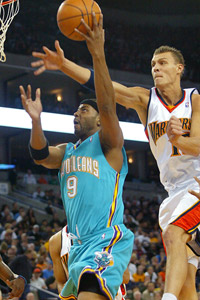 AP Photo/George Nikitin
Who would have thought Peterson and the Hornets would be at the top of the Western Conference?
During your free agency in the offseason, it came down to New Orleans and Utah. Why did you pick the Hornets?
I picked New Orleans for a lot of different reasons, but the main reason is, look at the team. Chris Paul, Tyson Chandler, [David] West and Peja [Stojakovic]. With that core group of guys, I felt like New Orleans really had a chance to do something special. With New Orleans coming back here full time, it just gave us a chance to bring pride back to the city. I went down to Utah and I got a chance to spend some time with Jerry Sloan. He's a great guy. They have a great organization, but I just felt different as soon as I landed here on the plane. It just felt like the right thing to do.
What's it like to play with Chris Paul?
Chris Paul is amazing. I've never seen a guy his age do what he does. Here's a guy who is 22 years old, and the thing that really struck me is you see all the talent he has and what he's doing this year, and he's the first guy in the gym, [and] the last guy to leave. I try to come to the gym to get some shots up and he's there. You don't normally see that from a guy his age. There's a lot of guys who come into the NBA who are not as mature, but he's as poised as it gets.
You've played in 581 games, but only 19 of those have been playoff games. How important is it to make the playoffs?
It's very important. This is my eighth season. Last year, I got a taste being in Toronto -- just that whole atmosphere. I'm from Michigan State, where we always played in big games. I really look forward to getting back in the playoffs. If we continue to grow, continue to play like we've been playing, I think we can go a long way in the playoffs. That's what I live for. Once you get that taste, it's always exciting when you get a chance or an opportunity. And you never know when those opportunities are going to come. I was out of the playoffs for three or four years in Toronto, and the thing you want to do is, when you have a good team and [a] great bunch of guys, you have to take advantage of it because you never know when it's going to come back around. The older I get, the more I realize that.
What's it like not being in the playoffs?
Man, it's not fun. I know some guys who say, "I'm glad the season is over with. I can get some rest." Nuh-uh. I do not like watching those games during the playoffs. I would rather be there playing. Plus, you get a nice little check. After the playoffs are over, you have a little bit of money to take your family on vacation.
MO PETE'S RIDE
Car: 2008 Mercedes CL63
Color: Black
Special additions: 22-inch, two-tone black and chrome wheels with a chrome lip and floating center cap. Blacked-out windows and tail lights. Lorinser F-1 kit and exhaust.
Retail: $142,000
Provided by: Celebrity-Auto, Sarasota, Fla.
Since you mentioned your time in Toronto, what did you think of Chris Bosh's YouTube video to promote his All-Star candidacy?
CB, that was a good commercial. Real unique. Original. He definitely deserves to be an All-Star. He thinks he's an actor. You ain't no actor, CB.
What's New Orleans like post-Katrina?
When I first got here, I didn't know what to expect. A lot of people said it's bad out here. For me, being here before Katrina -- because I used to come and visit since my mother is from this area -- it had its effects. It's a couple thousand people that's not here, but you really can't tell. I went to the Ninth Ward and we passed out Christmas gifts in that area. That area has really been damaged. Other than that, you really can't tell. Hopefully, with us winning and if we can get back to the playoffs, we can bring some pride back to this city and give them something to cheer about.
Are there things about New Orleans you like that you didn't expect to like?
I'll tell you, my first month here, I think I ate shrimp every day. I'm a little tired of shrimp and gumbo right now. The first month, I think I was sweating gumbo in practice.
A lot of athletes were affected by Sean Taylor's murder. What was your reaction when you heard he was killed?
Man, that really hit home. I didn't know him personally, but I know guys that knew him. That's scary, knowing you're at home and somebody invades your space. If you look at a couple of the NBA players it's been happening to, it's been happening a lot. I feel for his family and his friends. Hopefully nothing like that happens again. The NBA and the NFL and all the pro sports have been sending out memos saying, hey, be careful who you have at your house. Be careful when you go out. We are targets. People see us riding around in nice cars and it's just unfortunate that sometimes you can't enjoy what you worked so hard for.
Have you ever personally felt threatened because you are a professional athlete?
There have been a couple instances when I've gone out and had people follow me home. That's why I never take the same route home. I always go a different way. I make sure I watch some of the places I go to, because we are targets, whether some people want to admit it or not. We're making millions of dollars and that's just how it is. We just have to be careful.
Another big issue has been performance-enhancing drug use in Major League Baseball. How many pro basketball players do you think use performance-enhancing drugs?
I don't think a lot of guys abuse that. We don't have to be all big and strong. It's a different kind of muscle required. It's a touchy subject, but I don't think it's going on in basketball.
Who do you think was the most important player in Michigan State basketball history?
Of course it's Magic Johnson. You've got to put him No. 1.
Some people might say it's Mateen Cleaves.
Well, they both won national championships. I think both of those guys impacted not only Michigan State sports, but the whole state. Also the NCAA. Everywhere I go now, the first thing people say is, where's Mateen? Have you talked to him? That's my guy. I talked to him a couple days ago. Those two guys are probably 1-A and 1-B.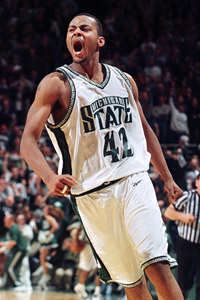 AP Photo/Al Goldis
Peterson was a key cog on the Spartans' national championship team in 2000.
When you think about winning that championship in 2000, what comes to mind?
Well, at the time we expected a lot of ourselves. I had coach [Tom Izzo] call me during Christmas time and he said, "Morris, I just think about what we did and how we won a national championship. We worked hard and you guys had something in you that not a lot of guys have in them." I will never forget that. Some guys can say whatever they want, but they never won their last college game. Unless you played in the NIT. I used to tease [former Toronto teammate] Alvin Williams. I'd say, "Hey, did you win your last college game?" And he'd say, "Yeah, I won an NIT championship."
The Hornets' veterans forced your rookie teammates, Adam Haluska and Julian Wright, to carry around Cabbage Patch dolls in pink strollers to the games as part of rookie hazing. What's that about?
We came up with that idea to give them a little bit of responsibility. They're going to have to put their pride aside. I got hazed when I was a rookie, but not that bad. Bobby Jackson got a couple of his daughter's dolls and the baby carriages. So now they have to walk with the baby carriages before the game, like carrying them into the game. It's the funniest thing you want to see. Julian was mad because I think he had a boy doll, but he wanted a girl doll.
You said you were hazed as a rookie. What happened to you?
I won't say his name, but my rookie year, here I am in Philadelphia and it's 12:30-1:00 at night and I'm getting ready for bed because we have a game the next day. I get a phone call and he says, "Hey rook, I need you to go get me a wedding anniversary card and some balloons for my wife." It's 12:30-1:00 and nothing is really open. The only thing open was Walgreens, but the Walgreens in the area was closed. I had to catch a cab, like 45 minutes away, and find him a card because his wife was coming into town the next day. I had to pay my dues. I don't feel sorry for Julian and Adam because I had to get up. In fact, I think I might do that to them next.
Let's have a little rapid fire here. Best player you ever played against at Michigan State?
Michael Redd. We had battles in college, but we always won. You know that, don't you Mike?
Most expensive gift you ever bought a woman?
A car. For my mom.
Good answer.
And a house.
Biggest musical influence?
Stevie Wonder and Jay-Z.
Best game you ever played? College or pro.
I'd have to say the national championship game. You're on the big stage. You lose, it's over. We played against Florida, and to this day I always tease Mike Miller whenever we play them. Mike Miller, if you're watching, sorry we beat you like that. And we're going to be 95 years old and I'm still going to be talking about it.
Player you hate to guard in the NBA?
Kobe. He does so many different things. Even when he's not hot, he's always a threat. You have to watch him everywhere on the court.
Stupidest thing you ever did with your money?
I try not to do anything too stupid with my money. Me being from Michigan, me being from Flint, I don't really try to live outside my means. I try to save my money. I ain't going to make it rain.
I get the feeling that was a politically correct answer.
OK, maybe I made it rain a couple times.
Player at Michigan State you hated to guard in practice?
I used to hate checking J-Rich [Jason Richardson, Charlotte Bobcats]. He was a freshman and I was a senior. Man, he was so athletic and would move all the time. I knew he was going to be a great player. The thing I used to try to do in practice was push him. We made each other better.
So what do you want to do when you're done playing?
Maybe get into some broadcasting. ESPN, holla at your boy when I retire in five or six years.
Page 2 columnist Jemele Hill can be reached at jemeleespn@gmail.com.