TAMPA, Fla. -- Andy Pettitte's brutally honest hourlong news conference effectively sent the message that short-term humiliation beats long-term scorn any day.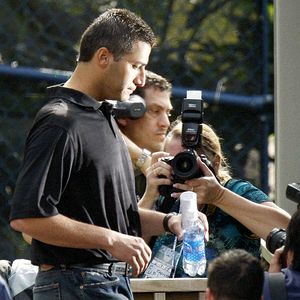 AP Photo/Julie Jacobson
Andy Pettitte came clean on Monday, and now he can move on.
None of us can really know how difficult it was for Pettitte to face the media Monday afternoon at the Yankees' spring training facility after being named in the Mitchell report and giving a deposition to Congress detailing his illegal use of human growth hormone in 2002 and 2004. Some see Pettitte's involvement in a performance-enhancing drugs scandal as further proof that the lack of integrity in sports is too widespread and that cheaters always will remain far superior to testers. One BALCO was taken down, but who knows how many others have taken its place?
Someday, science might prove to be too much. But Pettitte at least proved something important and hopeful. Drug and blood tests can be beat, but the truth can't. And in the steroids and human growth hormone game, the truth-tellers are far ahead of the deniers.
As painful as Monday was for Pettitte, he is in a much better position than his buddy Roger Clemens, as well as Barry Bonds. If you survey the BALCO and Mitchell report aftermath, take note of the markedly different positions of the deniers versus the "truthers."
The deniers are facing jail time and/or the kind of public condemnation reserved for hardcore criminals. Marion Jones was sentenced to six months in prison for lying to federal agents about her role in BALCO and a check-fraud scheme. Bonds is facing perjury charges. And if Congress forces the issue, Clemens also could be indicted. Lawmakers also are looking into whether former American League MVP Miguel Tejada lied to a congressional committee in 2005. In the meantime, Clemens' reputation has been destroyed and he has made rapid gains on Bonds in the public-scorn department. Like Rafael Palmeiro and Mark McGwire before him, Clemens has become a pariah.
Those who chose to be honest -- even if that honesty was a result of government pressure -- have either moved on completely or are on their way to doing so. Pettitte's teammate Jason Giambi survived the public backlash concerning his involvement in BALCO, which is hardly referenced anymore. Paul Lo Duca, who was named in the Mitchell report, recently took the first step in the Giambi Guide to Recovering From Steroid Involvement, apologizing at spring training Sunday, even though -- like Giambi -- he didn't say exactly what for. Even Victor Conte, the BALCO mastermind, has faded into the background. He struck a plea deal with federal prosecutors and served four months in jail and another four under house arrest.
Six months from now, what Pettitte has gone through since the Mitchell report was released will be an afterthought because Pettitte wisely chose the avenue of truth instead of the path of ego and cowardice. He will recover. Clemens, if he keeps up his fraudulent act, will not.
"They say the truth hurts sometimes," Pettitte said Monday. "But you have to get it out there. The truth will set you free. I'm going to sleep a lot better now."
I was among those who were tough on Pettitte in the beginning, because he offered a weak statement when the Mitchell report dropped and because there were serious questions about whether he was being completely honest.
Congress forced Pettitte to come clean completely, which included the embarrassing revelation that he scored HGH through his ailing father, Tom, who obtained the substance from a former high school classmate of Pettitte's.
Despite the shame of pulling his father into this scandal, Pettitte and the public are better off for his forthrightness. Pettitte did a lot more to shed light on this ugly underbelly in sports than the congressional hearings did. Pettitte put a human, humble face on an enormous problem in sports, providing at least some insight into what makes athletes take things as far as Pettitte did.
Pettitte explained that even though trainer and friend Brian McNamee was against his using HGH to heal his injured elbow, Pettitte considered it his only option. "There was definitely some hesitation," Pettitte said of his HGH usage in 2002. "I felt like I was making an awful lot of money. There was some tissue damage in my elbow, and I felt like I had to do that. I felt like it was the right thing to do in my heart. For some people, that's hard to understand. I thought about it for a few days. I didn't know anything about HGH, but I was told it could help me."
This is not to say Pettitte deserves a free pass, or sympathy. But his situation was a plausible, believable scenario. I believe Pettitte when he says he wasn't that educated about HGH but took it because McNamee told him it would get him back on the mound faster.
The one thing very few athletes can handle is losing the ability to compete. In a sports society in which results matter more than integrity, even a well-thought-of guy such as Pettitte is vulnerable to making an unethical decision because of his competitive nature. We love that athletes are so driven, but under the wrong influence, that trait can be their own worst enemy.
"I didn't do it to get an edge," Pettitte said. "I didn't do it to get stronger and faster or throw harder. Do I think I'm a cheater? No, I don't. Was it stupid? Yes, I was stupid. Was I desperate? Yes, I probably was."
As crazy as it sounds, the humiliation Pettitte suffered as a result of using HGH ultimately will do more to deter other athletes than the threat of jail time will. Nothing is more frightening for professional athletes than the prospect of losing their iconic status, reputation, credibility, ability to compete and possibly their income. They like the lives they lead. Just because some of them don't like to be role models doesn't mean they don't enjoy being considered as such.
Of course, not everything Pettitte said made sense. He said he felt "in his heart" he did nothing wrong when he decided to use HGH because it wasn't against baseball's rules. But he seemingly overlooked that it's against the law to obtain controlled substances without a prescription. And while Pettitte may have been looking for the drug's healing powers, the fact is HGH also promotes lean muscle mass and has a host of other advantages. If it didn't, I'm sure Pettitte wouldn't have tried it twice, despite his insistence that having McNamee inject him privately made him feel seedy. Pettitte might balk at the 'C' word -- cheater -- but he chose to utilize something that made him exactly that.
Pettitte said Monday that he hoped no other athlete would ever have to go through what he has gone through. As long as athletes understand the price of lies, they won't.
Jemele Hill can be reached at jemeleespn@gmail.com.