What movie did Al Pacino win Best Actor for?
(a) "Scarface"
(b) "Dog Day Afternoon"
(c) "The Godfather"
(d) "The Godfather: Part II"
(e) None of the above, because Academy Award voters are stupid
Pacino, a seven-time Oscar nominee, finally won Best Actor in 1992 for "Scent of a Woman." To date, it's Pacino's only Oscar, and any Pacino fan will tell you that seeing him win for "Scent of a Woman" was like seeing Ice Cube for the first time without his jheri curl. It just wasn't right. It didn't make sense. And you felt cheated.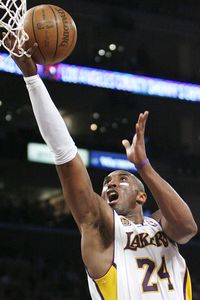 AP Photo/Gus Ruelas
Should Kobe just be handed the MVP this season? No way.
Sadly, the NBA MVP race has become just as warped and backwards as the Academy Awards. The definition of MVP seems to change every year, and all too often players are rewarded for sentimental reasons and discredited using other ludicrous rationales.
It's no different this season, which somehow universally came to be known as "Kobe's year," even if the Lakers don't finish with the top seed in the Western Conference.
I'm sorry, but that's absurd. No question, Kobe has put up some unbelievable numbers this season. But if New Orleans finishes first in the West and Chris Paul doesn't win the MVP, this award officially can't be taken seriously.
It would be criminal to overlook one of the most brilliant seasons a point guard has ever had. Paul averaged 24 points, 13 assists and nearly 3 steals per game in March. In fact, he's on the verge of becoming the first point guard since John Stockton to lead the league in both assists and steals in the same season. Nobody expected anything from the Hornets, and they're poised to win perhaps the most competitive conference we've ever seen in the NBA.
That's the very definition of MVP -- individual brilliance coinciding with team success. I'm a Kobe supporter, and I still stand by my assertion that Kobe is a more skilled player than Michael Jordan was. But giving Kobe the MVP just because "it's his time" or "he's learned to be a team player" is a disservice.
This is what has become most frustrating about the evolution of the MVP race. Over time, merit has become less of a factor.
In the 1996-97 season, the MVP was thrown in Karl Malone's lap strictly because voters seemed sick of giving it to Michael Jordan, who won the MVP five times. Before that, the benefactor of ABJ (Anybody But Jordan) was Charles Barkley, who was named the MVP for the 1992-93 season even though Jordan averaged 32 points, 6.7 assists and 5.5 rebounds.
LeBron James probably didn't get the consideration he deserved last season because of the "he has plenty of time to win an MVP" argument.
Two-time MVP winner Tim Duncan should have gotten stronger consideration last season, too. But Duncan is the NBA's version of Russell Crowe. After Crowe won Best Actor for "Gladiator," the Academy overlooked him for "A "Beautiful Mind." Crowe won't win another one because he's too consistently good. Same goes for Duncan.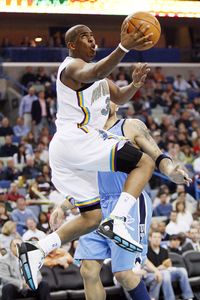 AP Photo/Alex Brandon
If the Hornets, incredibly, finish tops in the Western Conference, tough to argue against Chris Paul.
And only in the NBA could Shaq, the most dominant center of all time, have one MVP while Steve Nash, who has never gotten his team to the NBA Finals, has two.
That's why it's difficult to argue against Kobe, knowing he was cheated out of at least one MVP -- the one Dirk Nowitzki shamelessly won last season.
But while Kobe's renewed commitment to team ball makes for a cute catchphrase, it's a misnomer. Obviously Kobe has matured, but he's a better teammate primarily because he's got a fellow All-Star in Pau Gasol, a deeper, more skilled bench, and an emerging star in Andrew Bynum. Teamwork becomes much easier when your teammates can actually do something with the ball.
Which brings me to another frustrating element of the MVP race. Why are good players considered stronger MVP candidates when they have more help? (See: Kevin Garnett, the 2003-04 MVP.) Isn't the concept of "value" based on doing more with less?
That should be the only criteria. And if it is, Paul is the MVP over Kobe, LeBron and KG. LeBron has had a fine season, and he certainly ranks high in the value department, but Cleveland's team success isn't significant enough to warrant LeBron winning. KG's presence transformed the Celtics, but it certainly helps that he has All-Star security blankets Paul Pierce and Ray Allen.
But, if recent MVP races are any indication, politics will win again.
So congrats, Kobe.
Jemele Hill can be reached at jemeleespn@gmail.com.