ORLANDO, Fla. -- They're online video game buddies and frequent texters. Even after Game 1 of their NBA playoff series sent one of them to an amazing high and cast the other amid more questions, they still hung out, went to dinner and laughed as if one of them didn't suffer a nasty, opening-game beatdown.
Before the Orlando Magic's playoff series against Toronto began, Dwight Howard compared his matchup with good friend Chris Bosh to Superman versus Lex Luthor.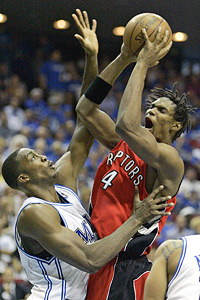 AP Photo/John Raoux
Dwight Howard and Chris Bosh are good friends, but only one will be happy after this series is over.
And if Orlando's 114-100 win over the Raptors on Sunday is any indication, the Bosh-Howard showdown won't be nearly as even as some of those the Luthor-Superman battles. Luthor was an evil genius, but we forget he was a very unsuccessful one.
Howard was magnificent in Game 1, scoring 25 points, collecting 22 rebounds, blocking five shots and sinking nine of his 11 free throws -- an amazing capper for someone who shot 45.5 percent from the foul line last postseason. Howard dominated defensively and, most importantly, when the Raptors bullied their way back into the game in the fourth quarter, he put his team on his back -- as only Superman could -- and scored six straight points to seal the game.
"Last year, I wouldn't call myself a captain," Howard said. "This year, I'm a captain and I have to lead the team, even though I'm the youngest player on the team. They're looking at me. Not just my teammates, but the organization. I had to take a more mature approach than I did last year."
It was Howard's first playoff victory, and he said afterward he was so overcome with emotion, he nearly was reduced to tears.
"My bet would be that's the most intensity and focus he's showed over a sustained period of time," Orlando coach Stan Van Gundy said. "How consistently can you get to that level of intensity and focus? That's a hard thing. The good part of it was that we saw it. We know it's there. That's the standard you have to strive to all the time."
Meanwhile, Bosh had just four field goals and finished with 21 points, but was overcome with an entirely different emotion -- frustration. The Magic nearly shot the Raptors out the building in the first quarter, leading by as many as 20. It didn't help that coach Sam Mitchell got the bright idea to go mad genius and start budding bust Andrea Bargnani over standout Jamario Moon. He also installed a few new, confusing offensive plays.
"It's little things with me," Bosh said. "I know guys are going to stack the side against me, and I think I can pass the ball a lot better. I know where they're forcing me and where to go now, so I can go much quicker and get to the foul line. I think I just need to stay aggressive. I have to do a better job of looking for my shot and doing small things to get the ball closer to the basket."
This playoff series isn't drawing the same interest as some of the others, but it's got a very juicy story line. Two young, superstar big men enter the playoff domain, but only one will leave without the dreaded pressure of first-round failure.
Both were subjected to heightened expectations because of early-round exits last year and, in their respective cities, fans no longer thought of the playoffs as a privilege, but a right. After the Magic were swept by the Pistons, some wondered whether Howard's good-natured, sometimes-goofy personality was a detriment. Could he take the Magic to the next level when he obviously reveled in being a big kid? This was the guy who challenged Shaq to a dance contest during All-Star Weekend. He single-handedly revived the NBA dunk contest with a collection of some of the best slams most of our eyes have seen. But was he concentrating too much on entertaining and not enough on returning the Magic to the glory days they hadn't seen since Shaq left?
With Bosh, same questions, different subplots. Bosh was a clunker in last year's 4-2 series loss to the Nets. The doubters began chipping away. Is he just a max guy and not a franchise guy? Will his defining moment be that hilarious YouTube video he did to garner more All-Star ballots?
It's still early, but Howard is a lot closer to answering his questioners.
"He's a lot more focused, a lot more mature," Magic point guard Jameer Nelson said. "One of the biggest things that helped him out was playing with the guys on the USA team. He saw how the rest of the superstars act and how they behave. This whole season, he came with a different demeanor, a different focus. In my eyes, he's the best big man in the game right now. People can say I'm biased, but you can't argue with that."
So where does that leave Bosh? It's not a good sign when the normally offensive-minded Rashard Lewis puts Bosh in his back pocket defensively. Even though Mitchell had some serious coaching lapses, Bosh is the big man with the big contract, and if he doesn't get the Raptors out of the first round, he gets the big blame.
Meanwhile, his friend will be the big hero.
Jemele Hill can be reached at jemeleespn@gmail.com.