I am a grown woman, with a mortgage, an NFL Sunday Ticket package, an overweight cat, a car and a college diploma. But if I had cussed at my mama the way LeBron James cussed at his during Cleveland's playoff game against Boston on Monday night, I would've come up missing. And it wouldn't matter if you gave MacGyver four toothpicks, a Ouija board, a shovel and some dental floss -- not even he would be able to find my body.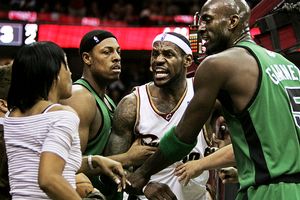 AP Photo/Mark Duncan
LeBron clearly wasn't wishing his mother a belated happy Mother's Day here.
In a hotly contested second-round playoff game between the NBA's most dominant team this season and the runner-up from a season ago, you don't expect a lot of etiquette. You expect there to be hard feelings and hard fouls.
But you don't expect to see arguably the biggest star in the NBA yell to his mother, Gloria, "Sit your ass down!"
The NBA: Where Disrespecting Yo Mama Happens.
No matter if her child is 6 years old, 16 or 36, the protective gene is something a mother can't easily shake. And even though LeBron is built like Julius Peppers, his mother couldn't help but instinctively arise in a battle stance when Paul Pierce aggressively wrapped LeBron up around the shoulders just as King James was barreling toward the basket.
Naturally, Mama James thought Pierce was a little too rough with her baby, and she hopped up, ready to go. Thankfully she was calmed down by Kevin Garnett -- although considering the way the Celtics were falling apart against the Cavs, Garnett should have let Mama James unleash a few uppercuts. They would have deserved it.
Ms. James wasn't exactly Jackie Christie, who once came out of the stands swinging her purse wildly in aid of her man, Doug, who was in a heated scrap with the Lakers' Rick Fox. But let's just say, with her quick rise and her balled fists, Mama James showed more toughness in a span of 20 seconds than the Celtics did down the stretch in Cleveland.
I shudder to think what Ann Iverson might have done.
Nevertheless, the situation thrust an unsavory moment before the public featuring one of game's most beloved stars. It's one thing to question whether LeBron can be a clutch player because he's fallen short a few times. It's one thing to question LeBron because he's shown in this series against Boston that he has an "umper," as in no "J."
But how can we look at King James the same after he cussed out Moms on national TV?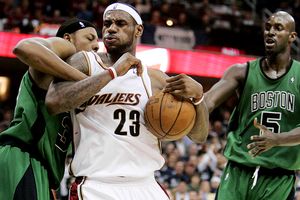 AP Photo/Mark Duncan
Admittedly, there was a fair bit of contact on the play.
That just ain't right. You can't do your mother that way.
In all fairness, LeBron apologized for his behavior on ESPN's "Mike and Mike" radio show Tuesday morning, saying he was mostly concerned for his mother's safety because she was in the thick of a scrum with guys who were 50 times her size. Although, based off her footwork, I'd say she could have at least landed a combination on Rajon Rondo.
But even with so much on the line, and his manhood teetering because his mother was rushing to his rescue, LeBron should have maintained his composure. The birthing process gives any mother the right to overreact, no matter how ridiculous.
Cursing at your mother is tacky -- even if she deserves it. In all of my (muffled sound) years, I have never, ever cursed at my mother. Not after she read my diary when I was 13 and then went all George Foreman on me because I said some unflattering things about her parenting. Not when she tried to "prohibit" me from going to Florida with my college boyfriend during spring break. Not even when she thought it would be charming to tell a few of my adult friends that she worried I suffered from halitosis as a child.
If you start disrespecting Mom, then you give everyone else carte blanche to do the same. Now what will stop creative Celtics fans from yelling unflattering things at Mama James in Game 5?
Of course, they probably were going to do that anyway. But now they won't feel guilty about it.
Jemele Hill can be reached at jemeleespn@gmail.com.