LOS ANGELES -- I was prepared to leave NBA commissioner David Stern alone about Tim Donaghy. But Stern, the man I consider one of the smartest in all of pro sports, said something before Game 4 of the Lakers-Celtics series that made me believe he'd been smoking blunts with Josh Howard.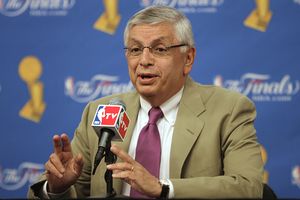 AP Photo/Mark Avery
David Stern answered some tough questions Thursday -- just don't expect NBA refs to be doing the same anytime soon.
Asked whether he would consider making referees available to the media -- a move that might go a long way toward quelling the rising belief the NBA is somehow rigged -- Stern said, "With respect to our officiating, I don't think we have any specific plans beyond our current rules about making referees available to a pool of reporters after games with respect to calls, but no other plans beyond that."
That doesn't make a lick of sense.
It's disappointing that the man who took on hip-hop's influence on the NBA is resistant to making the one change that might stop Donaghy's claims of biased officiating from further swallowing the league's credibility.
This has become a war against public perception, and just in case Stern hadn't noticed, perception has its foot all in his rump. ESPN.com polls show a vast majority of NBA fans believe Donaghy, even though the disgraced ref is a convicted felon (as Stern reminds us at every opportunity) and seemingly has offered nothing more than just accusations.
Because that's the case, it's on Stern to do something to help restore the public trust. Instead of being defiant, flippant and arrogant, Stern has a chance to be proactive. Make referees answer to the same criticisms the NBA's millionaire talents do if they don't perform. Kobe Bryant went 6-for-19 in the Lakers' first home playoff loss Thursday night, which put Boston one win away from an NBA title. You think the league MVP didn't have anything to answer for afterward? So, why shouldn't Joey Crawford have had to explain why he didn't call that foul on Derek Fisher in the San Antonio series?
There is no more denying that an official's calls or noncalls can impact a game significantly. And considering the degree to which the NBA has become a global sport, the same sword should hang over the refs' heads as it does over everyone else's.
If referees were available to reporters, it might prevent the next Tim Donaghy from happening. Even if there is subtle and unspoken league pressure to target players or be more forgiving to certain superstars, the referees might be more apt to act with integrity if they lived in fear of their faces and comments' being splashed across the New York Daily News.
No question, it would be a bold move. Most sports leagues protect their officials from media scrutiny -- sometimes to protect their own safety.
But Stern has made bold, unpopular moves before. He instituted a racially polarizing dress code three seasons ago, making players bid adieu to throwback jerseys and do-rags because he knew his coveted corporate America types were turned off by players who looked like they were going to the set of a Rick Ross video.
Stern didn't care that the policy riled up some of his most popular players. He didn't care that some were calling the policy racist. He didn't blink when the usually noncontroversial Tim Duncan told the San Antonio Express-News, "I think it's a load of crap. I understand what they're trying to do with [forbidding] hats and do-rags and [retro] jerseys and stuff. That's fine. But I don't understand why they would take it to this level. … I don't like the direction they're going, but who am I?"
This is the same Stern who changed the signature NBA ball, then changed it back because of the players' vehement complaints. This is the same Stern who made the controversial decision to suspend Amare Stoudemire and Boris Diaw in a pivotal playoff series between San Antonio and Phoenix -- a move Suns fans still believe derailed their team's path to an NBA championship. This is the same Stern who made high school players ineligible for the NBA draft, and who is on the record saying he'd like to see the draft age set even higher.
And let's not forget this is the same Stern who doesn't seem to mind all the bad publicity he's taking for allowing deceitful owner Clay Bennett to hijack the Sonics from Seattle out of pure greed and laziness.
Stern might not like that he's battling conspiracy theorists, speculation and a convicted felon with an agenda, but throughout his leadership, Stern never has been shy about doing what is financially beneficial for the NBA.
The best thing for the NBA is to remove the appearance of impropriety and make everyone subject to the same wrath. The last thing the league can afford is large sectors of people believing that games are altered and officials are prone to misconduct. Stern worked diligently to rid the NBA of its thug image after the Palace brawl, and he must be willing to roll up his sleeves and get to work on the league's reputation again.
Jemele Hill can be reached at jemeleespn@gmail.com.
2008 NBA FINALS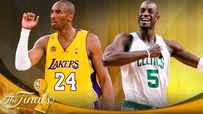 And then there were two -- the Lakers and Celtics. Who will win the NBA Finals? Let the games begin.
Finals schedule | Playoff bracket | Playoff home
Daily Dime
•
Celtics win 17th championship title
•
Did C's lose Regret Game?
•
A little help from Kobe's friends
•
Time for L.A. to go small
•
The Finals Can't Shake Donaghy Mess
•
Unlikely Game 4 comeback gives C's 3-1 lead
•
Rondo's ankle could change L.A.'s game plan
•
Kobe leads Lakers to Game 3 win
•
Lakers need to attack the paint
•
Lakers learn Powe's name in Game 2
•
Time for Gasol to step up
•
Lakers need better defense in Game 2
•
Pierce sparks Celtics in Game 1 victory
•
Expert predictions, clutch stats
•
Pierce loves playing Lakers
•
Celtics to meet L.A. in the Finals
Lakers vs. Celtics
•
Stein: Q&A after six-game "sweep"
•
MacMullan: Pierce's long road to greatness
•
Hollinger: From camp to champs
•
Stein: Boston's big three shine
•
Adande: Questions loom over Lakers' future
•
Hollinger: Celtics commit to defense
•
Scouts Inc.: Game 6 breakdown
•
Hollinger: Farmer steps up in Game 5
•
Sheridan: Late-game letdown for Celtics
•
Stein: Lakers ready to make history?
•
Adande: Greatness eluding Phil and Kobe
•
MacMullan: Doc adheres to dad's lessons
•
Jackson: Time for L.A.'s concession speech?
•
Stein: Game 4 not Kobe's finest hour
•
Adande: KG dominates Gasol again
•
Hollinger: Rivers makes all the right moves
•
Hill: Kobe's Laker legacy on the line
•
Hollinger: Vujacic lends helping hand in Game 3
•
Jackson: Jump shot Jesus has returned
•
Stein: Lakers need to earn sympathy
•
Adande: Lakers feel foul over whistle disparity
•
Jackson: Leading role suits Pierce
•
Adande: Kobe turns away from the pass late
•
Stein: Pierce's knee key to rest of series
•
Finals factor 1: Kobe Bryant
•
Finals factor 2: Celtics Defense
•
Finals factor 3: Paul Pierce
•
Finals factor 4: Home-court advantage
•
Finals factor 5: Battle of the benches
•
Hollinger: Lakers offense vs. Celtics defense
•
Broussard: Turning back the clock

•
Adande: How did Kobe get here?
•
Scouts Inc. breakdown: Lakers vs. Celtics
•
Coaching comparison: Red vs. Phil
•
Smith: Kobe's moving forward
•
Scoop: Fiendin' for a ring
•
Top 10 moments of Lakers-Celtics rivalry
•
ESPN Classic schedule: Relive the rivalry
TrueHoop
•
TrueHoop: Finals reflections
•
TrueHoop: Doc Rivers' redemption
•
TrueHoop: Lakers got Rondo'd
•
Tough night for Allen
•
Game 5 live blogging
•
Laker nation vs. NBA refs
•
Pierce and the evaporating knee story
•
Game 2 live blogging
•
Coaxing Kobe Bryant into hero mode
•
Game 1 live blogging
•
Today's game isn't so different
Simmons
•
Notes from the C's winning night
•
Boston's X factors
•
Game 4 running diary
•
Time for NBA Finals answers
•
The C's and city both look good
•
The Truth comes out in Game 1
•
NBA Finals forecast
•
Chat: NBA Finals preview
•
Simmons: You want a piece of Kobe, Boston?
ESPN The Magazine
•
Sporting Equivalency: NBA Finals meets hip hop
•
Broussard: Reporting from the NBA Finals
Fantasy
•
Join the fun of NBA Finals: Playcaller
Audio
•
Dish: NBA Finals recap
•
Wyc Grossbeck on C's championship
•
Ray Allen on how the Celtics evolved
•
Bob Ryan compares '86 C's to current one
•
Jon Barry credits Tom Thibodeau's team defense
•
Game 4 reactions
•
Rajon Rondo on Pierce, Game 2 plans
•
Bill Walton on Celtics-Lakers history
•
Dr. J on Finals, '80s hoops
ESPN Top Headlines